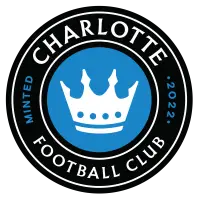 Charlotte FC Remain in Control of Playoff Destiny Despite Frustrating Result
September 18, 2023 - Major League Soccer (MLS) - Charlotte FC News Release



There was a period when Charlotte FC would have been content in securing draws, given their struggles throughout the 2022 season to eke out those draws for some crucial additional points. Nowadays, a draw is a disappointing outcome for Charlotte, and it appears to be a recurring frustration. In what was a near must-win match against D.C. United, The Crown managed to secure a draw for the third consecutive time, despite having 62% possession and launching a total of 14 shots.
"I think that we had more than enough entries in the final third to deserve the winner, but like the last two games, it is the third in a row when I think we should win, and we get only a point," said visibly frustrated Christian Lattanzio. "In that sense, it was a frustrating night, because I think the our boys deserve more than that but it's up to us to take what we deserve. Nobody's going to give us a gift. We have to be more focused and to play better in the last third."
Throughout this period, Charlotte has had little trouble advancing into their opponent's final third, thanks to their proficiency in the buildup phase. However, it's once they arrive there that the challenges arise. Whether it's a matter of poor decision-making or a lack of clinical finishing, Lattanzio pointed to that extra element needed in the final third as the "missing link" for converting draws into wins and unlocking the team's full potential. Fortunately for CLTFC, other results played to their advantage, resulting in no significant changes to the playoff race. Still, Lattanzio remains steadfast in his belief that the team should seize control of their destiny, rather than fixating on outcomes beyond their control.
"We need to win games. I think in the last four games we should have 12 points. We deserve 12 points. If we had those 12 points it doesn't matter what Chicago does, it doesn't matter what Montreal does. I like to think that we want to be the master of our destiny not to look at too many calculations."
In the midst of their frustrations, Charlotte retains control over their fate following a match that didn't lack its bright spots. One notable achievement was maintaining a clean sheet, a rarity this season. In their last two matches, Charlotte surrendered points in the final moments, points that could have been secured with clean sheets. This accomplishment should provide a substantial confidence boost as it represents another stride toward realizing the team's potential.
"It [the clean sheet] is very important. Very important, especially with the way we want to play. It's very easy to play the way we want to play and when we are wasteful in the final third and then you concede. I was very proud of how the back four plus Kristijan [Kahlina] played. In particular Adil [Malanda] and Andrew [Privett] had two very difficult customers in Fajardo and Benteke and I think they managed them really well. I'm proud and this is a very young couple of central defenders that they are growing with every game."
Another player crucial to maintaining the clean sheet was left-back Jere Uronen, who completed his first full 90 minutes for the club. As he looks ahead to their upcoming match against the Philadelphia Union, Uronen senses that the team is on the verge of reaping the "rewards" for their hard work, with another opportunity against the Union. When questioned about what must change against the Union, the Finn offered a straightforward response:
"Obviously score, because 0 - 0 you get one point, but at home, we want all three, I mean, Philly is a good team so it's not going to be easy, but we have a really good base. I think the last games starting from Leagues Cup, we've really grown as a team and and we are really playing as one unit. Now it's just the time to kind of like get the reward also for ourselves because we know how hard we work every day in training, with the staff, and we really want to improve. I think there's big parts of the game where you can see it outside already, that can kind of see the reward coming but now we just have to convert that into goals and three points."
• Discuss this story on the Major League Soccer message board...


Major League Soccer Stories from September 18, 2023
The opinions expressed in this release are those of the organization issuing it, and do not necessarily reflect the thoughts or opinions of OurSports Central or its staff.