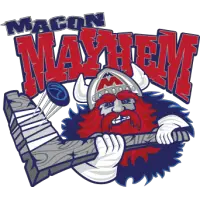 Blind Student Helps Others See Mayhem Action
February 27, 2016 - Southern Professional Hockey League (SPHL) - Macon Mayhem News Release



Lucas Rice isn't all that much different from other freshmen students at Gordon State College in Barnesville. He's recently started a project in conjunction where he works with the Macon Mayhem hockey team, by sending out live updates via Twitter of their home games.
Not that much different, as many college students work with companies to gather real world work experience. Not that much different, except the 21-year-old Rice has been completely blind since birth.
But tell him that makes him different, and he will have none of it.
"I don't know anything else," Rice says matter of factly. "That's probably why I'm so well adjusted to it."
He's majoring in communications and his latest project is helping the Mayhem, member franchise of the Southern Professional Hockey League, communicate by sending out live tweets, as the action unfolds at the Macon Coliseum. Rice sits in the broadcast booth occupied by Mayhem broadcaster Al Kessler and color commentator Brian Robinson. He listens to the broadcast and tweets out developments as they occur.
Rice hooks up his phone to a computer called Braille Sense which allows him to function in the social media world. He receives emails and other information via special voice programs connected to his computers.
"I already know how to work Twitter," Rice said. "Typing itself wasn't hard. I learned that in grade school." He noted that proper typing style calls for typists to not look at the keyboard anyway so his lack of vision wasn't a hindrance there at all.
He graduated from Perry High School. His mother Elizabeth and step father Phillip Jones live in Kathleen. He began his high school career in Jonesboro, Georgia. And that was here he got introduced to sports. His health teacher was also the school wrestling coach.
"He came up to me and asked me to wrestle. I said 'can I wrestle?' He said 'sure there are blind wrestlers.' So I wrestled four years in high school," Rice said. "Wrestling was the door I guess to my sports world."
His sports world has been crowded as he is the oldest of 11 adopted children of his mother and stepfather. Combine that with two older brothers who were already out of the house at the time of his adoption and he has plenty of family support.
One challenge he has is transportation to the Macon Coliseum from the Gordon State campus. The first two games he worked, one of his professors was able to take him, but Rice needs someone to take him to games the rest of the season. He noted his driver will get a free ticket to the Mayhem game.
Once inside the broadcast booth, Rice was right at home.
"The way he works, his lack of sight isn't a limitation," Kessler said. "He's fantastic."
It's good that Rice is able to be independent and doesn't need Kessler guiding him. After all, he has to keep his eye on the ice to keep up with the fast pace of play.
"Brian was relaying information to me and checking on some of the spelling. I was also able to get some of the penalty information from the headsets they have up there," Rice said. "Once I get used to hockey and the speed of it, he (Robinson) won't even have to do that."
He began the project at the Mayhem games on February 19th and 20th. Those were the first two hockey games he had ever attended.
"I heard it was a physical game. I'm a wrestler, so I'm built for that," he said. "Sitting up there with Al and Brian, I'm entertained by it. It's not a job, I enjoy it."
Kessler said having Rice tweet out scoring plays, penalties and other game updates as they happen definitely increases fan interaction.
"I didn't know how many followers the Mayhem had, but we got a good response," Rice said.
And through the eyes of blind Gordon State College student Lucas Rice, those twitter followers see all the Mayhem.
The Mayhem is currently on a seven game road trip with the next home game on March 17th against Knoxville. For ticket and other information contact the Mayhem at 478-803-1592 and log on to the team website at www.maconmayhem.com, and also follow the Mayhem on Facebook and Twitter.
• Discuss this story on the Southern Professional Hockey League message board...


Southern Professional Hockey League Stories from February 27, 2016
The opinions expressed in this release are those of the organization issuing it, and do not necessarily reflect the thoughts or opinions of OurSports Central or its staff.