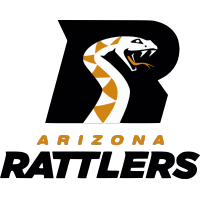 Arizona Rattlers game notes
February 8, 2005 - Arena Football League (1987-2008) (AFL I) - Arizona Rattlers News Release



The Stakes: Arizona looks to rebound after a disappointing loss to Orlando when they travel to Atlanta for a date with the Force. The Rattlers fell to the Predators 51-40 in their home opener to drop to 1-1, while the Force are also 1-1 after a loss in LA to the Avengers 46-41.
The Series: This will be only the second meeting between these two clubs. Arizona won the only previous match-up 51-40 in Atlanta in 2002.
TV: Tonight's game will be broadcast on FSN Arizona. Eli Gold and Dave Archer will call all the action.
Radio: All Rattler games are broadcast on KMVP 860 AM. Kent Derdivanis and Ron Wolfley will provide the commentary.
ARIZONA RATTLERS (1-1)
Date Opponent Time TV
1/28 @ Grand Rapids Win 58-38
2/3 ORLANDO Loss 40-51
2/12 @ Georgia 5:00 FSNAZ
2/19 COLORADO 7:30 FSNAZ
2/27 @ New York 1:00 NBC
3/6 LOS ANGELES 6:00 -
3/13 @ Tampa Bay 10:00a NBC
3/19 LAS VEGAS 7:00 FSNAZ
3/28 @ Nashville 6:30 -
4/3 @ San Jose 6:00 FSNAZ
4/8 COLUMBUS 7:00 FSNAZ
4/22 AUSTIN 7:00 FSNAZ
4/30 @ Los Angeles 7:30 -
5/7 CHICAGO 7:00 FSNAZ
5/14 SAN JOSE 7:00 -
5/22 @ Las Vegas 12:00 NBC

GEORGIA FORCE (1-1)
Date Opponent Time TV
1/30 NEW ORLEANS Win 46-44
2/4 @ Los Angeles Loss 41-46
2/12 ARIZONA 5:00 FSN
2/20 @ Las Vegas 4:00 -
2/25 @ Austin 6:30 -
3/6 COLUMBUS 10:00a -
3/12 @ New York 5:00 -
3/19 ORLANDO 11:00a -
3/26 @ New Orleans 6:00 -
4/2 @ Tampa Bay 5:30 -
4/8 AUSTIN 5:30 -
4/15 GRAND RAPIDS 4:30 -
4/22 @ Orlando 4:30 -
5/8 TAMPA BAY 10:00a -
5/14 DALLAS 4:00 -
5/21 @ San Jose 7:30 -

Head Coaches: Todd Shell is in his first season as Head Coach of the Rattlers. The 2003 AFL Coach of the Year has a regular season record of 47-37 (.559), with stints in San Jose and New York. Shell has won three division titles, including back-to-back Eastern Divisions with New York in 2003 and 2004. Shell was the team's original Defensive Coordinator, helping lead the team to the 1994 ArenaBowl Title.

Doug Plank is in his first season as Head Coach of the Force. Plank spent the past three seasons as the Rattlers Defensive Coordinator, helping Arizona to three straight ArenaBowl berths.

Last Meeting: Chris Horn led the Rattlers to a 51-40 victory, catching 12 balls for 164 yards and three touchdowns in a 2002 victory. The Rattlers D controlled the game early, allowing only 14 first half points.

Coordination: This game features a match-up of two former Rattler Defensive Coordinators meeting as Head Coaches. Todd Shell was the DC in Arizona from 1992 through 1994, and Doug Plank led the D for the past three seasons. One other Rattlers Defensive Coordinator has also been a Head Coach. Doug Kay, who led the defense from 1996 through 1998, coached the Charlotte Rage and the Carolina Cobras.

Next Week: The Rattlers return home to do battle with the Colorado Crush. The Saturday, February 19th game will kick off at 7:30 PM.

Officials: Officials for today's game are: Wes Fritz (Referee), Paul Frerking (Umpire), Greg Shields (Head Linesman), Dave Chesney (Line Judge), and James Cole (Back Judge).

Roster Moves: The Rattlers released QB Chris Hixson and K Chris Sailer following the loss to Orlando. The team also waived DS Maurice Taylor and signed K Anthony Brenner.

New Threat: Rookie WR/LB Wilson Thomas is proving to be a threat on both sides of the ball. After scoring his first career touchdown off a Joe Germaine pass last week, Thomas added another score this week, returning his first career interception 20 yards for the score.

Last Week: Orlando ended the Rattlers nine-game regular season win streak, knocking off Arizona 51-40. Joe Germaine, making his first career start, threw for 236 yards and three touchdowns, but was picked off twice. Joe Hamilton led the Predators with six total TDs, including five touchdown passes.

IR: Arizona has eight players on Injured Reserve. QB Sherdrick Bonner, WR/LB Hunkie Cooper, WR/LB Ryan Dennard, WR/DB Orshawante Bryant, QB Travis Cole, WR/DB Evan Hlavacek, FB/LB Phil Glover, and OL/DL Vince Amey. All seven are eligible to come off IR for the February 12 game at Georgia.

Blast From the Past: The Rattlers signed K Anthony Brenner this week to replace Chris Sailer. Brenner spent last season with the Colorado Crush. Brenner was the kicker on the Rattlers 1997 ArenaBowl title team, and also kicked with Arizona in 1999.

I Know You: Former Rattlers Ricky Parker and Nelson Garner are now members of the Georgia Force. Parker spent the past three seasons in Arizona, before following Doug Plank to Atlanta to play for the Force. Garner kicked in Arizona for two seasons before moving on to the Force. Nikia Adderson played for the Force in 2004, and was traded to Arizona during this year's training camp.

Other Games This Week:
February 11
Tampa Bay Storm at Orlando Predators
Los Angeles Avengers at Austin Wranglers
New York Dragons at Las Vegas Gladiators
February 13
Columbus Destroyers at Dallas Desperados
Nashville Kats at Philadelphia Soul
Chicago Rush at Colorado Crush
San Jose SaberCats at New Orleans VooDoo

Recent Arizona Rattlers Transactions

February 1, 2005 Signed- QB Chris Hixson
Placed on Injured Reserve- QB Sherdrick Bonner

February 4, 2005 Released- QB Chris Hixson
Released- K Chris Sailer

February 8, 2005 Waived- DS Maurice Taylor
Signed- K Anthony Brenner


• Discuss this story on the Arena Football League (1987-2008) message board...


Arena Football League (1987-2008) Stories from February 8, 2005
The opinions expressed in this release are those of the organization issuing it, and do not necessarily reflect the thoughts or opinions of OurSports Central or its staff.