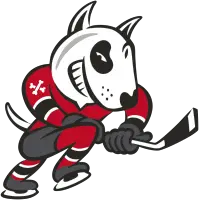 Akil Thomas and Phil Tomasino Score in Hard Fought 3-2 Loss to Steelheads
October 18, 2019 - Ontario Hockey League (OHL) - Niagara IceDogs News Release



The IceDogs hit the road Friday evening for their second game in Mississauga this season.
Niagara started the game with nearly consecutive strong shifts of sustained pressure in the offensive zone, forcing the Steelheads' goaltender to make difficult saves. Mississauga capitalized first on a power play, to take a 1-0 lead. Shortly after the Steelheads scored, Niagara got a power play of their own. In several scrambles in front of the opposing teams' net, the IceDogs multitude of shots were unable to beat the goaltender. The Steelheads extended their lead late in the first period to carry a 2-0 lead into the second period.
Just over five minutes into the period, the IceDogs were given their second power play of the game, and this time, the Captain made no mistake. In his 200th OHL regular season game, Akil Thomas squeaked the puck in through a small open space between the goaltender and the post to score his second goal of the season. Christian Sbaraglia shut the door in the middle frame, stopping all 22 shots he faced in the period. Sbaraglia came up big when the Steelheads tried to capitalize on small rebounds in front of the net.
The IceDogs started the third period with an extended 5 on 3 power play, where they got 6 shots on net. Finally, after pressing, Phil Tomasino scored top shelf to bring the IceDogs to a tie. Akil Thomas collected his second point of the game with the primary assist, and Elijah Roberts had the secondary. The Steelheads re-gained the lead just a few minutes later. Christian Sbaraglia made a spectacular save somehow spinning the puck, which was already behind him, with his skate to bring it back in front of the net in the dying minutes to keep the IceDogs. With a minute remaining, Sbaraglia was on the bench for the extra attacker, but the IceDogs couldn't get the opportunity they needed. The Steelheads missed three empty net opportunities.
The IceDogs fell just short 3-2, but it wasn't without significant effort.
Goal Scorers
First Period
Richard Whittaker (Schwindt & Harley) (MISS) 5:53 PP
Keean Washkurak (Bjorvik-Holm & Harley) (MISS) 18:39
Second Period
Akil Thomas (Castleman & Tomasino) (NIA) 5:48 PP
Third Period
Phil Tomasino (Thomas & Roberts) (NIA) 1:41 PP
Thomas Harley (Ham) (MISS) 3:49 PP
• Discuss this story on the Ontario Hockey League message board...


Ontario Hockey League Stories from October 18, 2019
The opinions expressed in this release are those of the organization issuing it, and do not necessarily reflect the thoughts or opinions of OurSports Central or its staff.