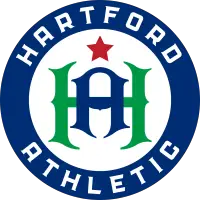 20 Questions with Harry Swartz
February 25, 2020 - United Soccer League Championship (USL) - Hartford Athletic News Release



You know Harry Swartz the soccer player. But you probably don't know as much about Harry Swartz the person. We caught up with Harry to find out how the preseason is going, what he does in his free time, pizza, and so much more. Get ready to find out more about Harry than you ever thought you would...
1. Year two, how would you describe the start of the season so far?
HS: I feel like it's been a really good start so far. You know sometimes you don't want to read too much into preseason games, but what are we, 3-0-1, and we've only let up three goals?* Results aside, I feel like we're growing a lot as a team - each week we're getting a lot better, more fit, and we're learning the system better.
*The interview was conducted before Saturday's match
2. Coach has been here for a couple weeks. He's obviously got a wealth of experience coming from Southampton. What have you learned from him so far?
HS: I was speaking to a few guys recently about tactics. I think throughout my whole life, I don't really know if I've gone in-depth on tactics you know? How we're supposed to play, the style we're going to play, and I think coach does a really good job of telling us how he wants us to play, and this is how we're going to approach each game. Learning that has definitely made me a better player. I'm seeing the game differently because of stuff he says and points out, and it's all been good.
3. You're seeing the game differently I think that's an interesting thing to point out, because the word that best described you last year is versatile. You started multiple matches on defense, in the midfield, and at forward. So, how does that versatility work itself into the way coach is helping you see the game?
HS: I think he does a good job of helping us learn where we should be when we don't have the ball and if you're standing somewhere, maybe this guy on the opposing team is focused now on you, which creates space for other players. I think he does a good job of explaining that even if you're not getting the ball, you're helping them in another way, by maybe taking a guy out of the way for somebody else, which I think is something that I never really looked at.
4. You and Nicky Downs developed a friendship over the course of last season. You guys are roommates this year. How did you develop that friendship?
HS: I think just both being rookies and kind of new. I was thrown in in the middle of the season, and Nicky was one of the younger guys who was super nice and super personable when I first met him. We know a bunch of the same guys and growing up the same age, both playing in the northeast and in college, we just had a lot in common. Over time we both shared a love of pizza, so on off days we'd go grab a slice from the places in New Haven, Frank Pepe's, Sally's, Modern, we've tried them all.
5. New Haven pizza, that's a big thing with our supporters. Which one is your favorite?
HS: My favorite is Frank Pepe's. There's something about the cheese. It's just different. But I'd say the best-made pizza is probably Sally's. Nicky would say his overall favorite is Sally's. The taste of Frank Pepe's I feel like is the most different, you know what I'm saying? But Sally's is probably like the best bite. It's crunchy but it's also soft, I mean that bread is like a different level.
6. So would you choose pizza as your last meal?
HS: No, it's got to be chipotle. I haven't been as much recently because I'm starting to cook a little bit on my own, but last year it was my night before a match meal because it kind of covers everything you know rice, beans chicken, a little sodium to get ready for matchday.
7. What is your go-to order at Chipotle?
HS: My go-to is double brown rice - gotta get the extra rice - black beans, chicken, pico salsa, hot salsa, corn, guacamole and lettuce. I've cut out the cheese. That was a Nicky thing, it got into my head with him being vegan, but now it doesn't make a difference to me.
8. As far as cooking goes, you live with Nicky, he's vegan. Does that mean that you are cooking and eating vegan when you guys are together?
HS: No, I watch him eat his healthy vegan meal, and I cook something else. It's funny my family and friends back home, they think I'm a healthy eater. But when I put my plate next to Nicky's I'm like, 'What am I eating? What's going on?' But no I eat brown rice, chicken, veggies and he'll have brown rice, veggies, and something vegan that's super healthy. He makes it look appetizing to be honest. I sometimes think I could try it out.
9. Who are some athletes that you looked up to growing up?
HS: I've been pretty fortunate growing up in Boston, being able to see all the championships I've seen. I think number one has to be Tom Brady. And I still look up to that guy. Just as a competitor, he was an underdog, counted out when he was younger, and now he's reached the height of his profession.
10. Messi or Ronaldo?
HS: For me, it's Messi. I'm not too big on the whole argument. I think both are so good, and I'd be happy with either one on my team. But I think when you watch Messi play it just looks so natural, and he just does things that are so incredible. The enjoyment of watching goes up one hundred percent when I watch Messi play. Ronaldo, he still finds a way to do it. I give him a lot of respect, when he was younger he played a lot differently and now he's adjusted his game to score goals. But if I had to pick somebody to watch play or watch train, it has to be Messi.
11. Hollywood decides to make a movie about your life. Who do you pick to play you in the movie?
HS: Oh man, you know I'd want to say like Brad Pitt or something. But I think a more accurate pick would be a Dave Franco type of guy. We're similar in size. You know what, yeah, Dave Franco is my choice.
12. Best Movie you saw in 2019 was?
HS: Probably 'Once Upon a Time in Hollywood'. But I did see that movie 'Good Boys', I thought that was so funny. When it comes to the actual movie, 'Once Upon a Time in Hollywood' was critically a better movie, but I laughed a lot more and I enjoyed my time watching 'Good Boys' more.
13. Let's stick with movies. You're stuck on a desert island and can only bring five movies. What are they?
HS: When I get asked what's my favorite movie, it's so tough but I feel like 'Catch Me If You Can' is probably up there. I like to be a little different. I'm a humor guy, I prefer watching a movie to make me laugh so I probably would also go with 'Superbad'. 'Happy Gilmore' makes the cut. And then, bringing it home, I'd go with 'The Departed' and you know what, the fifth one would be 'The Dark Knight' - the Heath Ledger one. I haven't seen that in a few years and that Christian Bale Batman with Heath Ledger, that movie still holds up. And 'Space Jam'. I know that's six and if I redid my five I would bring Space Jam. That's a classic, I watched that every day as a kid.
14. You came here last year with an injury suffered at the MLS combine, and you were kind of working out as practice player. Then, all of a sudden, you're starting at right back in our first-ever home match. How did you go from one role to the other?
HS: I guess one of the keys is belief. It just happened so fast where I was not a professional, to going right into a new team and a new season and I gotta give Jimmy (Nielsen), all the credit for just tossing me in. I didn't have time to really think about it, I didn't have time to have a few games to sit on the bench and watch, I was just in. So I guess just believing I could do it and not overthinking it. And of course, thanks to Jimmy for believing in me.
15. Now this year, you've stepped into more of a leadership role as one of eight guys who were bought back from last season. How does that change your mentality?
HS: I guess I just try and keep the same mindset, try not to overthink it. You know I try, and I've always tried, to lead by example. I don't think I'm a guy that's gonna go out there and make some crazy big speech but you know every day I show up and try to work as hard as everyone else and just try to get better. Hopefully people see that and do the same.
16. What is the best sporting event you've ever attended?
HS: The best game I've ever seen live was probably Game 2 of the 2013 ALCS when David Ortiz hit that Grand Slam against the Detroit Tigers and the outfielder went over the wall. It was probably the craziest moment I've seen in sports. As a fan, that was insane.
17. You were in college, then I assume?
HS: I was a senior in high school. My dad works at Fenway Park so me and all my buddies kind of snuck in and saw the game. We ended up with six seats and it was just one of the most electric experiences I've seen as a fan for sure.
18. What was the stadium like?
HS: It was crazy. I mean, I remember it because it was a crazy game it was like 5-1 at the time or something and when he hit it, everyone went mental, like, I couldn't even - oh my god it was insane. Kind of like Dillon on a Saturday night when we score a late goal to win.
19. What does a day off for Harry Swartz look like?
HS: A typical day off, is probably Nicky and I head into New Haven, probably going to Sally's or Frank Pepe's and treating ourselves to a pizza. That or I go back home to Needham and see my family and friends, but one of those two.
20. Hopefully we're a long way away from this, but when you retire and you look back on your career, what do you want to be known for?
HS: You know, that's something I think about from time to time. I don't know what's gonna happen at the end of my career, it could end sooner rather than later, you never know. But I just want to do it right. I want to put all my time into it and work as hard as I possibly can and be the best I possibly can. Sometimes I'll catch good breaks, sometimes I'll catch bad breaks I know that, but I don't want to have any regrets on how I worked. I don't want to look back and be like, 'oh my god if I tried harder this time, this could've happened.' If it doesn't work out, then that's okay but I don't want to have any regrets.
• Discuss this story on the United Soccer League Championship message board...


United Soccer League Championship Stories from February 25, 2020
The opinions expressed in this release are those of the organization issuing it, and do not necessarily reflect the thoughts or opinions of OurSports Central or its staff.