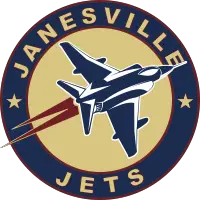 Weekend Preview: Jets at Jr. Blues (G59 & G60)
April 15, 2022 - North American Hockey League (NAHL) - Janesville Jets News Release



SPRINGFIELD, IL - It all comes down to the final two games of the regular season. The Jets are three points outside of playoff contention and have a date upcoming with the Springfield Jr. Blues with a shot at making the Robertson Cup Playoffs on the line. We knew it wouldn't be easy, and it's almost fitting for things to come down to the final weekend of games with how wild this season has been.
In eight games against the Jr. Blues this year, the Jets own a 3-5 record, their most recent series a split that saw the enemy snap an 11-game winning streak. Springfield was on the receiving end of three of those 11 wins, with one of them a notable 9-1 thrashing on February 19, just a day after Janesville shut them out 3-0.
So, what needs to happen this weekend for the Jets to continue their season? Anchorage has been the one with the target on its back, but it should also be noted that the Minnesota Wilderness aren't safe, either. Here are the potential scenarios that would result in a playoff berth for the Jets:
TO CLINCH ROBERTSON CUP PLAYOFF SPOT:
Jets win in regulation Friday AND Saturday (4 points)
Wolverines OR Wilderness lose in regulation AND lose in overtime (1 point)
Jets win one game in regulation and lose in overtime (3 points)
Wolverines OR Wilderness lose remaining games in regulation (0 points)
Last Saturday's win over the Minnesota Wilderness was more crucial than some thought. It kept them within reach and, with the Wolverines also within reach, provides a slightly better opportunity for one of the above scenarios to occur.
Like they've done since the opening game of the season against these Jr. Blues, the Jets will rely on their high-powered offense, strong D-core, and great goaltending to try and fight another day. Rookie Cy LeClerc has recorded an assist in five straight games and is currently the leading scorer in overall skaters and rookies with 76 total points. He owns the Jets' single-season record for points and assists and is two goals shy of breaking the goals record. Second-year forward Cade Destefani is another player to add to the list of commitments for the Jets this season; the Bedford, NH native committed to Lindenwood University this week to mark the second commitment of the week for the Jets.
On the defensive side of things, Will Troutwine recently made his commitment to the College of the Holy Cross, a DI school in St. Paul, Minnesota. Troutwine has been one of the great contributors to an incredible group of defense in Janesville this season; Troutwine is one of four Janesville defensemen that rank in the Top 20 in scoring for defensemen (Daul, Mell, Casperson). His 40 points are fifth-most in the defensemen class and most for the Jets.
Owen Millward is another name on the Jets roster you can find in the top ranks in the NAHL; his 29 wins this year are tied for the most among all goaltenders. Milly has been a tremendous asset for the Jets in his second year with the team, and it'd be difficult to envision these upcoming games holding any significance had it not been for the eyebrow-raising play from Millward this season.
To the fans, you brought the noise, the energy, and the positivity to the rink last weekend, but we need that same support from you again tonight and tomorrow. These are the most important games of the year, so be sure to cheer for a pair of wins from the comfort of home this weekend.
Where this team once was, 3-12 and at the bottom of the division standings, it's remarkable that there is still a glimmer of hope remaining. To bounce back in the way that the Jets did, winning 11 games in a row, knocking off a top team in Springfield with a nine-goal outing, and staying in the fight all the way until the end, is more impressive than words can say. Now, it's time to add another chapter to what's been one helluva story. It's time to win out, pray for some help, and punch our ticket to the Robertson Cup Playoffs.
Friday and Saturday's games will be available to watch on HockeyTV with a friendly call! Just hit "Away Audio" underneath the video player. We'll also have a FREE live audio feed on Mixlr. You can tune in to the radio feed by clicking this link or heading to our website and clicking the "Live Audio" tab at the top of the site. Friday's game features a 7:05 PM CT start, and Saturday will start an hour later at 6:05 PM CT. If you're not watching or listening, you can follow us on our Twitter, Facebook, and Instagram platforms for updates.
JANESVILLE JETS
Record: 33-24-0-1 (5th, Midwest)
Road Record: 14-15-0-0
Goals For/Game: 3.76 (3rd)
Goals Against/Game: 3.36 (18th)
Shots For/Game: 30.10 (21st)
Shots Against/Game: 30.71 (14th)
Power Play: 21.9% (10th)
Penalty Kill: 72.7% (27th)
Top Scorers: F Cy LeClerc (58GP-31G-45A-76PTS); F Jan Lasak (49GP-26G-27A-53PTS); F William Gustavsson (54GP-24G-24A-48PTS)
Goaltenders: Owen Millward (29-13-0-0; 2.79 GAA; .908 SV%); Michael D'Orazio (4-8-0-0; 3.78 GAA; .881 SV%); Ryan Whittaker (0-1-0-0; 6.00 GAA; .778 SV%)
Rostered Commitments: F Robby Newton (University of Wisconsin); F Grayden Daul (University of Wisconsin); F Jonah Aegerter (St. Cloud State); F Cy LeClerc (University of New Hampshire); F Jan Lasak (St. Lawrence University); F Ethan Begg (University of Vermont); F Jack Ford (Army-West Point); D AJ Casperson (Long Island University); F Jimmy Doyle (St. Lawrence University); F Jack Larrigan (University of Notre Dame); F Joseph Kramer (Providence College); D Cal Mell (Union College); D Charlie Lieberman (Rensselaer Polytechnic Institute); D Spencer Kring (Bethel University); D Will Troutwine (Holy Cross); F Cade Destefani (Lindenwood University)
SPRINGFIELD JR. BLUES
Record: 35-20-1-2 (2nd, Midwest)
Home Record: 20-7-0-1
Goals For/Game: 3.41 (10th)
Goals Against/Game: 2.90 (9th)
Shots For/Game: 29.74 (25th)
Shots Against/Game: 31.24 (16th)
Power Play: 23.9% (7th)
Penalty Kill: 75.8% (26th)
Top Scorers: F Hagen Moe (54GP-28G-16A-44PTS); F Leo Bacallao (55GP-22G-21A-43PTS); F Carson Jones (56GP-13G-26A-39PTS)
Goaltenders: Ethan Roberts (18-12-0-1; 2.72 GAA; .916 SV%); Aksel Reid (9-9-0-1; 2.99 GAA; .902 SV%)
Rostered Commitments: F Hagen Moe (Bowling Green State University); F Isaac Novak (University of Wisconsin); G Ethan Roberts (University of St. Thomas); D Fisher Scott (Colorado College); F Connor Smith (Union College); F Michael Valdez (Colorado College)
• Discuss this story on the North American Hockey League message board...


North American Hockey League Stories from April 15, 2022
The opinions expressed in this release are those of the organization issuing it, and do not necessarily reflect the thoughts or opinions of OurSports Central or its staff.