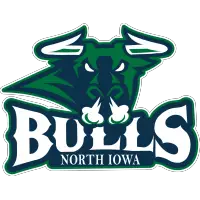 Bulls' Home Season Ends with 5-3 Defeat to St. Cloud
April 15, 2022 - North American Hockey League (NAHL) - North Iowa Bulls News Release



MASON CITY, Iowa - All in all, the North Iowa Bulls' Good Friday got off to a pretty good start.
There was the matter of an early St. Cloud Norsemen goal on the penalty kill, but the Bulls got two back in short order after that.
A big second-period stretch, though, put St. Cloud in the driver's seat for good on the way to a 5-3 victory over North Iowa in the Bulls' final home game of the season. Friday night's action also marked the final junior appearance on home ice for the Bulls' eight 2001-born players, four of whom have already announced NCAA commitments or have made decisions and have announcements pending.
A hooking call against Blake Perbix gave North Iowa the game's first shot at a power play, but Hunter Hanson's long pass through neutral ice sprang Blake Mesenburg for a breakaway, and he sprinted in to score on the backhand for a shorthanded marker and the opening lead at the game's 5:39 mark.
In less than two minutes' time, North Iowa had completely reversed its fortunes, though - a shot from Tyler Braccini in the left-wing faceoff circle found its way past Ethan Dahlmeir on the back post to tie the game at 7:49 of the period, and barely a minute-and-a-half later, Simone Dadie banged in a one-timer off of Max Scott's pass from below the goal line to put the Bulls in front.
The lead lasted the majority of the first period and several minutes into the second, but the Norsemen made their move at 4:19, when Peyton Hanson burst into the zone, shifting the puck around his skates before getting back to his forehand in front of the net for a tying tally.
Five minutes later, the lead was in St. Cloud hands, and it was a two-goal margin - John Opilka's pass from the left point found Nick Young across the ice, and his chance along the right-wing wall hit the back of the net at 6:04 to put the Norsemen in front. At 9:20, the lead doubled when Perbix hit Ethan Benz with a pass at the North Iowa blue line, and Benz raced in for a breakaway goal of his own to make it a 4-2 game.
The Norsemen added one more at 9:05 of the third, when Kade Peterson snatched a rebound in front of Kyle Kozma before tossing it into the top corner over Kozma's left shoulder, stretching the St. Cloud lead to 5-2.
The Bulls weren't done yet, and they added a little magic on a penalty kill themselves - despite an interference call against Braccini with 8:16 remaining, Greg Japchen caught Carter Rapalje with a long pass along the left-wing boards just short of the St. Cloud blue line. His pass across to Michael Mesic allowed North Iowa to enter the zone 2-on-1, and Mesic took the shot himself on Dahlmeir's left side, trimming the lead to 5-3 with 7:25 remaining and giving the game its final margin.
Braccini closed out his final home game with one of the Bulls' three goals, while Rapalje and Japchen each had assists in their home finales. Young had a goal and an assist to highlight the St. Cloud effort, while Perbix finished with a pair of helpers of his own. Anthony Yu earned an assist in his first-ever junior appearance, after a four-year career at the famed Shattuck-St. Mary's prep school in Faribault, Minnesota.
Kozma went the distance in his last home game as a Bull, taking the defeat with 25 saves on 30 North Iowa shots, while Dahlmeir made 26 saves for his 10th win of the year and first against the Bulls. The penalty-killing units were spotless in the game, wiping away all eight power plays and posting a pair of goals themselves along the way.
Nearly 31,000 fans made their way to the Mason City Arena in the Bulls' first North American Hockey League campaign, averaging more than 1,100 fans per night after a 2020-21 season beset by COVID-related restrictions on crowds and gatherings.
North Iowa exits the evening with a 22-27-4-6 mark, while the Norsemen earned their 40th win of the season ahead of a rematch to close the 2021-22 regular season Saturday night. The opening puck drop at the Municipal Athletic Complex in St. Cloud, Minnesota is scheduled for 7:10 p.m.
St. Cloud 1 3 1 - 5
North Iowa 2 0 1 - 3
1st Period-1, St. Cloud, Mesenburg 26 (Hanson, Young), 5:39 (SH). 2, North Iowa, Braccini 5 (Bulger, Mexico), 7:49. 3, North Iowa, Dadie 7 (Scott), 9:27. Penalties-Perbix Stn (hooking-minor), 4:46; Hong Stn (tripping-minor), 16:19; McCormack Stn (holding-minor), 16:34.
2nd Period-4, St. Cloud, Hanson 8 (McCormack, Murr), 4:19. 5, St. Cloud, Young 5 (Opilka, Yu), 6:04. 6, St. Cloud, Benz 21 (Perbix), 9:20. Penalties-Braccini Nio (interference-minor), 17:01; Young Stn (roughing-minor), 19:31.
3rd Period-7, St. Cloud, Peterson 14 (Perbix, O'Neill), 9:05. 8, North Iowa, Mesic 18 (Rapalje, Japchen), 12:35 (SH). Penalties-Sabo Stn (holding-minor), 6:33; Braccini Nio (interference-minor), 11:44; Hanson Stn (hooking-minor), 19:55.
Shots on Goal-St. Cloud 10-10-10-30. North Iowa 15-7-7-29.
Power Play Opportunities-St. Cloud 0 / 2; North Iowa 0 / 6.
Goalies-St. Cloud, Dahlmeir 10-5-1-1 (29 shots-26 saves). North Iowa, Kozma 7-13-3-1 (30 shots-25 saves).
A-1,242
Referees-Tatu Kunto.
Linesmen-Jeremy Briscoe, J. Morrison.
Images from this story
• Discuss this story on the North American Hockey League message board...


North American Hockey League Stories from April 15, 2022
The opinions expressed in this release are those of the organization issuing it, and do not necessarily reflect the thoughts or opinions of OurSports Central or its staff.