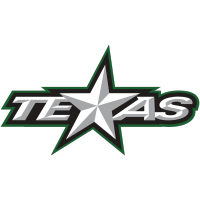 Texas Stars Playoff Update #14
April 27, 2010 - American Hockey League (AHL) - Texas Stars News Release



With a 2-1 win last night at home, the Chicago Wolves escaped their first round series, beating Milwaukee in a decisive Game 7 for a 4-3 series win. Chicago will have home-ice advantage in its second round match up with the Texas Stars.
West Division Finals Schedule (best of seven)
Game 1 - Fri., April 30 - Texas at Chicago, 7:30 p.m.
Game 2 - Sun., May 2 - Texas at Chicago, 3:00 p.m.
Game 3 - Tue., May 4 - Chicago at Texas, 7:30 p.m.
Game 4 - Wed., May 5 - Chicago at Texas, 7:30 p.m.
Game 5 - Fri., May 7 - Chicago at Texas, 7:30 p.m. - X
Game 6 - Sun., May 9 - Texas at Chicago, 3:00 p.m. - X
Game 7 - Tues., May 11 - Texas at Chicago, 7:00 p.m. -X
X = If Necessary
Texas will meet Chicago in the West Division Finals with the first two games at Allstate Arena. Chicago will host Game 1 at 7:30 PM starting on Friday, April 30th. Game 2 will also be at Allstate Arena, scheduled for Sunday, May 2nd at 3:00 PM. The best-of-seven series will then shift to Cedar Park Center for Games 3 and 4. The Stars will host the Wolves on Tuesday, May 4th at 7:30 PM in Game 3. Texas will also host Game 4 on Wednesday, May 5th at 7:30 PM. If necessary, Game 5 will also be at Cedar Park Center on Friday, May 7th at 7:30 PM. Chicago will host Games 6 and 7 if they are needed. Game 6 is slated for Sunday, May 9 at 3:00 PM and Game 7 on Tuesday, May 11th at 7:00 PM.
Game 7 Tonight in Rochester
The first round of the 2010 Calder Cup playoffs comes to a close tonight when Rochester hosts Abbotsford in Game 7 of their North Division semifinal. The winner will advance to take on Hamilton in the division finals beginning Thursday. Abbotsford rallied to force this winner-take-all contest after trailing in the series, 3-1. Rochester outscored the Heat 18-6 in winning Games 2-4 of the series, but Abbotsford came back to win Games 5 and 6 by a combined score of 8-2, most recently a 5-1 decision in Rochester on Sunday.
Second Round Heating up
Trailing 2-0 in the East Division Finals, Albany hosts Hershey for a critical Game 3 tonight at the Times Union Center. The River Rats took a 3-2 third-period lead in both games on the road last weekend, but the Bears rallied to win by scores of 4-3 (in overtime) and 6-3. Hershey tallied three power-play goals in the third period of Game 2 on Sunday to spark its fourth third-period comeback of the postseason...
Tuesday Night's Games 4-27-10:
Game 3 - Hershey at Albany, 7:00 (EDT) (HER leads series, 2-0)
Game 7 - Abbotsford at Rochester, 7:05 (EDT) (Series tied, 3-3)
SUNDAY'S SCORES:
Game 7 - CHICAGO 2, Milwaukee 1 (CHI wins series, 4-3)
SERIES SUBPLOTS.......
- Texas is the only team to have scored the first goal in every playoff game.
- The Chicago Wolves scored the first goal five times in the first round, posting a 4-1 record when getting the opening goal.
- In the 2010 Calder Cup playoffs, Chicago outscored Milwaukee 9-5 in the first period of play and was outscored 10-5 in the second period of play.
Texas Chicago
Overall Record 46-27-3-4, 99 Points 49-24-1-6, 105 Points
Home Record 24-13-1-2 29-8-0-3
Road Record 22-14-2-2 20-16-1-3
Head to Head (OVR) 4-3-1-0 4-3-0-1
Head to Head (@ TEX) 1-2-1-0 3-1-0-0
Head to Head (@ CHI) 3-1-0-0 1-2-0-1
Power Play (OVR) 9th, 19.1% 16th, 17.3%
PP - Head to Head (OVR) 2-28 (7.14%) 3-25 (12.0%)
PP - H 2 H (@ TEX) 1-9, (16.6%) 1-15, (6.7%)
PP - H 2 H (@CHI) 1-19, (5.26%) 2-10 (20.0%)
Penalty Kill (OVR) 2nd, 86.4% 7th, 85.1%
Penalty Minutes 13.91 per game (27th) 14.01 per game (26th)
Scoring at home 117 GF -103 GA 140 GF -97 GA
Scoring on the road 121 GF -95 GA 124 GF -117 GA
Overtime Record 5-3 2-1
Record when scoring 1st 35-5-1-1 (,857) 31-9-1-3 (.750)
Playoff Format.......
Four rounds, with each round slated as a best of seven series. The top four teams in each division qualify for playoffs. The teams play within their division for the first two rounds. The division winners will meet in the conference finals. The winner of the Western Conference will play the winner of the Eastern Conference for the Calder Cup. In order to take the Calder Cup, a team must win 16 games.
The Calder Cup.......
The coveted Calder Cup has been a motivational force for American Hockey League teams throughout the League's 73-year history. It is one of our sport's greatest challenges and ultimate honors to hoist the Calder Cup in victory.
The trophy is named for Frank Calder, who served as the National Hockey League's first President from 1917 to 1943. During the 1920's, Mr. Calder was instrumental in guiding hockey into the mainstream of America's major cities including Boston, New York, Detroit and Chicago, while helping in the formation of the American League.
The Calder Cup trophy itself was actually first awarded in 1938 to the Providence Reds for winning the second International-American Hockey League championship. (In 1996, George Parsons of the Syracuse Stars was presented the Calder Cup in a ceremony at the Onondaga County War Memorial, as it is believed the Stars never received a trophy for their 1937 championship.
• Discuss this story on the American Hockey League message board...


American Hockey League Stories from April 27, 2010
The opinions expressed in this release are those of the organization issuing it, and do not necessarily reflect the thoughts or opinions of OurSports Central or its staff.