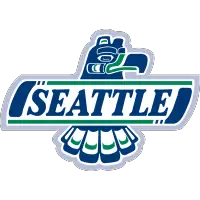 T-Birds Battle Past Portland in Regular Season Finale
March 18, 2019 - Western Hockey League (WHL) - Seattle Thunderbirds News Release



PORTLAND - Six different T-Birds scored Sunday night at Veterans Memorial Coliseum as the Seattle Thunderbirds defeated the Portland Winterhawks 6-5 in the last regular season home game for both teams.
The T-Birds will play the Vancouver Giants in the first round of the 2019 WHL Playoffs. The best-of-seven series will start with Game 1 on Friday, March 22, at Vancouver at 7:30pm.
Vancouver vs. Seattle
Game 1 Seattle @ Vancouver Friday, March 22, 7:30pm
Game 2 Seattle @ Vancouver Saturday, March 23, 7pm
Game 3 Vancouver @ Seattle Tuesday, March 26, 7:05pm
Game 4 Vancouver @ Seattle Wednesday, March 27, 7:05pm
Game 5 Seattle @ Vancouver Friday, March 29, 7:30pm*
Game 6 Vancouver @ Seattle Saturday, March 30, 7:05pm*
Game 7 Seattle @ Vancouver Tuesday, April 2, 7pm*
*if necessary
Single game tickets for the first round series against Vancouver will go on sale Monday, March 18, at 10am on the T-Birds website and at the accesso ShoWare Center box office. The box office is open Monday through Friday 10am to 5pm, Saturday 10am to 2pm, Saturday game days at 10am and Sunday game days at noon.
Game 3 of the first round will be Tuesday, March 26, at accesso ShoWare Center at 7:05pm and will be a 2-for-Tuesday game. All ticket and beer purchases for Game 3 are 2-for-1 and accesso ShoWare Center will feature concession specials including $2 hot dogs, $2 soda and $2 popcorn for all fans.
The T-Birds have a Group Ticket Special for Game 4 against Vancouver. Fans can purchase 10 tickets for just $220 and get two FREE tickets.
This Playoff Group Ticket Special is available by contacting one of our Account Executives, Tara Knop or Molli Ronish. If you need more information or have questions call us at 253-239-PUCK (7825) or fill out a Ticket Information Request and a member of our staff will get in touch with you.
The T-Birds finish the 2018-19 season with a 31-29-6-2 record. The T-Birds won 20 of 34 games in the second half of the season. They head into the 2019 WHL Playoffs with wins in six of their last seven games.
Seattle goalie Cole Schwebius was very good in net against Portland making 39 saves. Schwebius stopped Portland's leading scorer, Joachim Blichfeld, one-on-one 2:50 into the second period, with a sprawling blocker save that kept the T-Birds, who were trailing at that point, within one goa of Portland.
The T-Birds did not dress Matthew Wedman, Noah Philp and Nolan Volcan, their top three scorers, for the game. It did not matter as the T-Birds got contributions from up and down the lineup to defeat the Winterhawks.
Portland took a 2-0 lead early in the first period on goals by Reece Newkirk at 1:47 and Jake Gricius at 5:35.
Seattle came right back and took a 3-2 lead with three goals in 4:42.
Graeme Bryks had the puck on the left boards and threw it on net. Portland goalie Joel Hofer made the save but Jared Davidson was at the left post to sneak the rebound past the goalie at 10:32 for his second goal of the season.
Kai Uchacz scored his first career goal, at 13:03 of the first, to tie the game 2-2. Henrik Rybinski had the puck on the left wall and found Payton Mount all alone in front of Hofer. Mount was stopped on an attempt by Hofer's right pad. But Uchacz came in and cleaned up the rebound by putting it over the goalie.
Seattle took a 3-2 lead on a power-play goal by Simon Kubicek at 15:14 of the first. Bryks won a faceoff in the left circle back to Kubicek at right point. Kubicek beat Hofer with a slap shot with traffic in front of the goalie for his ninth goal of the season.
Portland took a 4-3 lead late in the first on goals by Clay Hanus at 15:56 and Seth Jarvis at 16:50.
Brecon Wood tied the game 4-4 for the T-Birds at 4:27 of the second period. Uchacz had the puck behind the net and sent in front where Andrej Kukuca took a shot. The puck came off Hofer's left pad to Wood. Wood lifted a backhand shot into the top right corner of the net as Hofer tried to get over for his fourth goal of the season.
The T-Birds scored two goals in 2:30 in the third period to take a 6-4 lead.
On the power play Sean Richard got behind the defense on a pass from Kukuca. Richards came in on Hofer and beat him high at 5:30 for his 15th goal of the season. Jarret Tyszka had the second assist.
At the eight-minute mark Tyszka hit a wide open net to make it 6-4 Seattle. Kukuca was in the right circle and made a wrist pass to Jaxan Kaluski on top of the crease. Hofer went down thinking show and the puck deflected off Kaluski's skate right to Tyszka in the slot. Hofer was down and Tyszka had the whole net to shoot at and didn't miss.
Jared Freadrich on the power play, and with Hofer on the bench, with one second left in the game to get Portland's fifth goal.
Hofer finished with 27 saves.
SCORING SUMMARY
First period - 1, Portland, Newkirk 23 (Freadrich, Gricius), 1:47. 2, Portland, Gricius 27 (De Jong, Freadrich), 5:35. 3, Seattle, Davidson 2 (Bryks), 10:32. 4, Seattle, Uchacz 1 (Mount, Rybinski), 13:03. 5, Seattle, Kubicek 9 (Bryks), 15:14. 6, Portland, Hanus 8 (Hanas, Gilliss), 15:56. 7, Portland, Jarvis 16 (Quigley), 16:50. Penalties - Kukuca, Sea (roughing), 1:13. Lee, Sea (cross checking), 1:13. Bench, Por (too many men-served by Delorme), 8:23. Blichfeld, Por (holding), 13:25.
Second period - 8, Seattle, Wood 4 (Kukuca), 4:27. Penalties - Lee, Sea (cross checking), 8:44. Newkirk, Por (unsportsmanlike conduct), 8:44. Tyszka, Sea (high-sticking), 9:55. McNelly, Sea (interference, major-fighting), 15:15. Mannek, Por (unsportsmanlike conduct, major-fighting), 15:15.
Third period - 9, Seattle, Richards 16 (Kukuca, Tyszka), 5:30 (pp). 10, Seattle, Tyszka 8 (Kaluski, Kukuca), 8:00. 11, Portland, Freadrich 15 (Blichfeld, Paterson), 19:59. Penalties - Richards, Sea (cross checking), 19:14.
Shots on goal - Seattle 9-15-9 33, Portland 17-13-14 44. Goalies - Seattle, Schwebius 44 shots-39 saves (5-8-2-0); Portland, Hofer 33-27 (15-29-3-1). Power plays - Seattle 2-3; Portland 2-4. A - 8,862. Referees - Kevin Bennett, Stephen Campbell. Linesmen - Eric Freeman, Tim Plamondon.
• Discuss this story on the Western Hockey League message board...


Western Hockey League Stories from March 18, 2019
The opinions expressed in this release are those of the organization issuing it, and do not necessarily reflect the thoughts or opinions of OurSports Central or its staff.