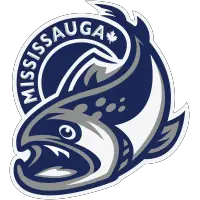 Steelheads Sign GM and Head Coach James Richmond to Three-Year Contract Extension
October 10, 2019 - Ontario Hockey League (OHL) - Mississauga Steelheads News Release



The Mississauga Steelheads announced this morning that the hockey club has signed General Manager and Head Coach James Richmond to a three-year contract extension. The news comes on the heels of back-to-back win's including Richmond's 100th career win as a head coach on Friday night.
James Richmond has vast experience coaching at all levels. Prior to joining the Steelheads, the Mississauga, Ontario native coached in Europe and the OJHL, where he won coach of the year twice and the Roger Neilson Award. In addition to his coaching awards in the OJHL, Richmond is a premier skills development instructor, working with players at the junior and professional levels in North America and Europe. He also has a Stanley Cup ring from 2014 as a member of the Los Angeles Kings player development staff.
The 2019-20 season marks the fourth year as Steelheads bench boss for James Richmond. Since taking the reins in 2015, he holds a record of (101-86-0-23) and has taken the team to the playoffs each year including an OHL Finals appearance in 2016-2017. Richmond has seen 13 Steelheads players drafted over his tenure with the team including:
PLAYER DRAFT TEAM OVERALL
Thomas Harley 2019 Dallas Stars Rd: 1 #18
Cole Schwindt 2019 Florida Panthers Rd: 3 #81
Keaan Washkurak 2019 St. Louis Blues Rd: 5 #155
Ryan McLeod 2018 Edmonton Oilers Rd: 2 #40
Jacob Ingham 2018 Los Angeles Kings Rd: 6 #175
Owen Tippett 2017 Florida Panthers Rd: 1 #10
Nicolas Hague 2017 Vegas Golden Knights Rd: 2 #34
Alexander Nylander 2016 Buffalo Sabres Rd: 1 #8
Michael McLeod 2016 New Jersey Devils Rd: 1 #12
Nathan Bastian 2016 New Jersey Devils Rd: 2 #41
Sean Day 2016 New York Rangers Rd: 3 #81
Jacob Moverare 2016 Los Angeles Kings Rd: 4 #112
Austin Osmanski 2016 Buffalo Sabres Rd: 7 #189
Other players to sign with NHL teams include Spencer Watson (LA), Villi Saarijarvi (DET) and Stefan LeBlanc (MTL).
General Manager and Head Coach James Richmond commented on extending his time with the hockey club. "My family and I are very happy knowing we will be part of the Steelheads for an extended time. I would like to thank Elliott for the opportunity he has provided me with. My family and I are committed to developing young men and winning a Championship here in Mississauga and having Elliott's support is a wonderful feeling. I'd also like to thank all of the Steelheads staff both in the business office and our hockey staff. I know that success as a Team can only be achieved by surrounding yourself with good people and I believe we have the best people in the Steelheads Family! I look forward to continued success both on and off the ice here in Mississauga and look forward to many more seasons with the Steelheads!"
Owner and President Elliott Kerr had the following to say about the contract extension. "James Richmond is a leader, a teacher, a motivator and a caring, thoughtful, generous and dedicated individual. On top of all of that, he has a burning desire to win. I am thrilled and proud to announce that the Mississauga Steelheads have extended JR's agreement for three more years through 2025. Character starts at the top and we will continue, under JR's leadership, to focus on building character individuals and character hockey players and in the process bring championships to our great city of Mississauga."
• Discuss this story on the Ontario Hockey League message board...


Ontario Hockey League Stories from October 10, 2019
The opinions expressed in this release are those of the organization issuing it, and do not necessarily reflect the thoughts or opinions of OurSports Central or its staff.