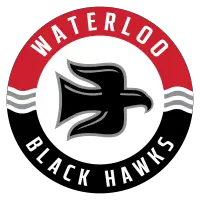 Sizzling Storm PP Costs Hawks
October 9, 2021 - United States Hockey League (USHL) - Waterloo Black Hawks News Release



Three power play goals and another tally on a penalty shot propelled the Tri-City Storm past the Waterloo Black Hawks 6-2 Friday at Viaero Center in Kearney, Nebraska.
An even-strength two-on-one rush led to Tri-City's first goal 4:12 into the game. Kieran Cebrian's low backhander from the edge of the right circle crossed up Hawks goalie Jack Williams, the first puck to elude him this season after a pair of shutouts. Later in the period, Williams made a pair of saves in quick succession during a Storm two-man advantage, but Lleyton Roed was there to put a final rebound chance into an open side at 15:47.
Waterloo sliced into the Storm lead seconds into their own early second period power play. At 1:56, Cooper Wylie blasted the puck toward the net; James Hong screened goalie Chase Clark and tipped Wylie's chance, drawing the Hawks back within a goal. It would be the only time the Hawks capitalized on nine power plays.
The rest of the period belonged to Tri-City. Graham Gamache scored in transition less then two minutes later. At 11:06, Dane Dowiak converted a penalty shot with a wrister from between the hash marks. Roed added one more - the Storm's second power play goal - redirecting a feed by Cole O'Hara from just outside the crease at 13:49.
Mason McCormick gave the Hawks a lift 4:01 into the third. Coming up the rink with Mason Reiners, McCormick swatted a puck near the netmouth, which went in off a Storm defender a moment before the Tri-City net was dislodged.
The Storm recorded their final power play goal of the night to cap the scoring when Jeremy Wilmer tipped Vinny Borgesi's shot-pass at 14:38.
Waterloo's road weekend continues on Saturday evening when the Black Hawks visit the Des Moines Buccaneers. Puck drop at Buccaneer Arena is scheduled for 6 p.m.
Waterloo 0 1 1 - 2
Tri-City 2 3 1 - 6
1st Period-1, Tri-City, Cebrian 1 (O'Hara, Druskinis), 4:12. 2, Tri-City, Roed 2 (Miller, Czerneckianair), 15:47 (PP). Penalties-Druskinis Tc (cross checking), 4:20; McCormick Wat (holding), 9:21; Cebrian Tc (interference), 12:52; Procious Wat (tripping), 14:18; Schneider Wat (tripping), 14:45; Nikolaev Tc (high sticking), 15:58.
2nd Period-3, Waterloo, Hong 1 (Wylie), 1:56 (PP). 4, Tri-City, Gamache 2 (Wilmer, Czerneckianair), 3:22. 5, Tri-City, Dowiak 1 11:06 (PS). 6, Tri-City, Roed 3 (O'Hara, Brindley), 13:49 (PP). Penalties-Benoit Tc (head contact), 1:41; Strathmann Tc (high sticking), 7:18; McCormick Wat (slashing), 11:06; Schifsky Wat (cross checking), 13:28; Ness Wat (slashing), 15:09; Miller Tc (high sticking), 16:31.
3rd Period-7, Waterloo, McCormick 1 (Reiners), 4:01. 8, Tri-City, Wilmer 3 (Borgesi, Nikolaev), 14:38 (PP). Penalties-Montgomery Tc (high sticking), 0:53; McEwen Tc (kneeing), 11:55; O'Connell Wat (hooking), 12:54; Montgomery Tc (roughing), 15:42.
Shots on Goal-Waterloo 8-14-9-31. Tri-City 14-9-9-32.
Power Play Opportunities-Waterloo 1 / 9; Tri-City 3 / 7.
Goalies-Waterloo, Williams 2-1-0-0 (32 shots-26 saves). Tri-City, Clark 2-0-0-0 (31 shots-29 saves).
A-1,329
• Discuss this story on the United States Hockey League message board...


United States Hockey League Stories from October 9, 2021
The opinions expressed in this release are those of the organization issuing it, and do not necessarily reflect the thoughts or opinions of OurSports Central or its staff.
Other Recent Waterloo Black Hawks Stories