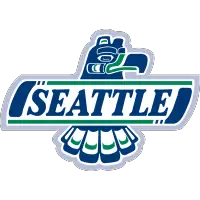 Silvertips Slip Past T-Birds
April 16, 2021 - Western Hockey League (WHL) - Seattle Thunderbirds News Release



KENT - The Everett Silvertips defeated the Seattle Thunderbirds 5-3 Friday night at accesso ShoWare Center.
The T-Birds are in Portland to take on the Winterhawks on Saturday at 5:05pm. The game will be broadcast on JOEtv Channel 22/Cable 110.
Everett had a 2-0 lead after one period on goals by Gage Goncalves at 17:20 and Cole Fonstad at 18:10.
Seattle came back with two goals of their own in the second period to tie the game 2-2.
Just after a T-Birds power play ended Jared Davidson won a puck battle in the low left circle to Gabe Ludwig who skated behind the Everett net. Ludwig skated into the right circle and made a nice cross across the low slot to Henrik Rybinski in the low left circle. Rybinski snapped the puck past Everett goalie Dustin Wolf as the goalie dove across the crease to try and make the save.
Lucas Ciona pushed a loose puck across the Everett blue line. Davidson got the puck and quickly moved it to Sam Oremba in the left circle. Oremba went right back to Davidson and he beat Wolf over the blocker from the slot.
Davidson put the T-Birds in front 3-2 at 9:25 of the third period. Ryan Gottfried took a shot from the left point that rebounded off the end boards to Davidson in the right circle. Wolf went down to make a save on Gottfried's shot and was out of position to make a save on Davidson, who had the whole net to shoot at. Tyrel Bauer had the second assist.
Everett got goals from Jacob Wright at 10:15 and Goncalves at 11:17 to take a 4-3 lead.
Seattle pulled goalie Jackson Berry with two minutes left for an extra attacker. Fonstad scored an empty-net goal with 20 seconds left to get Everett's fifth goal.
SCORING SUMMARY
First period - 1, Everett, Goncalves 9 (Fonstad), 17:20. 2, Everett, Fonstad 9 (Hemmerling, Goncalves), 18:10. Penalties - No penalties.
Second period - 3, Seattle, Rybinski 4 (Ludwig, Davidson), 10:03. 4, Seattle, Davidson 4 (Oremba, Ciona), 13:40. Penalties - Wright, Evt (checking to the head), 4:41. Hunchak, Evt (tripping), 7:53. Sanders, Sea (hooking), 11:27. Wright, Evt (interference), 17:56.
Third period - 5, Seattle, Davidson 5 (Gottfried, Bauer), 9:25. 6, Everett, Wright 5 (Regnier), 10:15. 7, Everett, Goncalves 10 (Fairbrother, Campbell), 11:17. 8, Everett, Fonstad 10 (Goncalves), 19:40 (en). Penalties - Gustafson, Sea (hooking), 1:19. Ashton, Evt (tripping), 4:36. Davidson, Sea (cross checking), 15:04. Roest, Evt (cross checking), 15:04.
Shots on goal - Seattle 9-12-16 37, Everett 11-11-13 36. Goalies - Seattle, Berry 35 shots-31 saves (2-2-0-0); Everett, Wolf 37-34 (9-2-0-0). Power plays - Seattle 0-4; Everett 0-2. Referees - Jarrod Bowman, Erik Freeman. Linesmen - Mark Heier, Josh Rosenbaum.
• Discuss this story on the Western Hockey League message board...


Western Hockey League Stories from April 16, 2021
The opinions expressed in this release are those of the organization issuing it, and do not necessarily reflect the thoughts or opinions of OurSports Central or its staff.
Other Recent Seattle Thunderbirds Stories