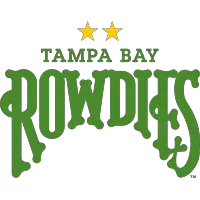 Rowdies Aim to Rebound at Home against New York
October 14, 2021 - United Soccer League Championship (USL) - Tampa Bay Rowdies News Release



The Tampa Bay Rowdies return to Al Lang Stadium this Friday to face New York Red Bulls II for the fourth and final time this year. They come home having clinched the Atlantic Division crown over the weekend despite a 2-0 loss at Pittsburgh Riverhounds SC.
Favorable midweek results around the USL mean the Rowdies are getting closer to locking up the top seed in the Eastern Conference and are now back in the driver's seat in the race of the top overall seed throughout the postseason. The need just 5 points in their final four matches to clinch home field over the rest of the Eastern Conference and they also hold a slim advantage over Phoenix Rising FC and El Paso Locomotive FC in maximum points available in the hunt for the overall top spot.
"All we can control is winning as many points, starting with Red Bull II on Friday," said Collins. "By the end, if we keep taking it one game at a time, winning as many games as we can, then we'll give ourselves the best chance. We found out last year that wherever you play, you have to win the playoff games."
The Rowdies are coming into this matchup with New York having suffered their first loss in over a month. A few factors were going against the Rowdies in their trip to Pittsburgh on short rest, but Collins isn't interested in making any excuses.
"I'm not one of those people who think, 'Oh ,we've won x amount of games, it's ok to have a loss.' Every game is in isolation for me.," said Collins. "Whatever's gone on in the past, this is the next one.... We never just write a game off. We always try to learn a lesson from it and move on as well."
Recent results in the USL have shown that no team, no matter how high up in the standings, is invulnerable. Miami FC's loss at last-place Loudoun United FC and Phoenix Rising defeat to Orange County United FC demonstrates that even the smallest of slip ups can leave you exposed and allow other teams to take advantage.
"I've been really guarded against (letdowns) happening before and the players have been so good because our leaders have been so good. Forrest, Leo, Aaron, Seba, just to name a few -- they're at it everyday. They're on it no matter how they're playing," said Collins. "So to this point it's not been an issue, but I'm always mindful of it being an issue. One thing Evan Louro said is it doesn't matter who we play. It isn't about who we play. It's about what we try to do. It's about what we're trying to achieve and I think the mindset has been a good one. There's no big or small games for this group. They're all about trying to get 3 points and trying to achieve something."
Firing on All Cylinders
While the record-setting defensive performances in August and September have taken up much of the spotlight, the Rowdies attack has steadily developed into one of the best in the league. A perfect example of that is the last time they met New York at Al Lang and dropped six goals on the visitors.
"This attack is definitely at the top, we showed it in the games, beating New York 6-0 and all these unbelievable scores we've had," said forward Sebastian Guenzatti. "I think it's due to the hard work and dedication the guys are putting in. Obviously that comes over a few years. This didn't just happen out of nowhere. It was a lot of years working for this project with Neill. Neill stepped up and brought that fire that we needed. A lot of it has to do with coaching, players mentality, and getting players to do the right jobs and be willing to do it. A lot of forwards wouldn't do what our forwards are willing to do. The running and the pressure we bring is just unbelievable."
History in Seba's Sights
An incredible run of form in September that saw him bag 7 goals has Sebastian Guenzatti within reach of a couple of Rowdies milestones. First, his season total of 19 goals matches the club's single-season record, which he set himself in 2019. On top of that, Guenzatti's overall goal tally of 55 for the Rowdies is just 5 shy of Georgi Hristov's 60 goals.
With four regular season matches left and hopefully a deep postseason run ahead, Guenzati has some runway to potentially catch Hristov before the end of the year.
"I'll try to do everything to get the historical record and all that, but right now it's all about the team and the Rowdies," said Guenzatti. " At first, I never thought getting the record was possible Obviously I dreamed of it when I first came and saw all the pictures on the wall, Georgi, there's so many people on the wall, I someday wish to be there. It was a lot of hard work and dedication that brought me here."
Gameday Info:
Tampa Bay Rowdies vs New York Red Bulls II
Friday, October 15, 7:30pm ET
Al Lang Stadium, St Petersburg, FL
Tickets: Tickets for the match can be purchased here or by visiting the box office at Al Lang Stadium starting at 2pm ET on gameday.
Watch: The match can be viewed on ESPN+ here.
Pre-Game Show: Starting at 6:45 pm ET, catch the pre-game show hosted by The Unused Substitutes podcasts, with guests, giveaways, and fan-driven discussions live on the Rowdies Gaming Twitch channel here.
Following Along: Live updates on Twitter at @RowdiesGameday
• Discuss this story on the United Soccer League Championship message board...


United Soccer League Championship Stories from October 14, 2021
The opinions expressed in this release are those of the organization issuing it, and do not necessarily reflect the thoughts or opinions of OurSports Central or its staff.