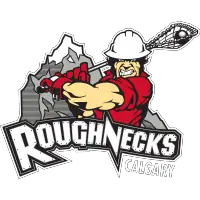 Roughnecks Announce 21-Player Active Roster
November 29, 2021 - National Lacrosse League (NLL) - Calgary Roughnecks News Release



Calgary, AB - The Calgary Roughnecks Lacrosse Club today announced its 21-player active roster and practice roster for the 2021-22 National Lacrosse League season.
The active roster includes 15 returning players, and five rookies from the 2020 and 2021 NLL draft. New to the team are Kyle Waters (first round, sixth overall, 2021), Carter McKenzie (third round, 38th overall, 2021), Tanner Cook (first round, fifth overall, 2020), Harrison Matsuoka (first round, 14th overall, 2020), and Ethan Ticehurst (second round, 20th overall, 2020), with Andrew Mullen also signing with the team after previously being drafted to New England in 2016.
"We are excited to name our roster after a very competitive camp that certainly produced some tough decisions for coaches and management" said Roughnecks GM Mike Board. "We like the make-up of the team, which has size and athleticism and a nice mix of veterans and young, upcoming players. We will be a team that puts on the hardhats and work boots and brings a strong work ethic to every game."
2021-22 Calgary Roughnecks Active Roster
Forwards (9): Curtis Dickson, Haiden Dickson, Jesse King, Marshal King, Dan Taylor, Tanner Cook, Kyle Waters, Zach Herreweyers, Ethan Ticehurst
Defenders (4): Liam LeClair, Curtis Manning, Andrew Mullen, Carter McKenzie
Defender/Transition (6): Zach Currier, Eli Salama, Shane Simpson, Mitch Wilde, Reece Callies, Harrison Matsuoka
Goaltenders (2): Christian Del Bianco, Landon Kells
NO PLAYER POS SH YOB HOMETOWN 2019-20 SEASON
2 Reece Callies D R 1995 Langley, BC Calgary Roughnecks
3 Marshal King F R 1997 Victoria, BC Calgary Roughnecks
4 Andrew Mullen D L 1995 Toronto, ON
10 Curtis Manning D R 1987 Calgary, AB Calgary Roughnecks
12 Tanner Cook* F L 1998 Courtice, ON Whitby Warriors OLA
13 Eli Salama D R 1996 Coquitlam, BC Calgary Roughnecks
17 Curtis Dickson F R 1988 Port Coquitlam, BC Calgary Roughnecks
18 Harrison Matsuoka* D L 1998 Calgary, AB Stony Brook (NCAA)
19 Jesse King F L 1992 Victoria, BC Calgary Roughnecks
21 Kyle Waters* F R 1999 Orangeville, ON Brooklin LC (MSL)
22 Shane Simpson D R 1994 Hamilton, ON Calgary Roughnecks
23 Liam LeClair D L 1998 Windsor, ON Calgary Roughnecks
26 Dan Taylor F L 1993 Calgary, AB Calgary Roughnecks
29 Carter McKenzie* D R 2000 Kingston, ON Burlington Chiefs (OLA)
55 Mitch Wilde D R 1991 Brooklin, ON Calgary Roughnecks
71 Zach Herreweyers F L 1994 Strathroy, ON Calgary Roughnecks
74 Ethan Ticehurst* F R 1998 Coquitlam, BC Coquitlam Adanacs (BCLA)
77 Zach Currier D L 1994 Peterborough, ON Calgary Roughnecks
97 Haiden Dickson F R 2000 Delta, BC Calgary Roughnecks
35 Christian Del Bianco G 1997 Coquitlam, BC Calgary Roughnecks
42 Landon Kells G 2000 Fergus, ON Calgary Roughnecks
*Denotes rookie
Forward Ryan Martel (first round, 11th overall, 2017) has been traded to Vancouver Warriors for forward Lyndon Bunio, a Calgary product.
Bunio, Cole Pickup (second round, 22nd overall, 2017), Tyler Pace (first round, ninth overall, 2017) and goaltender Adam Bland (fourth round, 53rd overall, 2021) have been placed on the practice roster to start the season. Defender Tyler Burton has been placed on the injured reserve list, after suffering a lower body injury during training camp.
Calgary will open their 2021-22 NLL campaign on Saturday, December 4th in Buffalo against the Bandits, before travelling to Saskatoon for Game 2 against the Rush on December 11th. The Roughnecks will then return to WestJet Field at the Scotiabank Saddledome for the Home Opener presented by TD Bank on December 17th at 7pm. Doors open at 5:30 p.m. for the $5 Happy Hour featuring food and beverage specials at all concourse concessions.
2021-22 Home Game Schedule
Fri Dec 17 vs San Diego 7:00PM
Thurs Dec 30 vs Halifax 7:30PM
Sat Jan 22 vs Vancouver 7:30PM
Sat Feb 12 vs Colorado 7:00PM
Thurs Mar 17 vs Saskatchewan 7:00PM
Sat Mar 19 vs Panther City 7:00PM
Fri Apr 1 vs Vancouver 7:00PM
Sat Apr 9 vs Panther City 7:00PM
Sat Apr 30 vs Colorado 7:00PM
Season Tickets are now on sale for 2021-22, starting at $32.11 per game for adults and $23.00 per game for student/child (all prices plus GST). Single game tickets are also on sale now! Fans can secure a seat online at CalgaryRoughnecks.com or by calling 403-777-4646 option 1.
• Discuss this story on the National Lacrosse League message board...


National Lacrosse League Stories from November 29, 2021
The opinions expressed in this release are those of the organization issuing it, and do not necessarily reflect the thoughts or opinions of OurSports Central or its staff.