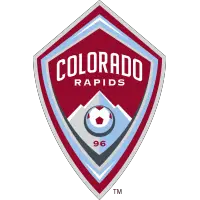 Reliving An Historic Night at Rio Tinto Stadium
September 13, 2020 - Major League Soccer (MLS) - Colorado Rapids News Release



Five-nil.
If that hasn't sunk in yet, let it.
Sports rarely work out the way we dream them up. But wow, when they do, it feels good. And for supporters of the Colorado Rapids on Saturday night, a weight was lifted, and an amazing performance was delivered inside Rio Tinto stadium in the form of a 5-0 win over Real Salt Lake.
It was an incredible, emotional night, in the midst of an abnormal season.
To recap: The Rapids erased a 4-1 deficit on aggregate against their biggest rival, on the road, to win the Rocky Mountain Cup for their supporters everywhere, but mostly for those back in the Centennial State. It was a historic win and marked the worst-ever defeat suffered by RSL inside their home building.
Whether a fan for a quarter-century, a handful of years, or just a few months, #Rapids96 nation now has THE signature win for their club in the 15-year history between Colorado Rapids Soccer Club and Real Salt Lake. There will always be Pablo celebrating shirtless at Rice-Eccles Stadium in the early days, and there will be future moments, no doubt. But this was different. This was a statement. And it had been building for months and weeks.
It was a statement that this team had heard enough - enough of Real Salt Lake head coach Freddy Juarez stating to the media that he coached the superior team prior to the August match between the sides in Colorado - enough chirping about disappointing results at the hands of the team from Utah - they banded together, shut out the noise, and put together one of the more memorable regular season wins in club history.
"I feel like tonight is the first time that other people can see what we've been doing. We've seen progress coming. I've watched this team over the last number of weeks really find an identity," Head Coach Robin Fraser told the media following the match. "To have tonight come together for us is a special feeling."
There were signs a breakout was coming, even during the seven-game winless run that was obliterated Saturday night. Signs that the team was an inch or two away - a shot off the post, a missed connection in the final third. There were signs that a big performance was near for those that were watching closely. Even so, few outside of the locker room believed a five-nil pounding of RSL was in the cards. That's why sports are so fun and that's why we keep coming back - this feeling - the feeling Rapids fans have right now - is always just around the corner.
"Nobody thought about winning the (Rocky Mountain) Cup in the start we just wanted to score goals. After we scored four or five goals, we realized we could do it," Diego Rubio told the media. "I think the fans deserve it."
Rubio's recent play, in a way, was a microcosm of the recent frustrations felt by the team. He'd been putting in quality performance after quality performance but with nothing to show on the scoresheet or the win column. He flipped the script and put his stamp on Saturday's match in a big way, pouncing on a loose ball in the box in the third minute to open the scoring and then doubling the lead with an incredible effort just moments later. He finished the night with two goals and an assist and delivered the first statement of intent which was vital to a team in need of a boost.
"It's a massive game. We just need to keep going. I think we find a way to win finally, I think the last three games we played well but we didn't get the results. So, I think everyone figured out that this is the way, we need to run and we need to press," Rubio said.
This club, this team, is building something. Building with a wealth of young talent and a head coach who is getting his side to see the game the way he does. In 2020 alone, this group has scored six goals after the 80th minute. Remember back to Orlando? Down two men against Sporting KC and they equalized in the dying moments? The two late winners to kick off 2020 in D.C. and against Orlando? This team doesn't quit, and they are figuring out how good they can be. And don't forget the run they went on to close 2019, winning five of seven and falling just shy of the playoffs. This win is bigger than three points in the win column and it should give this group confidence in the weeks to come. The result on Saturday cemented everything they've been preaching - to the media, to one another, to anyone who will listen. That message: A big performance is close, this group is really talented, they just need to put it together.
"It's a continuation of what's been going on," Fraser said. "The intensity and aggression with which the team played has been building for a couple of weeks. It was one of those nights we felt like we had a win coming pretty soon and a lot of things came together tonight."
If 2020 has taught us nothing else, it's that we shouldn't take 'normal' for granted. So even if it was anything but, Saturday night felt, closer to normal. There were fans in the stadium, there was a national anthem played. There was real emotion. And there was a moment, actually five moments and an emphatic win, that Rapids fans won't soon forget. Here's hoping it brought a smile, even if just for a brief second, during this unforgettable year.
• Discuss this story on the Major League Soccer message board...


Major League Soccer Stories from September 13, 2020
The opinions expressed in this release are those of the organization issuing it, and do not necessarily reflect the thoughts or opinions of OurSports Central or its staff.