Quakes eliminated from MLS is Back Tournament; finish with 3-1-1 record
August 1, 2020 - Major League Soccer (MLS) - San Jose Earthquakes News Release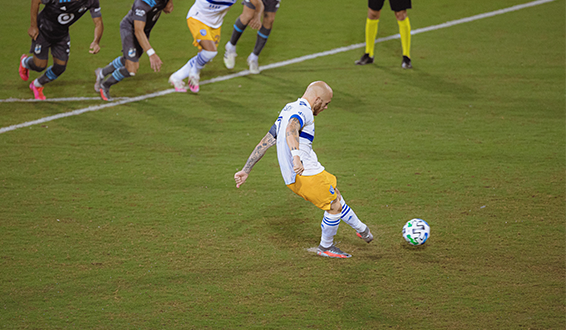 San Jose Earthquakes midfielder Magnus Eriksson scores a penalty kick five minutes into the second half
(San Jose Earthquakes)
SAN JOSE, Calif. - The San Jose Earthquakes fell to Minnesota United FC 4-1 in the Quarterfinals of the MLS is Back Tournament and have been eliminated from the competition. San Jose finished their participation in the tournament with a 3-1-1 record in five matches, including an undefeated 2-0-1 Group-Stage record that counts towards regular-season play, after being the first team to arrive in the bubble on June 24.
Minnesota took a 1-0 lead in the 20th minute, adding a second goal one minute later.
The Quakes pulled a goal back just five minutes into the second half when midfielder Magnus Eriksson successfully converted his penalty kick. Eriksson has scored three goals in the team's last two matches, all from the penalty spot.
Minnesota regained their two-goal advantage six minutes later and added a fourth goal in the waning moments of the match following five offensive substitutions for San Jose.
GAME NOTES
*Please note that stats and standings from the Knockout Stage do not count towards the MLS regular season
The Earthquakes depart the MLS is Back Tournament with a 3-1-1 overall record, including a 2-0-1 record in Group-Stage play that counts towards the regular-season standings.
San Jose held >60% possession in all five of their matches in the tournament.
Midfielder Magnus Eriksson scored a penalty kick, marking his third goal of the MLS is Back Tournament and fourth goal in all competitions this year. He has now successfully converted each of his eight penalty kicks in all competitions since joining the Quakes in 2018.
Eriksson and forward Chris Wondolowski each finished with a team-high three goals during the competition.
Midfielder Jack Skahan made his Earthquakes debut, entering as a substitute in the 67th minute.
Goalkeeper Daniel Vega and defender Guram Kashia each played all 450 minutes of the tournament.
MLS is Back Tournament - Quarterfinals
San Jose Earthquakes 1 - 4 Minnesota United FC
Aug. 1, 2020 - ESPN Wide World of Sports Complex in Orlando, Fla.
Scoring Summary: MIN - Robin Lod (Jose Aja, Hassani Dotson) 20: MIN - Jacori Hayes (unassisted) 21; SJ - Magnus Eriksson (penalty) 50; MIN - Luis Amarilla (Robin Lod) 56; MIN - Marlon Hairston (Hassani Dotson) 86.
Misconduct Summary: SJ - Judson (caution) 41; SJ - Andy Rios (caution) 64; SJ - Jackson Yueill (caution) 85; SJ - Chris Wondolowski (caution) 88.
SAN JOSE EARTHQUAKES: Daniel Vega; Nick Lima (Shea Salinas 60), Oswaldo Alanis, Guram Kashia, Tommy Thompson (Carlos Fierro 60), Jackson Yueill, Magnus Eriksson (Jack Skahan 67), Judson (Chris Wondolowski 60); Cristian Espinoza, Vako; Andy Rios (Danny Hoesen 67).
Substitutes not used: Tanner Beason, Eric Calvillo, Cade Cowell, Florian Jungwirth, Marcos Lopez, JT Marcinkowski, Paul Marie.
SHOTS: 16, SHOTS ON GOAL: 4; SAVES: 9; FOULS: 10; CORNER KICKS: 6, OFFSIDES: 0.
MINNESOTA UNITED FC: Tyler Miller; Jose Aja, Michael Boxall, Chase Gasper; Jacori Hayes (Marlon Hairston 67), Osvaldo Alonso, Jan Gregus, Ethan Finlay, Robin Lod (Raheem Edwards 78), Hassani Dotson; Luis Amarilla (Aaron Schoenfeld 61).
Substitutes not used: Fred Emmings, Brent Kallman, Kevin Molino, James Musa, Greg Ranjitsingh, Mason Toye.
SHOTS: 20; SHOTS ON GOAL: 13; SAVES: 3; FOULS: 9; CORNER KICKS: 5, OFFSIDES: 1.
SAN JOSE EARTHQUAKES HEAD COACH MATIAS ALMEYDA
On his reactions after tonight's match:
"We were outplayed by the opponent. It's the fourth time they played us and the fourth time they beat us. In these instances, unfortunately you have to get your bags and go home. And even though I didn't want to lose, I had illusions to keep going. All the people that were here, the players, the staff, the executives, people back home, I thank everybody for the effort."
On the team's commitment tonight:
"I think we have built a very competitive team and the players have left their souls on the pitch. Today, I saw the players during the last minutes and, beyond the result, which was out of reach and against us, they never gave up."
On the downsides to not continuing on in the tournament:
"We received the support of all the people of San Jose, and our families that are far away which we will be with tomorrow, God willing. But one who competes as a kid always competes to win, and I always have the hope of raising trophies. That's why I work here and that's why I do it with such love and passion. But I also accept it when things don't go the right way."
On what's next for the Quakes:
"We're living in the middle of a pandemic, not knowing if the regular season will continue or not. There are lots of things to analyze, so we'll see. For now, we look forward to returning with our families, know that they're well and it will give us pleasure to see our people as well. With respect to the future, we will see."
SAN JOSE EARTHQUAKES DEFENDER TOMMY THOMPSON
On the team takeaways from Orlando:
"I am really proud of the steps forward that we've taken in this tournament. It was a huge commitment for us to be the first team here, and to stay as long as we did. I think it's a testament to where this team is at. We're confident and I think the best is yet to come. We have plenty of lessons to take, whether it's the comeback win against Vancouver, or the convincing win against Chicago, or now those result against Minnesota. We're going to take the good with the bad and were focusing on the future. It's like I said, I think the best is yet to come."
On the strategy against Minnesota United FC:
"Like I said, this group is confident. We believe in our system and we believe in the work we put into practice every day. Unfortunately, against Minnesota, we've come up short the past couple times we've lined up against them and that's a testament to their quality. They're a great team and they showed it tonight. We're going to go home, we're going to think about the mistakes we made, we're going to correct them, and every time we step foot on that field, we're ready to put our best foot forward. That's what we're focusing on. We're not focusing on past results. We're always looking ahead to the future. I'm optimistic and whenever the season does start up, I promise you that we'll be ready to go."
SAN JOSE EARTHQUAKES MIDFIELDER MAGNUS ERIKSSON
On maintaining the team momentum after the tournament:
"First off, I think it's the same for all the teams. That's true that we don't know what will happen, but we will try to know soon, spend time with our families, spend time with our kids which will be amazing. During this time, hopefully we will get a decision of what will happen. We have been together now for 40 days and it has been great, but I would prefer to see my family than Tommy Thompson every day."
On his future:
"I am really happy in San Jose and that's where my thoughts are at. Everything can happen in football, but I'm really happy being a part of this team and that's the only thing that I'm concentrated and thinking about right now. I think that we had a great tournament. I am really happy with the time that we've been here together and its sad that it has to end today."
Images from this story
• Discuss this story on the Major League Soccer message board...


Major League Soccer Stories from August 1, 2020
The opinions expressed in this release are those of the organization issuing it, and do not necessarily reflect the thoughts or opinions of OurSports Central or its staff.
Other Recent San Jose Earthquakes Stories