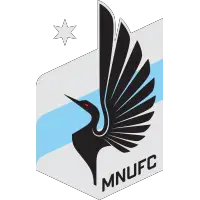 Dominant 4-1 Win over San Jose Propels MNUFC to Semifinals
August 1, 2020 - Major League Soccer (MLS) - Minnesota United FC News Release



ORLANDO, Fla. - Minnesota United entered tonight's game with a solid history against the San Jose Earthquakes, going 3-0-0 over the last two seasons with 11 goals to the Quakes' three. Once again, Head Coach Adrian Heath had the right gameplan and buy-in from his players. At no point did San Jose - who typically give opposing teams fits with an aggressive man-marking scheme - look to be in command of the game, with the Loons instead getting on the board first and staying there. When the dust settled, Minnesota walked away with a 4-1 win and a ticket to a Semifinals matchup with Orlando City SC.
From the very start, Minnesota United grabbed the game by the throat and only occasionally slackened its grip. Despite having less than 36% possession on the night, it was the Loons who dictated play, spending much of the first 30 minutes of the game in San Jose's end. As before, MNUFC showed how to break down San Jose's defensive scheme by spreading out the field, moving the ball quickly through space, and using deep runs by unmarked centerbacks to throw the Quakes' defense into chaos.
In just the fourth minute, defender Michael Boxall made just such a run into the box, getting off a shot that ricocheted out of bounds but also colliding with goalkeeper Daniel Vega, who remained on the ground for some time. Smelling blood in the water, Minnesota got to work peppering Vega, eventually putting in 13 shots on target to San Jose's four.
The Loons' first successful shot on goal came not long after in the 20th minute. Awarded a corner, Minnesota's initial effort from Gregus' pass was rebuffed, but Hassani Dotson gained control of the ball and whipped it back in, finding Jose Aja on the back post. The defender headed it back across goal and towards the feet of Robin Lod, who scored his second goal in as many games.
Things had barely settled down moments later when Dotson flung in a long range effort from the edge of the box on the right side. Although Vega got a hand on it, it bounced out in front of net and Jacori Hayes - starting in the midfield spot that Dotson had occupied the last two games before Romain Metanire was injured - was there to pounce on it. The right-footed shot gave Hayes his first goal as a Loon and put Minnesota up 2-0.
Unable to get a foothold in the game, San Jose headed to the locker room down two goals and without a Plan B. Luckily for them, Minnesota seemed to flag just a bit to start the second half, allowing the Quakes to get deeper into their own half. Inside of Minnesota's box, Tommy Thompson was able to turn on Hayes and as the ball bounced up, it hit Hayes' outstretched arm. Video review confirmed the handball and the Quakes were awarded a penalty, which Magnus Eriksson did not make a mistake on.
With the lead cut in half, San Jose had hopes for more, but in the 56th minute, forward Luis Amarilla found himself with acres of space down the left side of the pitch. Pushing the ball into the box, Amarilla touched it deftly onto his left foot and drilled the shot onto the near post, once again pushing the lead to two goals and the score to 3-1.
Hayes made way for Marlon Hairston in the 67th minute and Hairston wasted no time becoming a threat. In short order, the midfielder got himself into the box on the left side before sending a shot wide and then again with space to maneuver from Ethan Finlay before skying it over the goal. But in the 86th minute, he would finally get his, putting himself on the end of a low, driven cross from Dotson to slot away his first goal for MNUFC and give Dotson his second assist on the night.
Although Minnesota could have pushed it to 5-1 with a beautiful Jan Gregus free kick at the top of the box that curled through the wall but hit the woodwork just above the top left corner of the goal, the Loons would content themselves with an authoritative 4-1 win to remain undefeated in 2020 and earn a trip to the Semifinals of the MLS Is Back Tournament against Head Coach Adrian Heath's former team, Orlando City SC.
BELL BANK MAN OF THE MATCH: Defender Hassani Dotson
BREAKDOWN
20' | The corner kick rebuffed, Hassani Dotson controls it before sending in a curling pass to Jose Aja on the far post, who heads it back across to Lod who drills it. 1-0
21' | Only moments later, Jacori Hayes jumps on a loose ball in front of Daniel Vega after a Dotson cross and finishes it. Two goals in less than 90 seconds. 2-0
50' | Magnus Eriksson steps to the spot and drills the penalty kick left and gets the Quakes back into it. 2-1
56' | Luis Amarilla takes it all on his own down the left side and with a tap gets it to his left and drills it past Vega near post. 3-1
86' | Marlon Hairston is there for Dotson's low driven cross and drives it home. 4-1
LINEUPS
Minnesota United: GK Tyler Miller; D Hassani Dotson, José Aja, Michael Boxall, Chase Gasper; M Osvaldo Alonso, Jan Gregus, Jacori Hayes, Robin Lod, Ethan Finlay; F Luis Amarilla
San Jose Earthquakes: GK Daniel Vega; D Tommy Thompson, Guram Kashia, Oswaldo Alanis, Nick Lima; M Judson, Jackson Yueill, Cristian Espinoza, Valeri Qazaishvili; F Andrés Ríos
UP NEXT
Minnesota United vs. Orlando City
ESPN Wide World of Sports | Orlando, Florida
8.6.20 | MLS is Back Tournament presented by Heineken | Quarterfinals
7:00 p.m. CT (ESPN 2, MNUFC Radio on SKOR North)
MINNESOTA UNITED QUOTE SHEET
MINNESOTA UNITED HEAD COACH ADRIAN HEATH
On how Hassani Dotson did in the absence of Romain Metanire, and his expectations of that right back position every game...
"He [Hassani Dotson] just took over from where Romain [Metanire] plays. The one thing about Hassani is, he's probably... I've said it in numerous occasions. He's got a good feel for the game. You can play him in two or three positions. And I had no qualms in putting him at right back today. I knew that he would get tight to Vako and not give him much room. And then, go and play. The kid has got a good future. He can play a few positions for us. So, no. It doesn't surprise me. And, I thought he was outstanding."
On the game plan playing out perfectly, early goals and if the fire power San Jose had on the bench was motivation to get early goals...
"I said before the game I thought the first goal was going to be huge because they've come into this game with a lot of momentum on the back of some really good performances. But, as I've said before, I've probably got more faith in this group than anybody else. Certainly, more than you, the press, and the people everywhere else who continually seem to think we struggle to get through. It'll be interesting to read the narrative tomorrow when we look at the score line. Because, conceivably, they had a little bit more pressure than we would have liked in the second half. But, had we taken our chances and had a little bit more care on the break, it could have been a lot more than four. But, we'll see what's said."
On if the media can call the Loons favorites now...
"I wouldn't think so. Reading the papers and listening to everybody. But, hey, I don't care about that. You know that. I mention it to the players, sure. But, we know it's going to be a tough game. We look forward to it. We'll enjoy tonight and then start thinking about them tomorrow."
On the Loons fourth straight win over San Jose since Matias Almeyda came on as head coach - but multiple goals - and if there was any temptation to switch the game plan dramatically in case the Earthquakes were going for a reaction to what he's done before...
"You think about it, but, I think it's so embedded what they do. As I said before the game, I have a tremendous amount of respect for their coach. I think it's incredible that somebody can go, 'this is the way I'm going to play,' and then go about it with the conviction that he does. Even tonight, you know that they're never giving in. They keep going. And at 3-1 I'm looking at the clock and I'm going, this is still not over yet. Because, the one thing that is instilled in the group is a belief in what they do. So, yeah, it looks as if a comfortable win if people haven't watched the game. Anyone who has watched the game would say it's far from comfortable."
On two very different games in the Knockout Stage, yet the three-man midfield working both times and what about that treats them so well...
"I think, tonight, with the personnel, the way we like to play against them, you know, normally we've had a number 10 in there, but today we had a 6 and two 8's if you like. We tried to put them under a little bit of pressure higher up the field, so we're not camped around our own 18-yard box. It might be work towards the end of the game. But, the first half worked really well. We pinched so many balls. If there's one disappointment on the evening, I thought we could have scored more goals with a little bit more care on the break."
On how he sees Luis Amarilla...
"Luis [Amarilla] will be pleased for the goal. He's had a few little knocks and bumps and he hasn't done a lot of work. And when you consider we've had a four-month break. You know, I've said that people overlook that we haven't had 11v11 until we played Sporting Kansas City. People don't want to listen to that, they want to make their own narrative and describe what they think we are, and not what I know we are. But, we're getting there. I said, we're playing ourselves into the tournament. And, we'll be better for tonight as well. We'll be fitter on the back of that game as well. So, it bodes well."
On how Minnesota United has less possession but more shots and goals than the opponent...
"Well, possession is one thing. It depends what you do with it. Depends where it is. I've got a lot of belief with our counterattacking ability with this group."
On the first half not looking comfortable for the Loons around how and where they pressed San Jose and if this play was part of the game plan...
"Yeah, it was the game plan. Can we have our line of confrontation be a little bit higher up the field? And, I thought that worked really well."
On what he expects from the next game against Orlando...
"Everybody knows my feelings towards Orlando City. You don't spend the time that I did there and not have an incredible fondness for the club. But as I say, we'll start to concentrate on them tomorrow. I just want to enjoy the evening with my players. And, we'll start to think about the next game, tomorrow."
On what it means to have the stage set and an opportunity to capture this whole tournament, and the way Minnesota United has managed its way through this tournament...
"I think we've got progressively better from the very first game. And, if you look at tournament football, it's not always the team that starts the best that gets to where you want to be. I can think of so many teams, like, going back to Greece and people like that, who have stuttered their way through the group stage, if you like, and started to come in to a little bit of form. I've said all along that I think we'll get better as the tournament goes on and that's been proved. But, we know we've got a really difficult task. I think Oscar [Pareja] has had a great start with Orlando. They've got some good players. They've obviously got a real togetherness. You can see that. And, it's going to be tough. But, I also know that Oscar is wise enough and experienced enough that we ain't coming in there and playing on the back foot. We're going to be ready for the game."
On what this tells him about the potential of this team that they got the result tonight without three important starters on the field...
"One of the most pleasing things of the whole evening for me was, firstly, Luis [Amarilla] getting a goal. And then Marlon Hairston getting a goal. Jacori Hayes getting a goal. We've spoke about the strength in depth. And them guys, especially Marlon and Jacori, you could see the reaction of not only the people on the pitch, but the people off the field. They've been incredible teammates all the way through this. And, I know Jacori was frustrated that he hadn't had much playing time. But, the one thing about the kid, he trains so hard every single day. He's incredibly supportive to his teammates. And, you saw the reaction with the rest of the group. We're still a few numbers short. And, we're hoping to do something about that when we get back. But, you know, I'm so happy with the group that I have. I think Hassani [Doston] touched on it. This is the best group of people we've had in the club in terms of actually doing what the staff want of them, doing what is expected of them and being a really good teammate even when it's not going great for yourself. And, that's what football is all about."
On set pieces, the preparation and what he saw around these...
"If we put good quality in the box, we have a lot of size. Ultimately, you can have eight people who are 6'4". But, if the ball is not in the right spot, invariably, you don't score. So, Jan Gregus deserves a lot of credit for that."
On Hassani Dotson and what he asked him to do and how well he did it...
"Hassani [Dotson] did what we expect of him. The kid is a good player. Very difficult to play against. He's very stubborn, he's quick, he's athletic. And, he doesn't give people the time. He takes that individual battle personally. Him against the wide guy. Tonight, as I said to him, he's completely dominated a really good player. And, not only defensively, then he started to give us something going forward as well. So, it's been a good night for the young boys. I want to add as well, I thought Chase Gasper had an outstanding game against [Cristian] Espinoza, who is a really difficult player to play against."
On how he would define what this team is...
"More talented than people think. We just said that we've been without three of our big players tonight, and still dug it out. They're honest. They give you everything they're got. They've got a real determination. Maybe I like them more than most because I work with them every single day. But, I'm not the expert. You guys are the experts. I've only been doing it 44 years."
On if he had to choose one player who, on first viewing, stood out on Man of the Match...
"I thought Ozzie [Alonso] did some outstanding stuff. Stuff that people, you know, doesn't catch the eye. Being in the right spot to break attacks, or, being in the right spot to move the game forward. But, I actually thought it was an incredible team performance. I can't think of anybody who thinks, 'I might have had a better game tonight.' They've all done the job that has been asked of them. And sometimes, you know, players can pull a face a little bit and go, ugh, I don't really want to be doing that guy. But, they don't. They get on with what's asked of them. They think of the collective more than the individual. All the time. And that's why we started getting results and started to get better as the tournament has gone on."
On Jacori Hayes not seeing a lot of playing time, and what gave him the confidence to start him tonight in an elimination game...
I thought he came on and did really well the other night. The hardest job that we have, is when you've got really good players who are not playing, but you see them every day training the way that they do. And that's been an incredible compliment to them guys that they come in every single day and push the guys who are ahead of them. And, Jacori [Hayes] has been that since the day he got here. So, I'm not surprised that he's come in and give us the performance that he has, because he does it every single day. And that's incredible reward for players when they keep turning up, they keep doing it, and they don't get playing time. But, as I always say to them, this is a squad game. Especially here. Especially, we're a few numbers light at the moment. I'm really pleased for them guys."
MINNESOTA UNITED DEFENDER HASSANI DOTSON
On starting at right back...
"I'm just excited I got the opportunity to play again. I've been watching Romain [Metanire], he sets a great example and the coaching staff laid out a good plan for us, and we played San Jose three times over the last year, so I just watched a few games back of them and just tried to play the best I could."
On being a part of the three-man midfield...
"I think it helps that we have a lot of selfless players. So, I mean we are just trying to work hard for the person next to us and we all are fighting for the common goal to win games. And we've done a good job of building good relationships and building team chemistry, so that always helps."
On the record against San Jose as of late...
"Yeah, I don't think the record says it all. As you guys can see, they're a great team and it's been a great match every time we've played them despite the score line. We respect them very much and we are just very pleased that we could win today."
On the team improving and moving on to the semis...
"I'm just going to add on saying, obviously we haven't played any matches for some time, so it's normal to see the fitness levels, the sharpness, increase as the games go on."
On playing more like the Minnesota from the beginning of the season after the group stage...
"I think for us, every team in this league is very good, so as you saw in the first couple of games we didn't play our best. But like I said, with the fitness levels improving after each game, and just the sharpness is coming back to us. And all these teams are quality teams, but we never count ourselves out and we have confidence in each and every one of us that we can get the job done."
On where he plays and the differences of right back...
"Yeah, for me, I love this game and I just want to get on the field as much as possible and if that means in multiple positions, I'm open for it. Some differences that I had, today it's more of longer distance running and then it's obviously I have to go up against opponent wingers that are very good on the dribble. So it's just a different mindset. Obviously you're looking at the game 180 instead of 360, but in training, I train in both positions just in case or I stay after with a group of guys just to be prepared best as possible for whatever my role is given the game."
On what winning the tournament would mean for the team (franchise, champions league, money)...
"We're all competitors here. We didn't just get here just off of talent alone. We all want to win every game that we can, even if that goes to simple games when we play ping-pong and all that, we want to play every game we can and we are looking forward to the next round."
On comparing this team to the 2019 team...
"I think both sides, like both years have been pretty good. I think for me the biggest difference is the team's cohesion, I think it's been a lot closer, in my opinion, compared to last year. Everyone gets along very well. I mean last year we did too, but there's just a big family feel. We all love spending time with each other hanging out and I think that leads onto the field. We can work that much harder for the next guy, so that would be the biggest difference"
MINNESOTA UNITED MIDFIELDER JACORI HAYES
On being a part of the three-man midfield...
"Just a lot of communication and just reading where the other two midfielders are. You know, there's going to be times where we are not in that perfect triangle, so just fill-in the right spaces and all of us in there are smart players and we can adapt to the situation, and you know hopefully we can continue to perform if we're playing that formation again."
On the team improving and moving on to the semis ...
"Yeah confidence within the group keeps going up and, like you said, we are in the final four of this tournament. You know we've been in the bubble for a while, so we might as well stay a little bit longer and get the next win."
On the transition from Dallas and adjusting to Minnesota...
"It's good. I mean it's a good group of guys here and I feel comfortable within this locker room, within the team. And, you know, I've been confident with how I've been training and just glad I got the opportunity and did my best to take advantage of it. You know the weather is a bit different in Minnesota, that's pretty much it, but it's been a pleasure playing up there, up in Minnesota, and I'm just looking forward to what the rest of the season holds."
On the prep of set pieces...
"It just comes with a good delivery and a good run. So, we practice consistency with that for every game that I've seen, that I've been a part of with this club, so that's all it boils down to."
On the game plan for a tricky San Jose team...
"We went over the film on how they played and there was a lot of communication on the field to which guys we wanted to press. And, you know, fortunately it worked out. We were all over them in the first couple of minutes like you said and it led to the goal. So, we came out with a lot of energy and I'm happy with the group for that and in these knock-out games you want to come out on the front foot to dictate the tempo and it felt like we did that with our pressure."
On what winning the tournament would mean for the team (franchise, champions league, money)...
"I mean you listed all the rewards there. Like you said, it's putting this team on the map in the country and showing we're a real force in this league. Like you said, you have the money and the champions league spot helps as added motivation."
On his first goal...
"Yeah, just complete ecstasy. You know, I was very, very happy. As soon as it went in I just ran over to the corner to celebrate with the guys. They gave me a lot of support, with my transition here and during the quarantine and preparing for this tournament, they're my new brothers. They supported me and kept me motivated, and I'm just very happy to score and wanted to celebrate with the guys."
• Discuss this story on the Major League Soccer message board...


Major League Soccer Stories from August 1, 2020
The opinions expressed in this release are those of the organization issuing it, and do not necessarily reflect the thoughts or opinions of OurSports Central or its staff.
Other Recent Minnesota United FC Stories