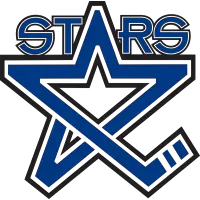 Preview - Stars at Lancers
April 12, 2019 - United States Hockey League (USHL) - Lincoln Stars News Release



FRIDAY, APR. 12TH, 2019 | 7:35 PM CDT | RALSTON ARENA
RADIO: LINCOLN STARS RADIO | WATCH: HOCKEYTV
Lincoln looks to end year on high note with first of back-to-back games against Omaha
Tonight's Contest:
The Stars (11-42-3-4) head to Omaha to take on the Lancers (26-26-4-4) to kick off the final series of the season.
Last Game:
Lincoln:
Scoring:
1st:
11:47 CIL Cal Kiefiuk (15) ASST: Stephen Halliday (22), Trevor Janicke (26) (PP)
17:02 CIL Chad Hillebrand (10) ASST: Bradley Marek (7), Ryan Siedem (30)
18:32 CIL Trevor Janicke (21) ASST: Stephen Halliday (23), Cal Kiefiuk (23) (PP)
2nd:
1:49 CIL Tyler Gratton (16-GWG) ASST: Cal Kiefiuk (24), Jake Boltmann (1)
7:54 CIL Chad Hillebrand (11) ASST: Joseph Dunlap (11), John Driscoll (6)
13:34 LIN Tristan Ashbrook (13) ASST: Michael Colella (14)
3rd:
1:15 LIN Charlie Schoen (1) ASST: Ryan Carmichael (14), Jacob Mucitelli (1)
8:51 CIL Philippe Lapointe (11) ASST: Cal Kiefiuk (25), Colby Enns (12)
14:50 LIN Steven Agriogianis (4) ASST: Grant Johnson (4), Jaden Shields (4)
PP: CIL (2-3), LIN (3-3)
PK: CIL (3-3), LIN (1-3)
Goalies:
CIL-Ryan Snowden W (11-11-0-1), 55:34, 27/30, 3 GA
CIL-Mitchell Gibson ND, 4:26, 2/2, 0 GA
LIN-Jacob Mucitelli L (3-11-2-2), 59:02, 24/30, 6 GA
Omaha:
Scoring:
1st:
0:49 WAT Vladislav Firstov (25) ASST: Kyle Haskins (12)
6:51 WAT Patrick Guzzo (6-GWG) ASST: Wyatt Schingoethe (21)
12:09 OMA Jaxon Nelson (18) ASST: None (PP)
2nd:
No Scoring
3rd:
15:17 WAT Hank Sorensen (8) ASST: Kyle Haskins (13), Brehdan Engum (12)
16:29 WAT Griffin Ness (16) ASST: James Marooney (25) (EN)
PP: OMA (1-7), WAT (0-4)
PK: OMA (4-4), WAT (6-7)
Goalies:
WAT-Evan Fear W (17-11-6-1), 60:00, 26/27, 1 GA
OMA-Akira Schmid L (15-13-2-0), 59:50, 36/39, 3 GA
Head-to-Head:
The Lancers hold a 6-1 lead in the season series which breaks down to a 1-4-2-0 record for the Stars. Their last meeting came at the Ice Box back on March 2nd. A scoreless first period gave way to an explosive second, as the Lancers built a lead off goals from Daniel Hilsendager and Logan Will in the first 12:18. The Stars countered with Brock Bremer's 13th tally of the year at 13:00, only to see Jaxon Nelson re-claim Omaha's two-goal advantage just over two minutes later. Michael Colella capped the period with a goal against his former team with under 1:20 remaining in the second. Colella's power play strike brought the Stars to one heading into the third. A hard-fought final period gave way to empty net goals: at 17:44, when Aleksi Peltonen scored his ninth following Jacob Mucitelli's exit for the extra attacker. Jaxon Nelson followed suit a minute later, and at the horn, the Lancers took home the 5-2 win. Jon Mor started the contest for the Lancers and earned the win despite being pulled in favor of Akira Schmid late in the second. Mor made 21 saves on 23 shots, while Schmid stopped all 13 he faced. Jacob Mucitelli stopped 28 of 31 in the loss.
Team Stats:
GF: OMA-2.50 (15th) to LIN-2.42 (16th)
GA: OMA-3.17 (9th) to LIN-4.28 (17th)
Shots For/G: OMA-27.45 (13th) to LIN-27.02 (16th)
Shots Against/G: OMA-30.75 (13th) to LIN-31.98 (14th)
PP: OMA-35/188, 18.6% (10th) to LIN-32/221, 32/221, 14.5% (16th)
SHGA: OMA-7 (t-10th) to LIN-9 (t-14th)
PK: LIN-178/224, 79.5% (9th) to OMA-158/201, 78.6% (t-11th)
SHGF: LIN-2 (t-15th) TIED OMA-2 (t-15th)
Leading Scorers:
G: OMA-Jaxon Nelson 18 to LIN-Brock Bremer 15
A: OMA-Travis Mitchell 25 to LIN-Hunter Skinner, Brock Bremer 17
TP: OMA-Jaxon Nelson 37 to LIN-Brock Bremer 32
Goalies:
W: OMA-Akira Schmid 15 to LIN-Jacob Mucitelli and Samuel Hlavaj 3
GAA: OMA-Akira Schmid 2.16 to LIN-Jacob Mucitelli 3.96
SV%: OMA-Akira Schmid .928 to LIN-Jacob Mucitelli .869
Shutouts: OMA-Akira Schmid 2 to LIN-Jacob Mucitelli 1
MIN: OMA-Akira Schmid 1893 to LIN-Jacob Mucitelli 1272
What to Watch For:
Eyes on the Future:
Though the Stars are looking to finish their regular season on a high note, they are also keeping the future in mind this weekend: a total of six affiliates will be available to play. Forwards Charlie Schoen and Declan McDonnell will look to build off scoring the first goals of their respective USHL careers last weekend. Forward Zach Urdahl returns to the Stars roster looking to add to his solid play in six games with the team. New to the roster this week are defensemen Jacob Bauer and Will Bowman, and forward Max Itagaki.
Bauer played for the Detroit Little Caesar's U16 team this season. The right-shot defenseman was selected by the Stars in the 5th round of the 2018 Phase I Draft. The Detroit native is committed to Western Michigan University.
Bowman and Itagaki hail from the Chicago Young Americans U16 hockey program that went 58-8-4 this year. Itagaki, a forward committed to RPI, was drafted in the 9th round of the 2018 Phase I draft, while Bowman, a defenseman, was selected in the 10th.
All three '02 birth years will look to make an impact as they push for roster spots next season.
Searching for a Win at Ralston:
The Lancers have done well defending home ice against the Stars this season. Against the entire USHL, the Lancers are 14-11-2-3 and 7-2-1-0 over the previous 10 games at home. Against the Stars they are 3-0 at the Ralston, outscoring Lincoln 12-4 in that span.
Lincoln has struggled on the road in 2018-19, picking up just three wins away from the Ice Box. The Stars were 2-2-0-1 in Omaha last season, their last win coming in a shootout on March 16th, 2018.
Jaden Shields:
Jaden Shields spent 22 games with Omaha this season before playing for Sioux Falls and Lincoln. In three games played against the Lancers this season, Shields has been a point-per-game player. The '99 has been on a bit of a roll of late, entering play on a two-game point streak, clocking in with a +3 rating in that span.
• Discuss this story on the United States Hockey League message board...


United States Hockey League Stories from April 12, 2019
The opinions expressed in this release are those of the organization issuing it, and do not necessarily reflect the thoughts or opinions of OurSports Central or its staff.