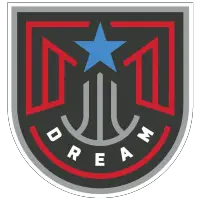 Postgame Notes: Atlanta Dream 75, Dallas Wings 85
August 8, 2020 - Women's National Basketball Association (WNBA) - Atlanta Dream News Release



Atlanta Notes
- Atlanta's record against Dallas moves to 17-9 all-time.
- The Dream started Chennedy Carter, Betnijah Laney, Shekinna Stricklen, Monique Billings and Elizabeth Williams. This combination has started all six games.
- Atlanta finished with a season-best 7 blocks (Glory Johnson - 3, Monique Billings - 2, Elizabeth Williams - 2).
- Courtney Williams surpassed 1,500 career points after recording 14 today.
o She has finished in double-figure points three times this season.
- Betnijah Laney continued her hot start to the season, finishing with 16 points, her sixth double-figure scoring effort tin 2020.
- Elizabeth Williams was back in double-figures for the fifth time this season after scoring 15 points.
- Chennedy Carter finished in double digits for the seventh-straight game to start her career (14 points).
- Shekinna Stricken now has 433 career three-pointers made after knocking down one today. She needs two to pass Shameka Christon (435) for 17th all-time in WNBA history.
Atlanta Quotes
Head Coach Nicki Collen
On how playing every other day is starting to take its toll...
"I don't know. I mean it's a hard thing to answer because everybody's doing it. There's no excuse there. I mean they played one more player than we did, but from a minutes perspective it wasn't that different. Kayla Thornton played 36, Arike Ogunbowale played 34. There just aren't any excuses here because everybody's got the same issues. I thought we came out flat. I don't think we came out with a ton of energy. That might be my fault. We probably can't take days off. That's the tough part about this. You try to do your best to load manage, and we did full recovery, thinking that this was a quick turnaround at a noon tipoff, but we probably should have been in the gym. We're too new. We're too young. That's on me, that's on me."
On what she has seen from Courtney Williams and Glory Johnson now that they are back with the team...
"I thought Courtney Williams obviously gave us really good minutes. I think Glory Johnson made a couple three's. Obviously her stats across the board are pretty good. I just think she can do so much more, so I've got to get her doing more. I didn't bring her in here to be a spot up three-point shooter. So, I've got to get her to where she is a more aggressive player, she's a more aggressive roller, she's an aggressive popper, and she's making plays for herself. I think as solid as Glory Johnson was today, I think she can do so much more on both ends of the floor. We've got to get her getting in more actions, being more aggressive, rim running some, and getting some easy ones. Right now she's wanting to stay at the arc and shoot threes. I want her to make threes, it was part of why we went out and got her, but I want her in actions and I want her slipping. She's so athletic. She can put the ball in the bounce a little bit. I'm not getting a percentage of what I think she can bring to the table. I've got to do a better job getting her to understand that she's capable of so much more within our system."
Center Elizabeth Williams (#1)
On her biggest takeaway from today's game...
"We just have to come ready to play. I don't know what the reason was, but I feel like we just weren't ready to play today. Whether it was transition defense or communicating early and often, we didn't do enough things right. In this league other teams will take advantage of that."
On how she balances recovery with making sure she is ready to play every other day...
"Recovery is huge. Hydration is huge. We tried to do a pool workout instead of being on our feet a lot. I don't know. It's tough. It's a mental game as much as it is a physical game. I think for us that once we are able to push through that mental barrier of playing so often, then I think we can be really good."
Guard Courtney Williams (#10)
On how playing every other day is going when she is still settling in with the team...
"I mean it's tough having quick turnarounds, still trying to build that team chemistry, and also trying to get back to my game. It's hard right now. We just gotta figure it out. We don't really have a choice."
On passing 1,500 points in today's game against the Dallas Wings...
"I don't know. I didn't know that, but we're losing. It's hard to be excited about the personal accolades when we're still trying to figure it out as a team and trying to get these wins going. I think my main focus and our main focus is to try to figure out and get a win."
Atlanta Dream (2-5) at Dallas Wings (3-4)
August 8, 2020
Team Q1 Q2 Q3 Q4 Final Points Rebounds Assists
Atlanta 18 24 17 16 75 Laney - 16 Billings/Johnson - 7 Three with 3
Dallas 21 20 24 20 85 Ogunbowale - 24 Jefferson - 10 Ogunbowale - 6
• Discuss this story on the Women's National Basketball Association message board...


Women's National Basketball Association Stories from August 8, 2020
The opinions expressed in this release are those of the organization issuing it, and do not necessarily reflect the thoughts or opinions of OurSports Central or its staff.