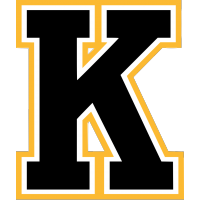 Peric Scores Twice, But Fronts Can't Tame Bulldogs
February 19, 2022 - Ontario Hockey League (OHL) - Kingston Frontenacs News Release



The Kingston Frontenacs (27-13-3-0) and Hamilton Bulldogs (28-11-2-2) met for a spot atop the East Division standings. The Bulldogs ended Kingston's three game win streak with an 8-2 victory at FirstOntario Centre this afternoon. Hamilton opened a three-point lead in the East Division standings on Kingston with the win. Lucas Peric scored twice, while Jordan Frasca and Lucas Edmonds extended point-streaks to eight games. Logan Morrison led the way for Hamilton with three points (1G,3A and Avery Hayes scored the game-winner in the second period on one of two goals.
After a 7-2 win over Ottawa on Friday night, the Frontenacs made the long trek to Western Ontario for the afternoon affair. Hamilton had also played in Erie on Friday night as both teams came in tired.
Leevi Meriläinen faced 43 shots in Kingston's net while Marco Costantini made 24 saves for the Bulldogs win.
First Period
It was a tale of two halves as the Bulldogs held most of the play during the opening eight minutes before the Black and Gold took over with 10 consecutive shots of their own. But a late goal for Hamilton sent the Fronts to the dressing room down 1-0.
An early blocker save by Meriläinen off Montreal Canadiens prospect Jan Mysak was kept out before Hamilton got an early powerplay chance. Bulldogs' Avery Hayes took a shot off the leg from the point and was forced to leave momentarily. Hamilton had two good shots on the Kingston net, but Meriläinen helped avoiding an early strike against.
Rookie Chris Thibodeau had a good shift drawing a call for Kingston's first man advantage after Hamilton had held most of the pressure early on with 10 of the first 11 shots for the home side, keeping the Fronts off the shot clock the first six minutes, before Kingston would take eleven consecutive shots of their own.
After the Bulldogs' Hayes made a big hit on Thibodeau along the boards, Paul Ludwinski had an excellent chance from the slot. The chance forced Costantini into a great save moments after the Fronts powerplay chance had ended. Ludwinski had a second opportunity when Shane Wright set the rookie up for a grade-A shot in front of Costantini. Paul Hughes just missed batting in a loose puck behind the Bulldogs' goaltender.
A hit post by Hamilton with 90 seconds left came as the Bulldogs finished out the period hemming the Fronts defenders in the defensive zone and taking the lead to intermission. It was 1-0 Bulldogs with 11 seconds left when Canadiens drafted Arber Xhekaj faked a shot before making a nice feed to Logan Morrison (19) who tipped it past Meriläinen. Ryan Humphrey also got an assist on the 19:49 strike.
Second Period
The home team scored twice for a three-goal lead, including a shorthanded goal, in a middle period heavily tilted in the Bulldogs favour. Hamilton outshoot Kingston 16-6 in the frame.
Mysak was stopped early in a period again by Meriläinen after taking a centering pass off the side of the Kingston net before a too-many-men penalty on Hamilton halted early pressure by the home side handing Kingston a second powerplay chance. The Fronts couldn't maintain consistent offensive zone time to generate any good chances.
A minute after the man-advantage, Kingston was then called on their second penalty. Nathan Staios let a point shot go that leaked through Meriläinen's pads, but the goalie quickly pounced on the loose puck. Hamilton went up a pair when Heyes (29) beat the Kingston goaltender with a wrist shot over the glove. The 2-0 powerplay goal was assisted by Morrison and Marco Costantini at 8:01.
Mark Duarte was stoned by Meriläinen keeping Kingston close as the Bulldogs were buzzing around the Kingston crease.
Braden Hache and Shane Wright teamed up to save the Fronts a goial against when the pair combined to stop Ryan Humphrey from an open cage midway through the frame.
Kingston had a good chance when a Lucas Peric point shot dropped in front of Costantini as a loose puck was batted in front by Wisdom and Ludwinski moments before the Fronts went to their third man-advantage.
However, on the ensuing powerplay, Heyes (30) scored shorthanded to make it 3-0 taking advantage of a Kingston turnover inside the Bulldogs blueline. Patrick Thomas assisted on the second goal by Hayes at 14:09 for the sixth shorthanded strike against Kingston on the season.
Kingston would take a 5-8-0-0 record when trailing after forty minutes to the final period.
Third Period
Seven goals were scored in a wild period that saw Hamilton skate away with a third straight win at home over Kingston.
A deflected puck off the rush helped put the Bulldogs up 4-0. George Diaco (16) put a shot high past Meriläinen after the puck came to him off a defender's stick. Ryan Winterton was credited with an assist just 1:05 into the stanza.
Hache and Lawson Sherk dropped the gloves for a spirited battle after the Kingston defender labelled a Duarte in the Kingston zone. Sherk received an instigator for the altercation.
After Kingston won the draw on the ensuing powerplay, Lucas Peric got the Fronts on the board making it 4-1 on a nice shot that beat Costantini high. Jordan Frasca assisted extending a point streak to eight games at 2:05. Peric now has points in three straight games (2G,3A).
Things got more heated as Arber was called on another Hamilton penalty and the teams tussled post whistle sending Kingston to another powerplay. Kingston took a too-many-men penalty nullifying a powerplay and the teams went four-on-four for 33 seconds. Diaco (17) scored for a 5-1 score during the four-aside play at 4:33 with Thomas and Jorian Donovan assisting.
Less then a minute later it was 6-1 when Winterton (10) backdoored a feed into the Kingston net. Morrison drew a third point with an assist at 5:11 with Mysak also adding a helper.
Peric scored his second of the game on a powerplay strike for a 6-2 score midway through the frame. The overage defender recorded his 100th shot-on-goal during the game. Lucas Edmonds and Arcuri assisted. OHL assist leader (53) Edmonds extended a point streak to eight games.
A deflected puck in front of Meriläinen made it 7-2 Hamilton as Humphrey (14) was credited with the goal from Staios and Winterton earning his third point with an assist at 13:19. A third Hamilton powerplay goal by Giordano Biondi with under a minute left rounded out the scoring 8-2.
BMW of Kingston Hardest Worker
Lucas Peric (2G)
Three Star of the Game
George Diaco - HAM (2G)
Logan Morrison - HAM (1G,2A)
Avery Hayes - HAM (2G)
Fronts Notes:
Lucas Edmonds is 1st OHL assists (53), 4th OHL points (76), 1st OHL PP assists (21)
Edmonds extends to an eight-game point streak (4G,12A), longest assist streak in OHL (eight games)
Jordan Frasca extended to an eight-game point streak (8G,8A)
Frasca (31) fourth-overall OHL - one of six players with 30+ goals - 13 PPG's 2nd most in OHL.
Matthew Soto, Martin Chromiak, Maddox Callens day-to-day
Lucas Peric now on three game point streak (2G,3A)
Team Stat Pack - GP (43)
(27-13-3-0) 57 pts (2nd East Div / 4th Eastern Conf
Leaders
Goals - Frasca (31), Edmonds (24), Arcuri (23)
Assists - Edmonds (53), Wright (35), Frasca (30)
Points - Edmonds (76), Frasca (61), Wright (55)
PIMs - Haché (57), Poole (42), Budnick (39)
Shots- Edmonds (197), Frasca (149), Wright (148)
Powerplay Points - Edmonds (27), Frasca, (21), Wright (19)
Rookie Points - Ludwinski (26), Soto (21), Thibodeau (8)
Defence Points - Peric (28), Murray (23), Bélanger (11)
Plus/Minus - Frasca (+26), Murray, Edmonds (+19)
On The Front
Kingston returns home on this Monday, February 21, for Family Day. Join the Frontenacs as they host the Ottawa 67's at the Leon's Centre starting at 2:00 pm. (Note the afternoon start)
The Fronts will play back in Ottawa on Wednesday, February 23 at 7:00 pm before a Friday, February 25th matchup with the Oshawa Generals at 7:00 pm. The game will be the Frontenacs 12th annual Military Appreciation Game and the Fronts will wear their CADPAT jerseys.
Tickets are available at ticketmaster.ca or the venue box office. The Capacity at Leon's Centre has increased to 50%, and the venue should be operating at 100% as of March 1, 2022.
Listen to all the action on 104.3 Fresh Radio with Frontenacs play-by-play voice Jim Gilchrist. Fans can also follow along with team social media channels at Twitter, Facebook and IG for updates. Watch the games on YourTV Kingston (channel 700) or CHL TV/OHL Live.
• Discuss this story on the Ontario Hockey League message board...


Ontario Hockey League Stories from February 19, 2022
The opinions expressed in this release are those of the organization issuing it, and do not necessarily reflect the thoughts or opinions of OurSports Central or its staff.