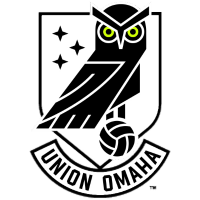 Owls Fly Past Tormenta FC 3-0 and Reclaim Second Place
October 3, 2020 - United Soccer League One (USL1) - Union Omaha News Release



PAPILLION, Neb. - Three beautiful goals fired Los Búhos up the table and past South Georgia Tormenta FC on a chilly, sold-out October night at Werner Park. The Owls soar to second place, two points ahead of Richmond Kickers who have a game in hand.
Evan Conway got Werner Park rocking with his second goal in as many games when he scored a diving header across goal to put Omaha up 1-0 before half-time.
Damià Viader, who was out injured the past three games, was substituted on in the 72nd minute. The Spainish wing-back scored only five minutes later thanks to a wonderful, curving through ball from Ethan Vanacore-Decker. After another five minutes, Viader would also assist JP Searce's headed goal with a fantastic cross to the near post to give the Owls a 3-0 lead.
"I'm so happy, I've been waiting for this moment for so long. I haven't scored yet, so scoring and assisting made me very happy," said Vaider.
Union's 3-0 win tonight marks its second-straight game scoring three times after last week's 3-2 win over Fort Lauderdale CF.
"We lead the league in shots, and we keep telling our guys we believe in them, and say look put shots on goal, put shots on target, make the keeper make saves and movement. I tell our guys, I'll never put pressure on them to score goals but they're big boys, they're professionals they put pressure on themselves, I don't tell Elma or Ethan hey man you gotta score goals, no they hold themselves accountable, I always tell them I'll hold you guys accountable for your movement in and around the box and defensive pressure for your holdup play and if I don't see that then I'm gonna be all over you and the movement wasn't great the last couple games, we kinda got stale in the last 30 yards kinda got static and it wasn't good enough. Sometimes it was good, sometimes it wasn't and
"We just needed to be more consistent, so obviously moving Conway up top and harping on those guys about moving and creating space for other people - I think that has helped," said Coach Jay Mims. "They see it on the tape and they believe in it. They score three goals, it gets them going and then they score three again. They're rolling right now, it's a good thing."
Next week, Union Omaha hit the road up to Wisconsin to take on Forward Madison FC on Sunday, Oct. 11 at 4 p.m. CT.
Key Moments
3' Right out of the gate, Ethan Vanacore-Decker's runs into space down the right hand flank after a headed flick on from toby. Vanacore Decker then crosses in across the frame of goal into the path of Evan Conway right as the Tormenta keeper came off his line to defend the cross. Evan gets a shot off but the keeper is right there to make the save.
18' - Some roommate-to-roommate buildup down the left flank between Devin Boyce and Christian Molina. Molina then hits a beautiful, looping cross towards a flock of Owl attackers in the middle of the box, but the Tormenta goalkeeper is off his line and first to it.
36' - A good little move between Tormenta attackers at the edge of Los Búhos' penalty area sees South Georgia striker Luca Mayr-Falten smash a shot towards goal that rises just above the Owls' crossbar.
38' - GOOOOOOAL: Union Omaha is off to a flying start thanks to Evan Conway and Toby Otieno. Otieno marauded through the Tormenta midfield before lifting a perfect pass to an onrushing Conway. The striker left his feet, diving forward to head the ball across the face of goal and into the back of the net to put Union up 1-0 before half-time.
65' - After a South Georgia corner-kick, there's a frenzy in the Owls' penalty area - after some pin-ball action in the scrum of players, the ball trickles out to a Tormenta attacker who fizzes a shot into the berm behind the goal.
78' - GOOOOOOAL: On his return from an injured spell, Damià Viader scores minutes after being subbed on thanks to a beautiful through ball from Ethan Vanacore-Decker to put him one on one with the keeper. Viader then calmly slotted the ball past the South Georgia shot-stopper for his first professional goal, putting Union up 2-0.
83' - GOOOOOOAL: It's Viader again, this time setting up JP Scearce at the near post for the Owls' third goal. Viader flicks a gorgeous cross onto the head of Scearce, who dispatches it clinically to push Los Búhos' lead to three.
Game Notes
Ethan Vanacore-Decker put in a shift on both ends of the field. His assist in the 78th minute helped put the game to bed. On the defensive end, he led the team in interceptions (3) to help keep South Georgia off of the score sheet.
You could say the same for midfield dynamo Toby Otieno, who did it all for Omaha. He assisted Evan Conway in the 38th minute for the first goal, while leading the team in tackles (5).
Man of the Match Damià Viader's goal in the 78th minute was his first-ever as a professional. Congrats, Dami!
Illal Osumanu helped Union's defense hold Tormenta to only one shot on target and make Werner Park a fortress by leading the team in clearances (6).
The Owls hop up to second place with 22 points - 11 points behind Greenville Triumph (31 points) and two points ahead of Richmond Kickers (20 points), who have a game in hand.
Next Game
Union Omaha will head north to Wisconsin to take on Forward Madison FC at Hart Park on Sunday, Oct. 11. Kick-off is scheduled for 4 pm C.T.
Union Omaha vs South Georgia Tormenta FC
October 3, 2020
Werner Park (Omaha, NE)
Goals by Half 1 2 F
Union Omaha 1 2 3
South Georgia Tormenta FC 0 0 0
Scoring Summary:
OMA: Evan Conway 38' (assist Toby Otieno)
OMA: Damia Vaider 78' (assist Ethan Vanacore-Decker)
OMA: J.P. Searce 83' (assist Damia Vaider)
Misconduct Summary:
TRM: Stefan Mueller 53' (Yellow Card)
Lineups
OMA: GK Nuhu, D Crull, D Knutson, D Osumanu, D Sousa c, M Scearce, M Vanacore-Decker (Contreras 91'), M Otieno (Aune 91'), M Molina (Vaider 72'), F Boyce (Panchot 72'), F Conway (David 72')
TRM: GK Jara, D Thorn, D Phelps, D Skelton, D Mueller, M Gomez, M Vinyals (Rowe 59'), M Obinwa, F Arslan (Jackson 59'), Micaletto (Botello Faz 83'), F Mayr
All statistics contained in this box score are unofficial.
• Discuss this story on the United Soccer League One message board...


United Soccer League One Stories from October 3, 2020
The opinions expressed in this release are those of the organization issuing it, and do not necessarily reflect the thoughts or opinions of OurSports Central or its staff.