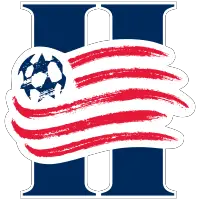 Revolution II Defeats Richmond Kickers, 4-0
October 3, 2020 - United Soccer League One (USL1) - New England Revolution II News Release



FOXBOROUGH, Mass. - New England Revolution II (4-6-2, 14 pts.) earned its third consecutive victory on Saturday night, defeating Richmond Kickers (6-3-2, 20 pts.) on the road, 4-0. Revolution Homegrown Players Nicolas Firmino and Damian Rivera tallied for New England, with the latter netting the first goal of his professional career.
Revolution II took the lead in the 23rd minute on an own goal by Richmond defender Kyle Venter. New England forward Orlando Sinclair headed down a cross by midfielder Tiago Mendonca with the ball deflecting off Venter and into the net. Firmino struck eight minutes later from the penalty spot to double the lead, converting the first penalty attempt for Revolution II this season.
In the second half, New England tallied two more goals, including Rivera's first-career score. The 17-year-old from Cranston, R.I. found the net in the 83rd minute with an assist from Mayele Malango. The goal came two minutes after Richmond's Mumbi Kwesele bundled a cross into his own net for New England's third goal.
New England will return to Gillette Stadium for the first time in a month next Friday night, October 9, hosting Fort Lauderdale CF in the teams' first-ever meeting. Kickoff is scheduled for 7:00 p.m. ET on ESPN+ in the United States.
Richmond Kickers 0, New England Revolution II 4
October 3, 2020 - City Stadium (Richmond, Va.)
Revolution II Keeps Third Straight Clean Sheet, Extends Shutout Streak
- Revolution II won for the third consecutive match without conceding a goal, extending the club's current shutout streak to 352 minutes.
- Tiago Mendonca led the way with five clearances, six interceptions, and 12 possessions gained on the night while Ryan Spaulding had a team-high nine interceptions to go along with nine possessions gained.
Firmino Adds Team-Leading Third Goal of the Season
- Midfielder Nicolas Firmino scored his third goal of the year in the 31st minute, converting a penalty kick to give New England a 2-0 advantage.
- Firmino, a resident of Somerville, Mass., finished the night with six shots, including three on target, and completed 81 percent of his passes.
- It was the first penalty kick Revolution II had earned this season, won by defender Colby Quinones who drew the foul inside the box.
Rivera Scores First Professional Goal
- Midfielder Damian Rivera came off the bench to score the first goal of his professional career with an assist from Mayele Malango. Rivera, who played 20 minutes, had two shots on goal.
- The Cranston, R.I. native, signed as New England's seventh Homegrown Player in the offseason, previously scored two goals in exhibition action with the Revolution first team during 2020 preseason camp in Los Angeles, Calif.
Three Players Hit 1,000 Minutes Played on the Season
- Revolution II players Jon Bell, Nicolas Firmino, and Maciel all reached the 1,000-minute milestone on the season, becoming the first players in club history to accomplish the feat.
- Bell is currently the only member of the team to play every minute of the season through 12 games, leading all players with 1,080 minutes in his rookie season.
Meyer Keeps First Career Shutout
- Goalkeeper Keegan Meyer earned the start in net in place of the injured Joe Rice, finishing the night with three saves to collect his first career shutout.
- Meyer made his fourth appearance and third start of the season, with his last start coming on Aug. 29 at Chattanooga Red Wolves SC.
GAME CAPSULE
Referee: Gary Gutierrez
Assistant Referees: Andrew Charron (AR1), Meghan Mullen (AR2)
Fourth Official: Nickrod Fateh
Weather: 60 degrees and clear
Scoring Summary:
NE - Kyle Venter (Own Goal) 23'
NE - Nicolas Firmino (Penalty Kick) 31'
NE - Mumbi Kwesele (Own Goal) 81'
NE - Damian Rivera (Mayele Malango) 83'
Misconduct Summary:
NE - Colby Quinones (Yellow Card- Bad Foul) 45'+4
RIC - Wahab Acwei (Yellow Card- Bad Foul) 86'
RIC - Mumbi Kwesele (Yellow Card- Bad Foul) 90'
New England Revolution II: Keegan Meyer; Ryan Spaulding, Jon Bell, Collin Verfurth ©, Colby Quinones (Ryo Shimazaki 85'); Maciel, Tiago Mendonca, Nicolas Firmino (Hikaru Fujiwara 82'); Connor Presley (Damian Rivera 70'), Orlando Sinclair (Meny Silva 84'), Justin Rennicks (Mayele Malango 82').
Substitutes Not Used: Matthew Tibbetts, Diego Souza.
Richmond Kickers: Akira Fitzgerald; Wahab Ackwei, Kyle Venter, Ivan Magalhaes, Scott Thomsen; Victor Falck (Gregory Boehme 79'), Ryley Kraft (Mumbi Kwesele 58'), Luka Pavone (Stanley Alves HT), David Diosa (Jonathan Bolanos HT); Emiliano Terzaghi, Mutaya Mwape (Oalex Anderson 70').
Substitutes Not Used: Lee Johnston, Hassan Pinto.
Richmond Kickers Team Statistics New England Revolution II
13 (3) Shots (on Target) 18 (7)
5 Saves 3
6 Corner Kicks 5
1 Offsides 1
13 Fouls 14
410 (80.0%) Passes Attempted (% Completed) 362 (80.1%)
53.9% Possession 46.1%
POSTGAME QUOTES: New England Revolution II xx at Richmond Kickers xx
Revolution II Head Coach Clint Peay
On the importance of starting fast on the road:
Peay: "I thought it was critical. Richmond's a team that's difficult to break down and if they get the lead it becomes even more difficult to fight back against them one goal down. Going up early was important but we talked about trying to make their defenders defend us today."
On keeping three consecutive clean sheets:
Peay: "Really I think its collective now. The group is believing in what we're trying to do, we're working together, they are out there putting in the effort and communicating better and so we're harder to break down now."
On Damian Rivera scoring his first career goal:
Peay: "He's been working very hard and I think that for his confidence, obviously it's important for any attacker to hit the back of the net. I think that will be a definite confidence-booster for him as he continues to grow as a young player."
On the team's confidence:
Peay: "I think when you win games that helps everybody's confidence. You have more belief in what you're doing, the ball seems to bounce your way more, and you have more energy to run. That part's good and I think for this group it's been well-deserved. Now the focus, as it is every week when you get a win, is to not get complacent and continue on the path that your own and try to do the same next week or the next game."
On returning home for the first time in a month:
Peay: "For us, every game is important especially at this point in the season. Every point counts. Fort Lauderdale CF is in the same boat as we are, we're both trying to move up the standings. It'll be a good game, they're a very good team and it won't be easy for us."
Revolution II Defender Collin Verfurth
On going 352 minutes without allowing a goal:
Verfurth: "We're defending as a whole unit. We're really invested in having 10 guys behind the ball and defending as a whole team and that makes it easier for the defense and the backline to defend as a whole. We've just got to keep that going, keep being invested in the defense, and keep getting shutouts but most importantly keep getting results."
On Keegan Meyer filling in for Joe Rice and the defense rallying around him:
Verfurth: "I would say Joe [Rice] and Keegan [Meyer] are similar keepers. They're very vocal, they read the game well, so our defense was similar to our past couple games. Keegan was very vocal as he always is back there. It was nice to get Keegan his first professional shutout."
On the team's confidence:
Verfurth: "Even on that four-game losing streak, we knew we were a quality team. We knew if we just put our chances away and just cleaned up that last pass, that last part with the finishing, things would start rolling for us. These past four games it's shown. We've gotten results, scored goals early before the other team, and it has just built up our confidence. We have to keep this momentum going to stay focused for next game and play a full 90 minutes again."
Revolution II Midfielder Nicolas Firmino
On converting a penalty kick:
Firmino: "Obviously I hadn't taken a penalty yet this season but I'm usually on penalty kick duty for my teams and when they called a penalty tonight, I stepped up and took it."
On the attack scoring four goals:
Firmino: "We're just clicking on all cylinders right now. Guys are in the right spots and the more we play together, the more chemistry we get and I feel like it all came together tonight."
On seeing Damian Rivera score his first goal:
Firmino: "It's great to see that. He's come close a couple times but for him to get on the scoresheet today is great for him. We know that he's an important player for us and he's going to help us if he can score goals."
On reaching 1,000 minutes:
Firmino: "This has been an important year for me to get much-needed minutes. To hit 1,000 minutes, that's a testament to my hard work and obviously to the staff who has a lot of confidence in me and the medical staff as well that keep me fit and keep me healthy to play."
• Discuss this story on the United Soccer League One message board...


United Soccer League One Stories from October 3, 2020
The opinions expressed in this release are those of the organization issuing it, and do not necessarily reflect the thoughts or opinions of OurSports Central or its staff.
Other Recent New England Revolution II Stories