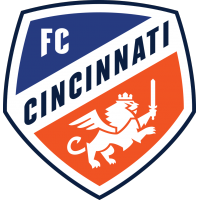 Orange and Blue drop midweek matchup
September 15, 2021 - Major League Soccer (MLS) - FC Cincinnati News Release



ATLANTA - FC Cincinnati fell, 4-0, to hosts Atlanta United FC Wednesday night at Mercedes-Benz Stadium.
The Orange and Blue dropped to 4-11-8 (20 points) with the loss. Atlanta have won six of seven matches and improved to 8-7-9 (33 points).
Luiz Araujo opened scoring in the 5th minute and Josef Martinez netted the first of his two goals for the night just before halftime in the 40'. His brace was completed in the 55', and Ezequiel Barco's free kick goal in the 86' gave the match its final scoreline.
FC Cincinnati host New York City FC on Saturday at TQL Stadium. Kickoff is set for 7:30 p.m. ET, and the game will be televised on WSTR 64, carried on the radio on ESPN 1530, streamed regionally on fccincinnati.com/stream, out of market on ESPN+, while an audio stream will be available via the iHeartRadio app.
For up-to-the-minute information about FC Cincinnati, visit the team's official website at fccincinnati.com, or follow the team on Twitter, Instagram and Facebook at @FCCincinnati. Additionally, fans are encouraged to download the team's official mobile app on the Apple App Store or Google Play for instant access to mobile tickets, team content and match notifications.
Information about seating options at the club's state-of-the-art TQL Stadium is now available at TQLstadium.com. For more information about 2022 Season Ticket Deposits and Renewals, which are coming soon, visit TQLstadium.com or the stadium's social properties on Twitter, Facebook or Instagram at @TQLStadium, or by calling the team's sales and service staff at 513-977-5425.
Atlanta United FC 4, FC Cincinnati 0
Mercedes-Benz Stadium | Atlanta, Georgia
September 15, 2021
SCORING SUMMARY
ATL - Luiz Araujo (Alan Franco) 5'
ATL - Josef Martinez (Alan Franco, Luiz Araujo) 40'
ATL - Josef Martinez (Ezequiel Barco, Alan Franco) 55'
ATL - Ezequiel Barco (unassisted) 86'
FC Cincinnati: Przemysław Tytoń, Gustavo Vallecilla (Geoff Cameron 73'), Nick Hagglund, Ronald Matarrita (c), Zico Bailey (Chris Duvall 79'), Allan Cruz, Caleb Stanko, Florian Valot (Luciano Acosta 62'), Edgar Castillo (Álvaro Barreal 62'), Brandon Vázquez, Brenner (Calvin Harris 74')
Bench: Ben Lundt, Kamohelo Mokotjo, Haris Medunjanin, Yuya Kubo
Stats: Shots 11, Shots on Goal 3, Saves 5, Corners 3, Offside 1, Fouls 18, Possession 38.8%, Passes 351 (85.8%)
Atlanta United FC: Brad Guzan (c), Alan Franco, Miles Robinson, George Campbell, Jake Mulraney (George Bello 66'), Brooks Lennon (Jurgen Damm 75'), Matheus Rossetto (Mohammed Adams 66'), Marcelino Moreno, Luiz Araujo (Erick Torres 86'), Ezequiel Barco, Josef Martinez (Tyler Wolff 74')
Bench: Alex DeJohn, Alec Kann, Erik Lopez, Machop Chol
Stats: Shots 15, Shots on Goal 9, Saves 3, Corners 4, Offside 3, Fouls 15, Possession 61.2%, Passes 575 (88.5%)
MISCONDUCT SUMMARY
CIN - Brenner (caution) 39'
CIN - Edgar Castillo (caution) 45'
CIN - Ronald Matarrita (caution) 54'
ATL - Mohammed Adams (caution) 73'
CIN - Brandon Vázquez (caution) 79'
CIN - Chris Duvall (caution) 82'
ATL - Tyler Wolff (caution) 90+1'
Referee: Drew Fischer
Ast. Referees: Matthew Nelson, Ryan Graves
Fourth official: Ted Unkel
VAR: Alan Kelly
AVAR: Nick Uranga
Attendance: 42,501
GAME NOTES
Ronald Matarrita will miss Saturday's match due to yellow card accumulation, with his fifth of the season coming Wednesday night.
Brenner is the only player to start in every match this season for FC Cincinnati.
Zico Bailey and Brandon Vázquez each made their first starts of 2021 ... for Bailey it was his fourth career nod in FC Cincinnati's Starting XI while Vázquez made his 16th career start (ninth with FC Cincinnati).
Geoff Cameron entered as a substitute for the first time in MLS since August 8, 2010, with Houston at Seattle. 110 of his last 112 MLS appearances have been starts.
AS IT HAPPENED
5' - ATLANTA UNITED FC GOAL | Luiz Araujo gets in behind the FC Cincinnati defense down the right flank and shoots a left footed curling shot past Przemysław Tytoń.
30' - FC Cincinnati near chance | Brenner capitalizes on a mistake in the back to get in behind the Atlanta defense, but his left footed shot is high of the mark.
38' - Atlanta United FC near chance | Przemysław Tytoń saves an Atlanta shot from Brooks Lennon from point blank range.
40' - ATLANTA UNITED FC GOAL | Off a set piece, Alan Franko gets on the end of the cross and flicks it across the box to Josef Martinez for a close-range header and a second Atlanta goal.
55' - ATLANTA UNITED FC GOAL | Josef Martinez nets a brace as he gets in behind on a through ball and sneaks a right footed shot past Tytoń.
86' - ATLANTA UNITED FC GOAL | Ezequiel Barco's free kick from outside the 18-yard box curls around the wall and into the bottom right corner of the net.
POSTGAME QUOTES
FC Cincinnati Head Coach Jaap Stam
On the result and lineup change
"It's a disappointing result, we all know that. I was really confident in seeing the first half in what we could have and should have done to be better as well, that we could have gotten more out of it. We used this opportunity to play other players because of the three games we're having this week, including the game in Cincy against New York which is of course very important for us. They've been working hard, they've been positive.
On the outlook for the remainder of the season
"Of course, you always want to win. I want to win the league as well, but we also need to be patient at times and hopefully getting there. To get in the flow, to reach a certain standard that we can get there. And it is not easy, that is how it is in soccer as well, especially over here, to make these steps to eventually get to a certain level so you can really say 'now we are there.' Of course, we are all trying and that's why I always look at it from game-to-game ... We need to have better results but also need to be more consistent and need to play better to eventually get to where everybody wants us to go."
FC Cincinnati midfielder Caleb Stanko
On if tonight is a setback
"Everyone knows we haven't had the best of seasons, so it doesn't feel like that much of a setback. But it felt like we had something to get out of this game. We could have gotten a point. At least that's how it felt. They had two opportunities in the first half, two or three, and they put two away. We had two huge opportunities and unfortunately, we didn't put them away. That's how it goes. It's those small details, and it cost us the game. They were clinical in front of the goal, we weren't. We were just sleeping a little bit on set pieces. It really messed us up."
On if the goals were given away too easily
"Yes, I do. I think it's these little mistakes, losing the ball in the wrong places, against a team that's looking to counter. They leave a lot of guys forward, and they don't necessarily track back. They're waiting for that. So, when we're not smart with the ball, or we're looking to go forward too quickly, they're capitalizing on our mistakes."
On conceding from set pieces
"The direct free kick, there's nothing you can do about that. I thought the foul before was questionable, but it was a great shot. The goal Martinez scored, yeah. I think we could have been better on that. We should have followed our men. That's what it came down to, it was a miscommunication. It was a good play, but I think we could have done better on it."
On what the team can accomplish in the last third of the season
"I think we need to come together as a group and say, 'what are our goal for the rest of the season?" I think there's been a lack of goal setting. Everyone wants to make the playoffs, everyone wants to do well, everyone wants to be a champion. We need to be realistic with where we are. We have what, 11, 12 games left? How many points do we want to get out of those? We need to come together and say, 'this is our goal for the last few games.' Make it realistic. Playing against Atlanta, in Atlanta, they've really turned it around, they've been doing well, it's not an easy game. Even though we could have gotten some points, that's what's frustrating."
FC Cincinnati defender Zico Bailey
On getting his first start tonight
"Physically, I felt well. It was nice to get my first start of the year, and I'm hungry for more. Personally, I think I did okay. I tried to do what the coaches asked of me and help the team any way possible. It wasn't enough, as you can see from the result. We move on to the next game."
On the statement he feels like he's made for himself
"I'm just showing that I'm hungry to play, and when my name is called, I'm going to be ready. I'm going to give energy and try to help the team. That's the only thing I can control: The energy that I give and doing what the coaches ask of me."
On the team's goal for the rest of the season
"I would say just taking it one game a time. Having pride for the club, having pride for yourself, and not giving up so easily in the games. Obviously the goal is to win every single game, get a good result. With this one going down playoffs look less likely, so we just need to take it one game at a time and not look too much into the future. Stay in the present moment, and control what we can control. That's how much effort we give in the training, how much effort we give in the games. Just take it one game at a time and control what you can control."
• Discuss this story on the Major League Soccer message board...


Major League Soccer Stories from September 15, 2021
The opinions expressed in this release are those of the organization issuing it, and do not necessarily reflect the thoughts or opinions of OurSports Central or its staff.