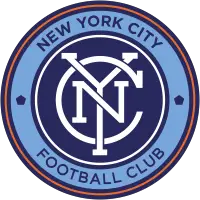 Notes & Quotes: New York City FC 2 - 0 Chicago Fire SC
April 24, 2019 - Major League Soccer (MLS) - New York City FC News Release



New York City FC made their return to the Bronx after getting the first win of the season just three days ago vs. D.C. United.
With the fire in their belly and the comfort of being in front of their home crowd, the Boys in Blue came into Bronx Borough Night looking to move up the early standings after a tough start to the year.
Dome Torrent's XI saw one change coming into tonight's game with Alexandru Mitriță missing out with ankle injury he suffered against D.C. United. In Mitriță's place, Valentin Castellanos made his return from concussion protocol after a head to head collision against Minnesota United.
Taty's return paid off early for the City boys, as Héber broke through the right side of the Chicago Fire defense, crossing the ball for Castellanos to find the back of the net on the slide for his second goal of the season in the 9th minute.
Once again Héber's speed and ability to hold up the ball up front created the opportunity, as it did vs. D.C. on Sunday.
After that lightning start, the game slowed down after a couple of lengthy stoppages for treatment to players and, after one such break, Ronald Matarrita was subbed out in the 31st minute with a knock.
NYCFC held the 1-0 lead going into halftime but Chicago had the ball in the back of the net early in the second period. It was CJ Sapong who found the target from close range but the goal was disallowed by the officials for offside.
Substitute Sweat found himself in some promising positions after coming into the game and he was able to get the ball to scoring position for Héber who was close to scoring his first home goal for City, but unfortunately David Ousted was there to keep the ball out of his net.
Not long after, NYC had a great chance to double their lead with Héber coming away with the ball in the middle third, pushing it through the midfield to Taty, who set Maxi Moralez up for a strike which rebounded back off the underside of the crossbar with the goalkeeper beaten.
There was another golden opportunity to score the second goal in stoppage-time but unfortunately, for the second game in a row, Maxi Moralez missed from the penalty spot after he was fouled by Bastian Schweinsteiger. This time his shot from 12 yards was on target but Ousted guessed right and pushed it away.
It wasn't quite as pretty as Sunday but NYCFC came away with the 1-0 victory, their second win in a row and their first at home in 2019, on a night where we celebrated the Boogie Down Bronx.
QUOTES
NYCFC HEAD COACH DOMÈNEC TORRENT
On current winning streak...
"I think the players are feeling more comfortable and I also feel comfortable as coach. I think the prior matches before the winning streak went well. I think we have a system that the players enjoy. We have good quality players. It does not always mean that we will always use the system of play. It all depends on the opponents we are facing. However, the matches where we have used this system have been successful."
Thoughts on facing Orlando City SC on short rest...
"We have a chance today to recover. I think we are ready to play against Orlando. They usually play with the same system. It is not easy to recover when you have another game in two days, but we feel ready. My opinion is that it will be a tough game. Orlando plays with intensity, but right now our team is playing with intensity as well."
NYCFC GOALKEEPER SEAN JOHNSON
On having back to back clean sheets...
"Yea I think it's obviously important to get a little bit of momentum. Two wins in a row after a bit of a rough start to the season, we haven't lost many games, but we haven't won many, so it's good for the confidence of the group to be able to get wins together back to back and now having another game at home I think that stretch is important."
Thoughts on switching defensive formation and leading to three shutouts in the last four outings...
When playing three-back to five-back, whatever you want to call it, it gives guys the ability now to use their ability, use their talent, to not only go forward but also defend. Now we have a lot of cover as well so we should be getting better just playing the system in the past few games. I'm happy with the boys defense, it's been a good couple of games, this one's a bit more of a fight. You need to win the games like this sometimes, and I think we did a good job of that tonight."
On players feeling comfortable in NYCFC's set up...
"I think we're all comfortable. We're three games into the system and I think if we're not comfortable now, then we have a problem. But we have talented players, talented group - an intelligent group as well that's able to take on principles rather quickly, execute them and I think we've done a pretty good job of that."
NYCFC MIDFIELDER VALENTIN CASTELLANOS
On winning at home...
"We are very happy, also making our fans happy who always support us and honestly it was very much needed."
On his second goal of the season...
"It's a very positive thing especially if it's to help the team, and play for the fans. It's important for me to do what I have to do to make sure I do things right."
On the quality of the goal...
"Honestly it was a very good attack, we did everything good and luckily it went in."
On the mood during the weekend prior to winning the game...
"There's always going to be pressure surrounding all the players and the Club because we have to win and we want to always win as well. We tried to be calm during the weekend and try our best to do everything right and thankfully we are able to win."
CHICAGO FIRE GOALKEEPER DAVID OUSTED
On his thoughts on the game...
"I'm disappointed. I thought we could have gotten more out of it. We came here with an idea of getting points away from here but the way it shaped up tonight, it wasn't to be. I think we put in a lot of work but we fell shy."
On looking ahead to the next match against Montreal...
"I'm looking forward to it because we need to get back out there and get points on the board. I still believe that this team has a lot of firepower going forward and I think we can create chances. We need to be a little bit more solid in the back and the results will come. But, it's still a good group, it's still a positive group in there, and we just need to move forward."
SUMMARY
New York City FC 2 - 0 Chicago Fire. SC
Wednesday, April 24, 2019
2019 MLS Regular Season - Game 8
Attendance: 21,798
LINEUPS
New York City FC: Sean Johnson; Maxime Chanot, James Sands, Alex Callens; Anton Tinnerholm, Alex Ring, Ebenezer Ofori, Ronald Matarrita (31' Ben Sweat); Valentin Castellanos (70' Sebastien Ibeagha), Héber (89' Keaton Parks), Maxi Moralez
SUBS UNUSED: Brad Stuver, Tony Rocha, Jesus Medina, Ismael Tajouri-Shradi
Chicago Fire SC: David Ousted; Jeremiah Gutjahr (70' Jorge Corrales), Bastian Schweinsteiger, Marcelo, Diego Campos; Dax McCarty, Mohammed Adams (61' Amando Moreno), Nicolas Gaitan, Djordje Mihailovic, C.J. Sapong; Nemanja Nikolic (76' Przemyslaw Frankowski)
SUBS UNUSED: Richard Sanchez, Grant Lillard, Cristian Martinez, Brandt Bronico
SCORING SUMMARY
9' - NYC - Valentin Castellanos (Assisted by: Héber, Maxi Moralez)
DISCIPLINE SUMMARY
7' - NYC - Maxime Chanot (YC - Unsporting Behavior)
16 - CHI - Mohammed Adams (YC - Unsporting Behavior)
16' - NYC - Alex Ring (YC - Persistent Infringement)
37' - NYC - Anton Tinnerholm (YC - Unsporting Behavior)
67' - NYC - Valentin Castellanos (YC - Persistent Infringement)
75' - CHI - Djordje Mihailovic (YC - Unsporting Behavior)
90' - CHI - Bastian Schweinsteiger (YC - Unsporting Behavior)
• Discuss this story on the Major League Soccer message board...


Major League Soccer Stories from April 24, 2019
The opinions expressed in this release are those of the organization issuing it, and do not necessarily reflect the thoughts or opinions of OurSports Central or its staff.