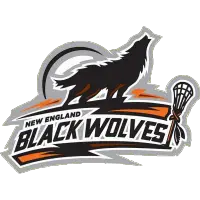 New England Black Wolves Announce 2019-20 Schedule
September 12, 2019 - National Lacrosse League (NLL) - New England Black Wolves News Release



UNCASVILLE, Conn. - The New England Black Wolves have announced their 2019-20 schedule. The 18-game regular season includes nine games at Mohegan Sun Arena, including four Saturdays, four Sundays and the team's home opener on Friday, Dec. 27 vs. one of the league's expansion teams and division foe, the New York Riptide.
The Black Wolves begin the season on the road on Dec. 7 vs. the Toronto Rock. The squad then travels to Saskatchewan to take on the Rush on Dec. 14 before opening at home on Dec. 27.
"We are very excited about the start of the 2019-2020 season and the new divisional format," Black Wolves General Manager Rich Lisk said. "This schedule and division alignment gives us the opportunity to create some interesting rivalries and continue some others that we have built. There is a lot of anticipation and excitement for this year and we can't wait to get started."
Following the home opener, New England will host five consecutive games at Mohegan Sun Arena, including two match-ups vs. the Philadelphia Wings (Jan. 18 and Feb. 16), one vs. the Georgia Swarm (Jan. 26), one vs. the Rochester Knighthawks (Feb. 22), and one vs. the Vancouver Warriors (Feb. 1). February 20th in New York, March 20th in San Diego and March 27th against the Georgia Swarm.
The second half of the season features home match-ups vs. the Halifax Thunderbirds (Mar. 1), the Calgary Roughnecks (Mar. 15) and Georgia (April 18) to close out the regular season. The complete 2019-20 schedule is outlined below.
The Black Wolves were a 9-9 a season ago, including 7-2 at Mohegan Sun Arena. The team advanced to the playoffs for the fourth consecutive season. The squad returns a prolific scorer in veteran forward Callum Crawford. Crawford, in his third season in New England, led the team with 109 points on a team-high 48 goals. He also chipped in 61 assists. He finished second in the league in points and played two games less than league leader, Dane Dobbie (115) of the Calgary Roughnecks. Crawford is also nearing 1000 career points only sitting 27 points away.
Stephan Leblanc adds additional depth to New England's offense. Leblanc posted a team-high 66 assists and finished in a three-way tie for second on the team in goals with 27. With his 27 goals and 66 assists, the lefty sat behind only Crawford with 93 total points.
On the defensive end, the Black Wolves bring back their captain Brett Manney, Colton Watkinson and goalkeeper Doug Jamieson. In his fifth year in New England, Manney grabbed 51 loose balls and caused 10 turnovers. He also added two goals and six assists. Watkinson tallied 56 loose balls and nine caused turnovers and offensively, contributed eight goals and five assists.
In the net for the Black Wolves, Doug Jamieson appeared in 18 games and made 520 saves on 663 shots faced. Jamieson finished with a .784 shot percentage which ranked him 7th among goalies in the league.
The Black Wolves will look to add more talent on Sept. 17 at the NLL Draft in Philadelphia. The Black Wolves hold two first round picks, including three and 17.
Tickets for the 2019-20 season will start at $19 per game. In addition, special on-field experiences are available for groups of 10 or more. Tickets can be purchased by visiting blackwolves.com or calling 844-LAX-WOLF.
Date Day Away Home Local ET
7-Dec-19 Sat NE TOR 7:00PM 7:00PM
14-Dec-19 Sat NE SSK 7:30PM 8:30PM
27-Dec-19 Fri NY NE 7:30PM 7:30PM
18-Jan-20 Sat PHL NE 7:00PM 7:00PM
26-Jan-20 Sun GR NE 1:00PM 1:00PM
1-Feb-20 Sat VAN NE 7:00PM 7:00PM
16-Feb-20 Sun PHL NE 5:00PM 5:00PM
22-Feb-20 Sat RCH NE 7:00PM 7:00PM
28-Feb-20 Fri NE NY 7:30PM 7:30PM
1-Mar-20 Sun HFX NE 5:00PM 5:00PM
7-Mar-20 Sat NE PHL 1:00PM 1:00PM
14-Mar-20 Sat NE BUF 7:00PM 7:00PM
15-Mar-20 Sun CGY NE 3:00PM 3:00PM
20-Mar-20 Fri NE SD 7:00PM 10:00PM
27-Mar-20 Fri NE GRG 7:30PM 7:30PM
4-Apr-20 Sat NE COL 7:30PM 9:30PM
11-Apr-20 Sat NE NY 7:30PM 7:30PM
18-Apr-20 Sat GRG NE 7:00PM 7:00PM
• Discuss this story on the National Lacrosse League message board...


National Lacrosse League Stories from September 12, 2019
The opinions expressed in this release are those of the organization issuing it, and do not necessarily reflect the thoughts or opinions of OurSports Central or its staff.
Other Recent New England Black Wolves Stories