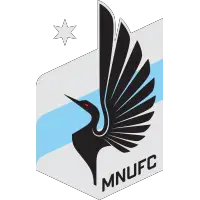 MNUFC Lose 1-0 at Seattle
September 11, 2021 - Major League Soccer (MLS) - Minnesota United FC News Release



SEATTLE, Wash. - With the Seattle Sounder winless in four at home and Minnesota United hungry to move up towards the top four in the Western Conference, something would have to give between the two sides on Saturday afternoon at Lumen Field. The home side were missing Golden Boot leader Raul Ruidiaz and welcomed back several players from the injury list, while MNUFC would have to once again do without playmaker Emanuel Reynoso and leading goalscorer Robin Lod. Thanks once again to a long-distance strike from João Paulo in the 22nd minute, Seattle would emerge the victors in a 1-0 game and climb back up to the top spot out West while the Loons would have to wait for tomorrow's game between LAFC and Real Salt Lake to see if they can hold onto sixth.
Much as they began to open the season in Seattle, MNUFC pressed high early, perhaps hoping to make freshly returned players like goalkeeper Stefan Frei - making his first start since May 12 - and defender Nouhou uncomfortable as they played it out of the back. At least initially, it seemed to work, and Minnesota's thick midfield with Hassani Dotson, Osvaldo Alonso and Wil Trapp made it difficulty in the opening 10 minutes for the Sounders to make their way through the middle of the park.
Goalkeeper Tyler Miller was called upon early and often to stop the home side's forays into the 18-yard box and in the 12th minute, he denied back to back shots to keep it level early. But 10 minutes later, midfielder João Paulo - who scored a wonder goal from beyond the box to open the season against MNUFC - found himself with an opportunity from just beyond the edge of the area, and the Brazilian lashed a low shot through Alonso's legs and just inside of the left post to put Seattle on top 1-0.
The strike sent the visitors reeling for a bit, leaving the Loons unable to effectively get the ball out of their own end. Gradually, they began to look to play more directly over the top, and the result was an uptick on corner kicks, including one that resulted in a good header from Dotson that Frei was up to in the 33rd minute, followed shortly by an incisive run by midfielder Ethan Finlay along the backline that he cut back and topped with a clear shot on goal with his left that Frei fell on and smothered.
The Sounders continued to look for long balls and in the 41st minute, nearly found a second goal when midfielder Nicolas Benezet broke away from the pack after a long clearance from Frei and whipped in a shot that had Miller beat but ended up going wide right. The Loons headed into the locker room shortly after, in need of answers.
The second half began with Minnesota more confident in possession and continuing to trouble Seattle with corner kicks - racking up three almost back to back to back in the opening minutes - but they continued to struggle with connecting Trapp and Alonso as the holding midfielders to the attack through Dotson. While they missed playmaker Emanuel Reynoso against Houston, the Dynamo also let them get much farther into the final third than Seattle seemed to be willing to.
Past the 60-minute mark, the Loons began to even out and get more chances. Forward Adrien Hunou ripped a beauty of a shot that went high and off Frei's fingertips but Seattle was nevertheless awarded a goal kick. Not long after, Hunou made way for forward Fanendo Adi, with Head Coach Adrian Heath perhaps hoping that a big body up front would provide a better target for long balls from the dual pivot.
While Adi changed the complexion of the game with some holdup play and a threatening header off a corner kick late, the Loons could ultimately not come up with a breakthrough goal to claw their way back into this one late. A free kick at the death drawn by sub Jacori Hayes in a dangerous spot went begging when Dotson drilled it into the wall and MNUFC would head back to Minnesota to regroup and prepare for a trip to Kansas City to face SKC on Wednesday.
MAN OF THE MATCH: Goalkeeper Tyler Miller
LINEUPS:
Minnesota United: GK Tyler Miller; D Chase Gasper, Bakaye Dibassy, Michael Boxall, Romain Metanire; M Wil Trapp, Hassani Dotson, Osvaldo Alonso (c); F Franco Fragapane, Adrien Hunou, Ethan Finlay
Houston Dynamo: GK Stefan Frei; D Nouhou, Shane O'Neill, Yeimar Gomez Andrade; M Joao Paulo, Nicolas Lodeiro (c), Nicolas Benezet, Kelyn Rowe, Josh Atencion, Jimmy Medranda; F Will Bruin
UP NEXT
MINNESOTA UNITED FC @ SPORTING KANSAS CITY
Children's Mercy Park | Kansas City, Kansas
9.15.2021 | MLS Week No. 24 | MLS Game No. 23
7:30 p.m. CT | BSN, MNUFC Radio on SKOR North
MINNESOTA UNITED QUOTE SHEET
MINNESOTA UNITED HEAD COACH ADRIAN HEATH
On Seattle being a tough place to play and how he assesses the 90 minutes ...
"I thought the first 10, 15 we got caught out on a few long balls, the late runner. After that, I thought there was nothing in the game. As [Brian] Schmetzer and Preki have just said, we were probably the better team, certainly, the second half. Obviously, we didn't work their goalkeeper enough considering the amount of play we've had, certainly in the middle of the field in their half."
On how frustrating it is to be missing four attacking options again tonight ...
"Obviously later on, we probably played Franco [Fragapane] 10 minutes more than we wanted to. He's been out for, seemingly, seven weeks now, so we wanted to give him maybe an hour and we had to keep him on, because we were having enough of the play, we just needed to create something and to work the final third through the pitch a bit more with better runs and better balls in the box. It wasn't ideal, but, obviously, that's football. That's what it is. At the end of the day, if players aren't fit and aren't available, then they're not fit and available."
On what he saw on the Seattle goal from his vantage point ...
"I'll have to have another look at it. I say it all the time, and I'm not trying to just avoid the question. It's really difficult to get any depth, gauge with where we are. But certainly, when it goes in, you see it on the big screen, it looks like he's got far too much room for the pull back. But, hey, we'll have a look at it. The first 10 minutes, we got done a couple of times. [Nicolas] Benezet got in between Romain [Metanire] and [Michael Boxall] on the big diagonal and I thought Wil Bruin got on one where we should be dealing with long, straight balls. But after that, I thought we coped really well with it. I can't remember Tyler [Miller] having a lot to do, certainly in the second half."
On Franco Fragapane coming back into the lineup after being out so long, and if he was limited in what could do with him ...
"You know, like all players, he doesn't want to come off and is disappointed when you subbed him off. When you've been out, as I say, I think it's best about seven weeks since he injured his thigh muscle, we have to air on the side of caution. Last thing we need to do is make him forcing play 90 minutes and late on pulls something that leaves him out for another five to seven weeks. We had to do that, but the unfortunate part was we didn't really have an awful lot of options to do, to change him with. We had to sort of move things, people around a little bit, which is not ideal. But, as I've just said, that's where we are at this moment in time in terms of forward players."
On this being the biggest stretch of the season and starting off with zero points ...
"No, because we still got six to play for. I'd probably settle for four, before the week started, four or five points? We've still got an opportunity. We'll see. After Wednesday, we know it's going to be tough. We'll see where we are tomorrow and then we'll go from there. Going away to Seattle, going away to Kansas and then having Galaxy at home is not ideal at times. Three good teams that we've got coming up in a very short period of time."
On being without Osvaldo Alonso and Chase Gasper due to yellow card accumulation next match ...
"Well, obviously, you want to have all your best players available. I thought them two did excellent toady. So, obviously, we'll miss them. But, hey, at this stage in the season you're always running the risk at this when you get to this season. Certainly, for people like Ozzie [Alonso] and Chase [Gasper], who basically you're playing against wingers, or you're playing in that real combative area in the middle of the park. It's an occupational hazard to pick up cards. But hey, it is what it is. I'm not going to worry about that. We'll make some changes and hopefully [Emanuel Reynoso] might be available, maybe Robin [Lod], we'll see."
MINNESOTA UNITED MIDFIELDER WIL TRAPP
On what was going wrong when Seattle was stretching the defense at the beginning of the game...
"The way they set up with [Nicolas] Lodeiro and [Nicolas] Benezet in those half pockets, they spread you out and it's difficult because if we're not cutting off the midfielders, those guys can vacate the space where Chase [Gasper] or Romain [Metanire] was leaving. It's difficult because midfielders get stuck half in between their strikers holding our centerbacks and they were pretty successful in creating depth with runs behind us. And that was something that, in the second half, we did a better job of cleaning p and being aware of."
On regrouping after not getting a result in this match with a tough week ahead...
"It's never an easy place to come play but I felt like there were moments for us to create a little bit more. I don't think we were quite dangerous enough given the amount of possession we had. And that's on us to be more dangerous, right? And I also think the goal, that there wasn't much in it for them other than just sloppy plays from us. But credit to them. They're very good at scoring and creating chances in multiple ways whether it's turnovers or their buildup, or like Jon was just asking about, their runs in behind. They can score in many ways so I think for them, being opportunistic and creating the chance to score was disappointing for us but it's something we learn from moving forward."
On what does it look like for this team to be more dangerous...
"Where we had success in this game was moving the ball quickly, side to side. Whether it comes out to Chase and we get back into the middle and we break the line forward into a guy like Hassani [Dotson] or [Franco] Fragapane in these instances. And then off those passes, we need guys running and stretching the line. Ethan [Finlay] had a chance in the first half, he cuts back into his left foot because we can't simply rely on trying to cross the ball. Creating little half spaces and then risking passes between, those are where we need to be a little bit more clinical and that will then open space wide for crosses that can be more dangerous as well."
On the frustrating result...
"It's not so much frustration, it's just disappointment. We felt like with the amount of pressure, there's something left on the table. I think for us, we need to start, even in these difficult games, which playoff time will be where we potentially could be traveling to places like Seattle and having to get a result, we want to be picking up points in these games and when you don't score, it leaves you a little bit feeling, like I said, just disappointed.
On what he saw in the goal Seattle scored...
"It's a play where, look [Will] Bruin is a handful and he's bodying [Michael Boxall] and they're scuffling over the ball. It's a clearance that we need to play outside instead of across the goal. But then afterwards, it's really just about getting pressure on the ball and trying to make a play on the ball. Look, it goes through Ozzie [Alonso]'s legs, Tyler [Miller] is maybe thinking it's going to wide. It's one of those plays that is hard to read because of it's coming through bodies and traffic. On the flip side, you think about every time we're in their half or in their defensive third and they need to clear a ball, they're just smashing it out of bounds, smashing it high and far away and that takes away momentum from the attacking team. Whereas on the goal, we kind of fed them, a little bit. It's something we need to just be a little bit more...have a little bit more gamesmanship and a little more awareness in those moments to just eradicate any sense of them getting a chance off something that's really not a chance to begin with."
On being shutout three times in five games...
"The hardest thing is to score, right? For us, if we score multiple goals in a game like we had to in Houston, we want to be able to now stretch that out into the next game or even if it's tie the game one-one. Once again, it's like I talked about earlier, creating multiple ways in which we can score whether it's breaking lines between their defenders or it's getting the ball wide and crossing in or it's transition moments because we had some of those as well. Ultimately, it's about the target, hitting the target, hit the target, hit the frame and make the goalkeeper make the save. We've seen when we do that, we tend to pick up pieces and score goals. It's really one of those fine details."
On missing Chase Gasper and Osvaldo Alonso next game due to yellow card accumulation...
"It's always difficult when you have to rotate players, especially guys that are so important to the team but it's something that you gotta deal with. We have to have guys step up. You think about a guy like DJ [Taylor] who has deputized for Romain [Metanire] and Chase [Gasper], he's done a great job when he's been called upon. We'll need him and we'll see what we have to do about replacing Ozzie [Alonso] in the middle of the field, who is never an easy guy to replace. We'll lose a little bit of leadership, a little bit of consistency but at the end of the day it's about, once again, getting a result. We have to go to Kansas City and find a way to get a result out of the game."
• Discuss this story on the Major League Soccer message board...


Major League Soccer Stories from September 11, 2021
The opinions expressed in this release are those of the organization issuing it, and do not necessarily reflect the thoughts or opinions of OurSports Central or its staff.
Other Recent Minnesota United FC Stories