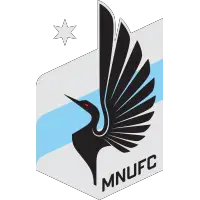 MNUFC Earn Three Road Points in 1-0 Win at Austin
October 17, 2021 - Major League Soccer (MLS) - Minnesota United FC News Release



AUSTIN, Texas - Following a disappointing loss to Colorado last week, Minnesota United needed to bounce back against Austin FC. Returning international players gave the squad a lift and an early goal from Franco Fragapane ended up being the difference in a hard-fought 1-0 road win that solidified the team's playoff ambitions and gave goalkeeper Tyler Miller a team record-tying 11th shutout on the year.
Minnesota United began the game with energy - a much-needed commodity on the road for any team. Both they and Austin FC racked up chances early, with possession tilting slightly in the home side's favor and four shots for each side through the first 10 minutes. Shortly thereafter, Austin began to push their advantage and opened up more chances but it was Minnesota who would seize the moment against the run of play.
In the 16th minute, the Austin defense gave midfielder Emanuel Reynoso enough space to line up a shot, which he blasted from the edge of the area. Goalkeeper Brad Stuver punched it clear, but it came to Hassani Dotson, who did well to corral it and hold it long enough in the box to send a low pass through the six-yard box and onto Franco Fragapane's feet. The Argentine struck it hard one-time into the back of the net to make it 1-0.
Neither team shrank from the challenge of either climbing back into the game or putting it out of reach, but the remainder of the first half featured more missed opportunities than made ones. In the 20th minute, Reynoso took an incredible first touch to control a long, lofted through ball but instead of taking his chance, he centered it to forward Adrien Hunou, who was a little too slow to find his touch and fired it into an Austin defender. Austin's Tomas Pochettino left several attempts on the table as he consistently struck shots wide left from inside the box.
The net result heading into the break was a big possession advantage for the home side in the first half (59% for Austin and 41% for MNUFC), 10 shots for each side and a tenuous lead for the visitors.
The second half seemed to only get chippier and chippier as the squads took out some of their frustrations on each other with physical play and some healthy jawing. For much of the second 45, Minnesota did not register a shot but were stalwart in defense. Tyler Miller made seven saves en route to the final whistle and the Loons had to withstand some heart-stopping moments.
In the 78th minute Cecilio Dominguez ran onto a ball in the box practically unmarked, but his deftly curled shot was not curled quite deftly enough and missed wide right. And then in stoppage time, Sebastian Driussi got a good look at a cross from the right wing directly in front of goal but he couldn't elevate quite high enough to aim his header down and instead it sailed into the stands, along with Austin's hopes to salvage something from the game. The 1-0 win gave Tyler Miller his 11th shutout of the season, equaling the record set by goalkeeper Vito Mannone during Minnesota's 2019 campaign.
MAN OF THE MATCH: Goalkeeper Tyler Miller
LINEUPS:
Minnesota United: GK Tyler Miller; D Chase Gasper, Bakaye Dibassy, Michael Boxall, Romain Metanire; M Hassani Dotson, Osvaldo Alonso (c), Franco Fragapane, Emanuel Reynoso, Robin Lod; F Adrien Hunou
Austin FC: GK Brad Stuver; D Jhohan Romana, Hector Jimenez, Julio Cascante, Zan Kolmanic; M Tomas Pochettino, Alex Ring (c), Sebastian Driussi; F Cecilio Domiguez, Diego Fagundez, Moussa Djitte
UP NEXT
MINNESOTA UNITED FC vs. PHILADELPHIA UNION
Allianz Field | Saint Paul, Minnesota
10.20.21 | MLS Week No. 31 | MLS Game No. 30
7:00 p.m. CT (Bally Sports North+, MNUFC Radio on SKOR North)
MINNESOTA UNITED QUOTE SHEET
MINNESOTA UNITED HEAD COACH ADRIAN HEATH
On the importance of these three road points...
"Huge. We talk about the level of performance that I thought, at times, we weren't last week, certainly in the last half an hour. We were tonight. Really resolute. Defended like our lives depended on it which is what you have to do on the road. [Austin's] last two games, they beat Salt Lake and the Galaxy. I think people look at the league table...I knew today was going to be a really tough game. We spoke about it before the game, be tough and difficult to beat, and I thought that's what we were. A lot of great efforts. I thought Ozzie Alonso was incredible, for his age and the performance he did. I thought Tyler [Miller] came up with a couple of big saves. The one, I think it was after about four of five minutes, when [Cecilio] Dominguez is trying to lift it over him, he saved it. Obviously, goals change games and the way the game was going at that particular time, it would have been a long way back, I feel, had they scored in the first three or four minutes. It wasn't to be. We got a little bit of luck that we haven't had at times. They say that things even themselves out, well maybe we've got a little bit of a break for some of the stuff that's gone against us this year."
On needing the three points given the three-game winless streak...
"I thought we all, everybody, did their job. And it was important. I said before the week started, we've got like six cup finals. We spoke about that to the players before the game. We've talking about the last few weeks, it's been like playoff football. It was really good. Everybody did their job which I was really pleased with."
On how Franco Fragapane's goal changed the game...
"Second half, we had the best chance of the game with Fraga [Franco Fragapane] late on. But I did think we looked dangerous on the counterattack in the first half. We didn't have quite as much quality and they put another body further forward and put us under even more pressure. Fraga gets in there. He scored one, should have had two really because he had a great chance to finish the game off, one-nil, five or six minutes to go. I'm just pleased for the effort that the guys have put in. as I said, we've got a little bit of a reward for some of the performances early on in the year where we didn't anything. I'm well pleased for everybody."
On having Franco Fragapane, Emanuel Reynoso, Adrien Hunou and Robin Lod all starting together...
"In the first half, I thought, as I said, every time we broke, I thought certainly if we got the ball to Rey [Emanuel Reynoso] and Rey could get turned, we looked dangerous going forward. We had a couple of really good opportunities one on one and our final ball wasn't good but it's just nice to get all four of them back on the field playing together. Maybe we can get a little consistent run with them all playing and then we'll go from there because certainly, the four them of them have got goals in them. They've got movement, and got some intelligence as well."
On the status of the internationals and having the spine of the defense back together...
"This stage in the season, with the importance of every game, we need all our best players fit. We've got a couple of injuries. A couple of knocks but nothing really. The fact that we've got all our front players fit and healthy and Boxy [Michael Boxall] comes back fit and healthy and Romain [Metanire]. I don't think at times people realize how tiring it is, with the travel these guys put in. Going halfway around the world, coming back late Thursday and then you've got the travel and play. Great effort from them guys, for sure."
On Tyler Miller tying Vito Mannone's club record for shutouts in a season...
"That's good for Tyler [Miller]. I think he's been outstanding since he's come back into the team. We're at our best when we play and we're difficult to beat and we're not nice to play against. That's one of the things that coaches have said to be over the last couple of years, that we're not an easy team to play against and I thought we were a little bit like that again this evening. I thought the two central midfield players, Hassani [Dotson] and Ozzie [Alonso], were immense at times. The two wide guys had to tuck in because [Austin] play in there so they've got a little overload. I can't fault any of the players for their efforts for sure."
On going back to Austin after so many years...
"It was nice to see a lot of old friends. Couple people I've forgotten came up to me before the game. Their owner came and said 'you must pleased coming back and seeing it because we started it.' It was nice to see. Great atmosphere by the way. This club is going to go up in strength for sure because, as you see, they've got three DP's already, and their first season has maybe not gone as well as they would like but I can only see it growing. Along with LAFC, it was probably the best we've had for a long, long time."
On what he's seen from Joseph Rosales...
"He's been showing us every day in training, he brings his best every day. We liked him before. We like him even more now that we've got him in the building and we've seen what we've got. For a 20 year old kid, we think he's got a really bright future."
On Rosales's role in the midfield as a sub...
"That was the man they kept getting in. [Sebastian] Driussi or [Tomas] Pochettino in the little hole between Chase [Gasper] and Fraga [Franco Fragapane] and we put him in there to try and stop that. I thought it worked quite well. The kid has got a good soccer brain. He gets the game. As I say, we're really pleased with him. We think that we've got a player, for sure."
On Rosales's smart foul towards the end of the game...
"He's come up there through the hard school down in Honduras for sure. He's got a very mature head on his shoulders and I know the rest of the group like him. He's done terrific since he's been in. I don't think people realize what it's like for a 20-year old kid to suddenly go to a new country, don't speak the language. But he's trying. He's working hard on his language. He can be pleased with what he's done since he's been here."
On Wil Trapp's absence tonight...
"He's got a family issue. It was important and he had to sort out. When it comes to family issues and children, we always let the players decide. We've had some good news today, so a little bit more encouraging for him. He'll be back for Wednesday for sure."
MINNESOTA UNITED GOALKEEPER TYLER MILLER
On needing the three points given the three-game winless streak...
"It was a huge, huge three points. The way our team has been able to respond all season you've seen the character that this team has and it was a tremendous effort by everyone that got on the field. Everybody knew their roles and knew what they had to do and we obviously know that things are tight on the table. Everybody responded really well coming to a very difficult place to play. This stadium is pretty incredible, to be honest with you. The fans are fully engaged. Even though Austin's results haven't gone their way, the fans and supporters are tremendous. I give them a lot of credit."
On a personal best 11 cleansheets, tying the MNUFC club record...
"I'm very proud of them. But it's not just me. It's a collective effort. It's a testament to our defense and our defensive mentality that we've embodied throughout this entire season. To be able to hit the personal best for me and tie the club record, is something that I'm proud of because of the amount of work that I've put into to come back after last season's injury. But it's not just me. It's the entire team. The entire goalkeeper group, I do my best to represent us well, as well as I can. It really is a collective team award."
On playing like a tough to beat to tonight...
"There was a ton of fire. A ton of guys sacrificing their bodies and putting everything on the line to ensure that we made it as close as possible for them tonight. Everybody, from the first whistle to however long stoppage time was, you just see the fight and everybody really committing to the defensive mentality that we're going to need going forward in these last five games of the season."
On having the spine of the defense back together...
"They are tremendous players. They bring a lot of solidarity to our team. Everyone that has stepped us since those guys have been have done well also, but having that core group in there, they've been really good all season. I think they've been rock solid. Everyone is just focused now on the last five games of the season. We're taking it one game at a time."
On of his eight saves, which one stood out most...
"Every save is important but the first one, I think, to come out and make the breakaway save is a crucial part on the game. Being able to come up big for my team when I'm called upon is something that means a lot for the momentum of every game that we get in. Whether I'm asked to make eight saves, one save, whatever it is, no saves, just communicate and try and do my job to help the team win."
On the amount of close calls Austin had...
"They have some pretty dangerous attacking players. To be honest with you, I think we got a little bit fortunate at the end with [Sebastian] Driussi missing the header. He's a very good player, very skilled and he has a really good shot. I think that Austin has a lot to work with for the next coming years. Just have to put it all together."
On the team getting it's third win on the road...
"In the MLS, winning on the road is really hard. You have the travel, you have so many factors that go into it. Not making excuses, it just is what it is. But I think also having a steady group of guys together that have been together consistently also. It's very difficult when the team is changing and guys are coming in. unsure of who is going to be here, who's not going to be here for a number of reasons. I think tonight we had a core group of guys out there and were also very solid in what our plan was going to be and how we could disrupt Austin's attack. At this point, we have two more road games and they're not getting any easier. It's just about our mentality going into every single game and having consistency."
On his impressions on Joseph Rosales...
"Joseph [Rosales] is a very good player. He's a good kid to have around, he's fun to train with. We try to speak a little Spanish and he speaks English to me so we try to teach each other some words. I think he does a really good job when he comes in. he has that dynamic, the flair, the ability to control the ball in tight spaces that you see with Rey [Emanuel Reynoso] and Hassani [Dotson], Ozzie [Alonso] and Fraga [Franco Fragapane]. Having him come off the bench or even start, in certain moments, like tonight he came off the bench and really added an important number in the middle that we needed to clog up their attack."
On playing five games in 16 days...
"It's just about doing the little things off the field. Making sure we're taking care of our bodies and recovering properly. We fly back tonight and the preparation has to start tomorrow for game and making sure guys are putting the right things in their bodies and getting proper sleep, proper nutrition. It really just comes down to stepping up for those games. We're going to call upon a deep squad for these games. You can't expect to play the same 11 players for every single game. It's going to be a huge opportunity for a lot of guys to get minutes and see how they respond. If you're going to make a deep run in the playoffs, you need a deep team. And that's something that we have and now we need to show it and put it out there on the field."
On whether the nutrition includes donuts for the shutout...
"It has to. That's for the mind. Not really for the body, it's for the mind. It gets the guys happy, gets them excited. Everybody, well Boxy at least, was very excited when we got to the locker room for donuts."
• Discuss this story on the Major League Soccer message board...


Major League Soccer Stories from October 17, 2021
The opinions expressed in this release are those of the organization issuing it, and do not necessarily reflect the thoughts or opinions of OurSports Central or its staff.