MNUFC Come from Behind in Victory over SKC
July 13, 2020 - Major League Soccer (MLS) - Minnesota United FC News Release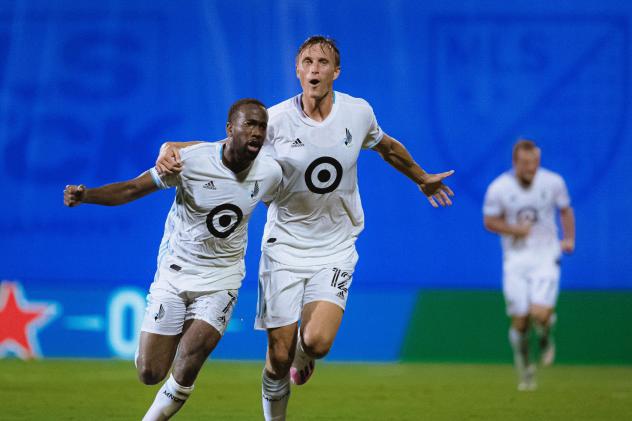 Minnesota United FC celebrates a late goal against Sporting Kansas City
(Minnesota United FC, Credit: Major League Soccer, LLC)
ORLANDO, Fla. - After four-odd months, Minnesota United at last took the pitch for a game against Sporting Kansas City as the Loons opened their run in the MLS Is Back Tournament. Played under the lights of the ESPN Wide World of Sports Complex and the oppressive humidity of the Florida summer, the game opened with Sporting Kansas City asserting themselves and gradually pinning Minnesota in their own end, eventually going up 1-0 at the end of the first half. As SKC tired, though, MNUFC grew into the game and after goalkeeper Tim Melia was sent off with a red card in the 75th minute, the Loons pounced on sub keeper Richard Sanchez, scoring twice in stoppage time to bring home all three points.
While both teams looked a little loose and nervy to begin the game, Sporting wrangled the momentum through the first half. Minnesota's passing left a lot to be desired and SKC's Gadi Kinda could have had a brace in the first 15 minutes of the game. Minnesota keenly felt the absences of centerback Ike Opara, midfielder Osvaldo Alonso and forward Luis Amarilla, who was a late scratch after picking up a groin injury in warmups. Lacking both defensive solidity and real danger up top, the Loons couldn't find an identity in the early going.
By the final five minutes of regulation in the first half, the Loons had 10 men in their final third, just doing whatever they could to hold off SKC. In the 43rd minute, Minnesota had gotten some contiguous possession in SKC's final third, but it opened them up to counterattack when forward Alan Pulido turned defender Michael Boxall beautifully and sprang Khiry Shelton on the break. Isolated and out ahead of the defense, Shelton drove the ball into the box and goalkeeper Tyler Miller badly misjudged the play, taking a big step toward the far post and opening up enough daylight for Shelton to slot the ball on the near post and give SKC a 1-0 lead.
The second half was more of the same, until Mason Toye came up injured after a collision along the sideline in the 58th minute. Forward Aaron Schoenfeld came in for Toye and the Loons began to show some life. In the 64th minute, a corner kick by midfielder Jan Gregus pinged around in front of goal before midfielder Ethan Finlay snuck in on the back post and put it in, but video review would ultimately determine that midfielder Kevin Molino was offside on the goal.
A taste of scoring, though, turned out to be enough. Schoenfeld picked up the ball off a long, lofted through ball by defender Romain Metanire in the 74th minute and caught Melia off his line. Melia charged the ball, leaving his box and his feet to tangle Schoenfeld up and he was immediately shown red. Kinda came off for goalkeeper Richard Sanchez and SKC would play the rest of the game with 10 men.
Rather than sit on its lead, Sporting continued to press forward when the opportunity presented itself and at first, MNUFC didn't quite seem up to grasping the moment. But Sporting's energy began to flag, leading to riskier challenges and free kicks and corners for the Loons, who took advantage of the seven minutes of stoppage time.
In the 92nd minute, a free kick by Gregus outside the box curled just over the waiting head of Schoenfeld and ricocheted into the goal off the chest of Shelton and leveling the game at 1-1. Then, in the 97th minute, MNUFC mustered all their collective energy as Metanire grabbed the ball down and pushed it deep into the right wing. His cross found substitute Raheem Edwards on the far post and Edwards sent it back towards the middle and a waiting Molino, who banged it off the turf and past the helpless Sanchez to give MNUFC the 2-1 win at the death.
BELL BANK MAN OF THE MATCH: Midfielder Kevin Molino
BREAKDOWN
43' | MNUFC at last get some time on the ball in SKC's end, but SKC then jump out on the counter and get numbers going the other way. Khiry Shelton gets Miller going the wrong way and then drills it near post. 1-0
92' | Gregus set piece from outside the box goes just over Schoenfeld and then Shelton puts it into his own goal. 1-1
97' | After a bruising run deep on the right wing, Metanire sends a cross all the way across the box to Edwards, who centers it. Molino drills it near post past a helpless Sanchez. 1-2
LINEUPS
Minnesota United: GK Tyler Miller; D Romain Metanire, Jose Aja, Michael Boxall, Chase Gasper; M Hassani Dotson, Jan Gregus, Robin Lod, Kevin Molino, Ethan Finlay; F Mason Toye
Sporting Kansas City: GK: Tim Melia; D Graham Zusi, Roberto Puncec, Matt Besler, Luis Martins; M Roger Espinoza, Ilie Sanchez, Gadi Kinda; F Khiry Shelton, Alan Pulido, Gerso
UP NEXT
Minnesota United vs. Real Salt Lake
ESPN Wide World of Sports | Orlando, Florida
7.17.20 | MLS is Back Tournament presented by Heineken | MLS Group Stage Game No. 2
9:30 p.m. CT (ESPN, MNUFC Radio on SKOR North)
MINNESOTA UNITED QUOTE SHEET
MINNESOTA UNITED HEAD COACH ADRIAN HEATH
On the fighting spirit of his team ...
"Well, you know, the words that spring to mind are character, adversity and you know, I was talking to the players. Just. I've played over five or 600 league games and the amount of times you win games when you're not playing particularly well... And that was tonight. They were far and away the better team. But, we always looked dangerous when we started to put one or two passes together and, as you say, the most important thing was, at the end of the day, they dug in, they didn't concede when they had a lot of pressure. And when it's 1-nil you always have a chance. In any game. And I'm sure that Peter [Vermes] was thinking, we need the second goal to kill this game off. And, obviously, when we had the bitter good play. I thought Aaron Schoenfeld came on and gave us a real lift. I thought [Kevin] Molino in the last 20 minutes was outstanding. But, you know, the running of the players at the end, considering we had not played for four months, was outstanding."
On how much the red card at the end tilted the game, made MNUFC press their legs at the end ...
"Well, we had come back into the game. That was why we got the red card. We were probably in the ascendancy at that moment. I thought we had started to look dangerous on the break. But, obviously, playing against 10 men. Playing against 10 men who have not played for a long, long time, obviously a little bit of desperation sets in. We started to push the extra man forward. You know, I'm not going to sit here and say to everybody that we played well. Because, that would be foolish. And I thought they were very good. But, as I said before, the character of the players to keep going was terrific. We can and will play better than we have done tonight, but it's another victory that will help us when we get going again on Thursday."
On if there were any flashbacks seeing Kevin Molino on that specific pitch to his time in Orlando together with Molino ...
"I think people who know me and know what I think of Kevin [Molino], when he's fit and healthy, you know, he's as good as most players in this league. I'm sure a lot of people will tell you that. The kid has had a real tough time of it the last few years. Whenever he gets himself going, he's had a couple of serious injuries. But, if we can keep him healthy, and keep him motivated like he is at this moment in time. He's enjoying his football. And like you said, that looked like Molino of a few years ago. He'll be a huge piece for us if he can stay fit and maintain that type of form."
On if there was any worry about going out on the field tonight following the positive Sporting Kansas City player test earlier this week ...
"We're led by the MLS and I'm sure - and the Commissioner has made it very apparent - that the player's safety is of utmost paramount. But, I'd be lying if I said the players hadn't mentioned it. But, the minute they got an all clear all day, as I said to the players, let's go out and play and let's get on with it. I'm sure that the league have done all the right things today."
On what the Loons need to improve on ahead of the next game, and the status of Luis Amarilla ...
"Our possession of the ball was very, very poor for maybe an hour. Especially in their half of the field. We couldn't get any rest, right, because we kept giving it away cheaply. They didn't. So, eventually, we end up defending their 18-yard box, which, I'm against, but once you do get the ball, then you have to keep it to give yourself a little bit of a chance to organize and get your breath back. And that's what I said to the players at halftime. We've got to do better in possession of the ball. We're playing against a really good team. We knew what was going to come, but it's difficult to stop. And, Luis [Amarilla], he tweaked his abductor before the game. Just at the end of the warmup. And, when these things happen, I think we'll have a better idea in 24-hours when he's slept on it to see if it's going to be a few days or a few weeks. So, I honestly can't answer you at this moment in time about Luis' long term. Better tomorrow."
On if his tactic play was counterattack since he was without the likes of Ike Opara, Ozzie Alonso and Luis Amarilla ...
"We've set up like this most of the season. Trying to not get strung out and trying to keep nice and compact, horizontally and vertically. But, they stretch the field so much on you and they find the little spaces and the little pockets in between the lines as good as anybody. And we knew this was coming, but it's difficult to stop. But, as I said, we stayed in the game. They had a couple of good chances at 1-nil, and that might have been the end of the evening. But, as long as it's 1-nil and you have belief, you can always get something out of the game. And that's what I said to the players at halftime."
On Jose Aja's direct hit to the face on the free kick, his status and if there was any difficulty getting him back onto the pitch ...
"He's a big, strong, Uruguayan boy and I don't think they have concussions in Uruguay anyway. He was fine. It's going to take more than a blow to the head from a football to stop him playing."
On losing the likes of Luis Amarilla and Mason Toye before and during the game, but still being 3-0 with nine points this season ...
"At one stage today, I would have taken a point. Willingly. So, to come out with the three is huge for us. Sets us up nicely for the game now on Thursday. But, we will be better. I said we can be better and I think we will be better. But, this will be good for all the players to get 90 minutes under their belt. To sort of get over the anxiety of everybody being down here without playing and wondering whether you're going to play. And it's great for the players who've come in. As I said, I thought the guys who've come onto the field. You know, Raheem [Edwards] and Aaron [Schoenfeld] gave the team a lift. And the game was starting to, people were starting to get tired. That's why you have a squad of players. You know, as I said to the players before, I think everybody is going to be needed in this trip and then in this tournament. So, it was good that they came off and had a solid contribution."
On what he saw from Aaron Schoenfeld and Kevin Molino, and the grit from the guys ...
"Aaron [Schoenfeld] is new to us. I had him in Orlando for a brief period, one preseason. I've always liked the way that he played. He's obviously a very big boy. He's got a great presence. He's been in really technical football over in Israel for a few years, and his general play is excellent. But, when you're as big as him - what is he, 6'4" or 6'3" - if we can put quality in the box and get it into him, it does give us a focal point to go and play from. And in regards to Kevin [Molino], everyone knows what I think of Kevin Molino. And when he plays like he does tonight and starts to influence the game and starts to make the opposition worry about things that they do because they don't want him getting the ball, there's not many better players than him now. We need to keep him fit and healthy and he'll be huge for us this year."
On what he saw from Hassani Dotson taking over the midfield, and the reason for leaving Osvaldo Alonso out of the lineup tonight ...
"Ozzie [Alonso] has had a slight - similar to Luis [Amarilla] actually - groin area, maybe a little bit of thigh. He's had it for a few days and it's not really improved. So, we didn't want to rush him back. I thought Hassani [Dotson] gave his everything that he normally does. His energy. And his fighting spirit. But, I said to him at halftime, he's got to compose himself and relax a little bit and do the things we know he can do. Because, he can certainly play, the kid. But, in terms of his energy levels and his willingness to do whatever it takes to help the team, this kid will never be faulted."
On how different this environment is, if he expects on adjusting for and in this setting to get results ...
"Not really. Not really. Obviously, we'd all love to play in our own stadium with 20,000 people. That's what makes the sport so special. But, the one thing about it is, the facilities are excellent. The fields are excellent. And I think the MLS have done a great job in everything else around it that they've done. We want it for nothing. But obviously, like everybody, we want to get back playing and get in our own stadium."
SPORTING KANSAS CITY QUOTE SHEET
SPORTING KANSAS CITY MANAGER & SPORTING DIRECTOR PETER VERMES
On how much of a letdown it was to control so much of the game and still lose...
"We had control of the game, we had some good chances - we should've probably put a second, maybe even a third away - we didn't. We allowed them in the game, we made some bad decisions. Unfortunately what happens is you lose a goalkeeper, you now have to take a player off to replace a goalkeeper, it changes things around quite a bit. It just changed the game. There's a lot of good stuff from the game for us, but at the same time unfortunately we didn't close it out. We can get better from this game, we've got to learn from it and move on to the next one."
On Tim Melia's red card and how it impacted the game...
"It's a red card, from the rules. It definitely changed the game, in a lot of ways. We haven't played a game for 127 days and now you're asking the guys that have just come down into heat, they haven't played any games, come into heat and now be down a man for quite some time in the game. We weren't ready for it and like I said it changed things in that when the goalkeeper has to go out and now you've got to take a player off, put a goalkeeper on, now your subs are definitely changed as well. It was hard, it was hard for the guys to find themselves at that moment. We tried to do a good job of closing out the game as much as we can, we got it to about 80-something minutes but we just couldn't hold on."
On the substitution tactics in the second half...
"On the Johnny (Russell) sub - we were thinking we were probably going to have to change both of our wingers, because they were going to be under a lot of strain and stress in the game. We just felt that we'd find a lot of the game there and they'd have to cover a lot of ground. So that was to be expected.
The problem is, right after that, we were probably going to make another sub. And then next thing you know, Timmy gets thrown out. The problem with that is now you've got to sub a goalkeeper in but you've also got to take a player off to do that. That kind of changed everything around quite a bit. The guys were tired at that moment. What happened was, I only wanted to do one (change) at that moment to kind of settle the team down with the goalkeeper. What it did was it left us with one last sub (opportunity) and if we're going to put three, then we're going to put three on. I just felt that we needed to get fresh legs and I didn't want to push those other guys. I still think it was the right decision. I have all the confidence in the world that the rest of those guys can play and do the job, it's just that we should have put the game away a lot earlier and not have been in that position."
On if the team felt a sense of déjà  vu from 2019...
"Not at all. It's more of the fact that we were very well in control of the game. It's the first game back after 127 days and to have to go down a man and try to hold on from there was just a little difficult for the guys when we're already not game fit yet. We're just going to have to build from here for a physical perspective."
On conceding twice in stoppage time...
"I was just was a little bit disappointed in the fact that we couldn't finish off the chances and get a second goal. We had chances, but we didn't take them well enough. Obviously, it came back to haunt us at the end of the game. That's what happens in games like this sometimes. You play well. You own the game. All of a sudden, you have a couple moments and the game is against you."
On playing with no fans in attendance...
"It definitely is a different environment. It's a little bit surreal. It feels a lot like an MLS preseason game when you don't really have much of a crowd there. It feels very similar. There's no doubt that that's a big part of the environment. Everyone has got to play with it right now and the best thing is that at least we're on the field."
On finishing off the team's chances...
"We had good opportunities. Whether you haven't played a lot of games or not, you always want to try and finish those. Unfortunately, we didn't today. And they found a way back into the game so you've got to credit Minnesota. They found a way back in. For us, we had some really good opportunities and we didn't (finish). That was the difference in the game."
On the insertion of Aaron Schoenfeld...
"I think he came on and brought some good energy for them, but I don't think it was anything over the top - that's for sure. We knew they were playing a lot of long balls. They weren't playing out of the back all that much. They started playing a little bit when we went down a man but before that, everything was basically long and out of the back. That's why we had the ball as much as we did. We had good pressure up front and we were in good positions to win those balls back. But once we went down a man, it changed the game all the way around."
On how the team handled a positive COVID-19 test...
"At first, everybody was a little bit taken back and surprised. We've been in this place before where we had a false positive so we weren't sure which way it was going. When it got confirmed...it definitely was a little bit of a shot to the guys. But the next day they were fine. They were right back at it. It was really only for a few hours. To be fair, the guys have committed themselves and been very disciplined throughout this whole process. I've said all along that players are going to get it, people are going to get it. It's just how do you react from it and I thought the guys did a good job in dealing with it. I don't think it had any effect on us today."
On the play of Alan Pulido...
"He continues to be a bright spot for us. On that goal that we scored, his intelligence with his back to the field is fantastic. He really smelled that the player was coming hard, flicks the ball around him and just gives a great ball to Khiry. Khiry did a fantastic job with the finish just from the point of the view that he faked like he was going to go far post and he went near and scored himself. Alan was very good. I just wanted to kind of save him at the end of the game because I felt like we needed to get some fresh legs out onto the field."
On the team's reaction to adversity amidst the new circumstances...
"I don't think those two things correlate. Once you're on the field, you forget about everything else. You can see it from every game that is being played. As much as the guys are competitive and everybody wants to compete, I think the big thing is that a lot of the teams are trying to get fit in a very, very different climate then they're used to for the most part. From that point of view, it was difficult and when we got the guy thrown out - it was the difference in the game."
On SKC playing to protect the 1-0 lead rather than build upon it...
"I wouldn't agree. I thought that we were trying to get forward. I think that we still created some good chances. The difference is that we didn't score them. Unfortunately, we were in a place where we had a couple really good ones. Alan was down on the left hand side of the goal, running across the line and played a ball backwards. That has to turn into a chance on goal. We had a lot of different opportunities in and around the box. We just never really stuck anything away. That kept them in the game and gave them confidence."
SPORTING KANSAS CITY DEFENDER MATT BESLER
On how much the red card changed the game...
"That changed the game, we felt like we were in control for the most part but we weren't able to put the game away and we left the door open for something like that to happen. That's on us that we weren't able to put the game away and we have to move on and get better from it."
On Richard Sanchez stepping in for his debut following the red card...
"Obviously it's different, there's a different person in goal, but we have the utmost confidence in Richard. He's shown a really high ability to play, he had a great preseason for us and got a lot of minutes. We have confidence in him, he's going to have to play next game. We have to move on and get points out of our next game."
On how the game changed when Aaron Schoenfeld entered the game for Minnesota...
"We knew going in that in this tournament there's five substitutions and this is our first game in a while, so we knew that there was going to be subs coming on and fresh legs coming into the game. We dominated the majority of the game possession-wise but we weren't able to put the game away, and when you're not able to do that, crazy stuff - like the last 10 minutes - can happen to you."
On how the positive COVID-19 test earlier in the week affected the team...
"Our mentality and preparation didn't change. We were focused on the game and we were excited to compete again. It's been a while since we were able to play a game against a different opponent. We made sure to follow all the protocols that are in place, we did everything that we needed to do and we prepared like we normally would for a game."
On if the game felt weird being in a tournament in Orlando with no fans in attendance...
"It's completely different than anything we've ever done because there's no fans and we've never done a tournament like this. I can't really compare it to anything else or relate to it. It's a new experience for everyone, we have to keep going. Our objective going into this tournament was to try and win all three of our group games and then win the tournament. We have to move on from this first game and we have to go try and win the second game."
SPORTING KANSAS CITY FORWARD KHIRY SHELTON
On scoring the opener and returning to the field...
"I feel great, but I'm frustrated right now. We should've won the game, so I'm left with some frustration. We could've done better in areas but we'll go back to film and we'll fix those."
On the psychological hit of receiving a red card when on the front foot...
"It's tough, we just didn't put our chances away. I feel like we had a lot of chances that we could've put away and we didn't do that. It changes the game. After that, they get that first goal, we're down a man. It's tough, it's not easy."
Images from this story
• Discuss this story on the Major League Soccer message board...


Major League Soccer Stories from July 13, 2020
The opinions expressed in this release are those of the organization issuing it, and do not necessarily reflect the thoughts or opinions of OurSports Central or its staff.