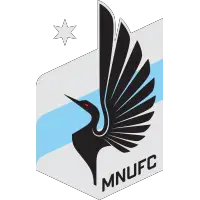 Minnesota United FC at Portland Timbers Preview
November 20, 2021 - Major League Soccer (MLS) - Minnesota United FC News Release



GOLDEN VALLEY, Minn. (Nov. 20, 2021) - The last time the Loons were on the pitch, they were playing for a spot in the playoffs against the LA Galaxy on Decision Day. To make it in, MNUFC needed to either secure a win or tie in Los Angeles. With goals from Adrien Hunou, Robin Lod, and an own goal from Julian Araujo, MNUFC were able to come away with a 3-3 draw and clinch a spot in the playoffs and eliminate the Galaxy. Next up, the Loons will take on the Portland Timbers at Providence Park this Sunday in Round One of the 2021 playoffs. No matter what the result of Portland's Decision Day game against Austin FC had been, the Timbers were already locked into fourth place. Despite having a guaranteed home game in the postseason, Portland still played as though they had everything to lose against Austin and won with a convincing 3-0 scoreline over the MLS newcomers. With two weeks between Decision Day and this Sunday's kickoff, both sides should be well-rested and ready to leave it all on the field in hopes of extending their 2021 campaigns.
HEAD COACH ADRIAN HEATH ON BALANCING INTENSITY AND REST
"Last week was a little bit of rest. When we got back from LA, we had two or three days off, then we didn't do a lot of physical work. This week, we've started to ramp it up a little bit. I said to the guys, 'Listen, enjoy a few days off but don't take your eyes off what the prize is in a week on Sunday.' There's been a really good vibe in the group, with what's coming. Big game for us. We've proved before we can go on the road and win in playoff situations. We know what's at stake."
GOALKEEPER TYLER MILLER ON MINNESOTA'S GOOD RECORD AGAINST PORTLAND
"Portland is a special team. They've always given us a true test and we've gotten some really good results against them in the last two years. Our ability to really stay disciplined when we're [at Providence Park] has helped us a lot. We were fortunate to score in the first minute of the game the last time we went there and hung on for the 1-0 win. But for us, they're a different team now. They have [Sebastian] Blanco back and he's playing much better and they're putting pieces together at the right time. They're a dangerous team to play against right now but I think we're all very confident in our own ability."
THE OPPOSITION
The Portland Timbers have been a part of MLS for a decade and in that time, they've made it to the postseason seven times. Despite that history of reaching the playoffs, the Timbers have struggled to gain much momentum once they reach the postseason. Other than their two appearances in the MLS Cup Final, Portland has either been eliminated after their first game or only won a single postseason game. While the Loons have a much shorter history to reflect upon, their third consecutive playoff appearance means they've now reached the postseason more often than not in their five-year history. The upshot of this is that Portland are still looking to prove their playoff mettle and that starts with not looking past Minnesota United - a team that's taken their last two games at Providence Park with confidence. With a lethal blend of talent and experience up front, the Timbers will be aiming to get out in front early to take the pressure off a defense that's looked porous at times throughout the year.
STORYLINES PRESENTED BY BMW
Possession might be nine-tenths of the law, but it's not always directly correlated with success on the soccer pitch. Most coaches want to play with the ball, given that it generally allows their team to control the tempo of the game, but as Head Coach Adrian Heath has often said, possession alone doesn't win you the game. You have to do something with it, and at times this season, both Portland and Minnesota have done the most with the least. In the Loons' most emphatic win of the season - a 3-0 drubbing of the Galaxy at home that was their only win by more than two goals - they had just 34.9% of the ball. Following a four-game swoon to open the season, MNUFC notched their second win of the year against FC Dallas with 45% of the ball. Portland finished up the season on a tear, beating Austin FC 3-0, RSL 3-1 and San Jose 2-0 after losing to Colorado. In the three wins, they had 40%, 35% and 41% possession, respectively. In the loss, they had 57%. Over the entire season, the Timbers were dead last in possession at 44.7%.
FIRST TOUCHES: The Loons were near the top of the league in corner kicks, landing fourth with 190, while Portland were last with 130. Emanuel Reynoso took 142 of those 190, second in the league and a new MNUFC record for a season.
PLAYER AVAILABILITY REPORT:
Minnesota United
OUT:
McMaster - Thigh
Montgomery - Thigh
Taylor - Thigh
Weah - Knee
QUESTIONABLE:
Finlay - Concussion
• Discuss this story on the Major League Soccer message board...


Major League Soccer Stories from November 20, 2021
The opinions expressed in this release are those of the organization issuing it, and do not necessarily reflect the thoughts or opinions of OurSports Central or its staff.