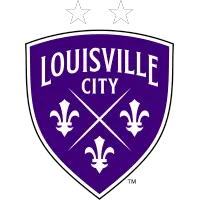 LouCity Ends Regular Season on a High Note, Beating SKC II
October 3, 2020 - United Soccer League Championship (USL) - Louisville City FC News Release



Points and USL Championship Playoffs scenarios aside, coach John Hackworth said, he wanted to see Louisville City FC's "mo train" - momentum - continue rolling into the postseason.
That it did Saturday night when LouCity defeated Sporting KC II by a 2-1 score at Lynn Family Stadium, closing the regular season on a six-game winning streak and 11-game unbeaten run.
Paolo DelPiccolo headed in the game's opening goal in the 26th minute before Cameron Lancaster's bit of 40th-minute brilliance saw him split four SKC II foes for a long-range strike to double the lead.
The visitors had a lone answer in the form of Tyler Freeman's 64th-minute goal. Beyond that, SKC was out-shot 20-8, and the boys in purple maintained 61.8% of possession in a game they dominated.
"I thought we played some fantastic soccer and did a wonderful job getting out front two-nothing," said coach John Hackworth. "At the start of the second half, really good again, but we unfortunately didn't get that third goal, which was tough, because we make a mistake in transition, give up a goal, and all of a sudden it's a one-goal game.
"In my opinion it shouldn't have been a one-goal game at all. We held on. We did what we needed to do, and I believe that makes us the Eastern Conference regular-season champions."
Essentially, yes.
Elsewhere in the conference, another result fell LouCity's way as the boys in purple sought maximum points - along with the right to host multiple playoff games should they advance. The Tampa Bay Rowdies failed to surpass LouCity on points when losing to the Charleston Battery, nearly assuring the club ends the season with the East's best overall record.
That will become official Sunday after the Hartford Athletic and New York Red Bulls II meet. The Athletic can match the Group E No. 1 seed LouCity on points, but goal differential breaks the tie. LouCity is 11 better in that category.
"We need to wait a little while longer before we celebrate with a bourbon," Hackworth said.
Hartford's outcome will also determine which Group F opponent visits Lynn Family Stadium for a 7:30 p.m. Oct. 10 kickoff to open the playoffs. An Athletic victory would send Pittsburgh to Louisville; anything less, and Hartford will face LouCity.
Sixteen teams - eight from the East and just as many from the West - will make up the playoff bracket with the opening round followed by the Eastern Conference Semifinal (Oct. 16-18) and Final (Oct. 23-25). The USL Cup Final is then scheduled for Nov. 1.
LouCity enters the postseason having not lost since July 29, rising from last of four in Group E to the top of the heap.
Saturday's result could have been much more lopsided, too, as in the 53rd minute, an Oscar Jimenez ball over the top landed to Lancaster behind the defense. SKC II goalkeeper Remi Prieur cleared it off.
In the 82nd minute, defender Sean Totsch nearly put an exclamation on his memorable night, skimming a header over the top of the net that could have been the third.
"We try to keep routines, the way we train, the details that we cover every day," said Totsch, who proposed to his girlfriend Aysia before kickoff Saturday. "Those things that accumulate over the season is what makes us successful. The switch is on, and if you have to have an on switch for playoff time, it is too late."
Game Summary: Louisville City FC vs. Sporting KC II
Date: Oct. 3, 2020
Venue: Lynn Family Stadium
Kickoff: 7:30 p.m.
Weather: Partly cloudy, 64 degrees
Man of the Match: Paolo DelPiccolo
Attendance: 4,900
Scoring
LouCity: 2, 0, 2
Sporting KC II: 0, 1, 1
Goals
LouCity:
26' Paolo DelPiccolo headed in a Brian Ownby cross from the right.
40' Cameron Lancaster, dribbling among four SKC II defenders, launched from distance.
Sporting KC II:
64' Fredlin Monpremier crossed to Tyler Freeman, who scored from the middle of the box thanks to Wilson Harris, whose dummy move allowed the ball to roll into open space.
Lineups
LouCity: 39-Ben Lundt, 19-Oscar Jimenez, 3-Alexis Souahy, 4-Sean Totsch, 15-Pat McMahon (74' 42-Jonathan Gomez), 36-Paolo DelPiccolo, 80-Devon "Speedy" Williams, 8-Akil Watts (74' 3-Kenney Walker), 29-Antoine Hoppenot (87' 77-Jason Johnson), 17-Cameron Lancaster (87' 9-Luke Spencer), 10-Brian Ownby
Subs not used: 1-Chris Hubbard, 5-Jimmy Ockford, 6-Wes Charpie
Head coach: John Hackworth
Sporting KC II: 42-Remi Prieur, 33-Daniel Barbir, 57-Kayden Pierre, 48-Kaveh Rad, 40-Dillon Serna, 46-Jacob Davis (57' 32-Christian Duke), 39-Petar Chic (75' 43-Bailey Sparks), 23-Tyler Freeman (75' 65-Isaiah LeFlore), 80-Fredlin Mompremier, 34-Dominik Resetar (57' 96-Wilson Harris), 44-Camden Riley
Subs not used: 47-Mitch Hildebrandt, 84-Jahon Rad, 97-Gyuwon Chong
Head coach: Paolo Nagamura
Discipline
LouCity:
89' Luke Spencer (yellow)
Sporting KC II:
69' Kayden Pierre (yellow)
90'+ Camden Riley (yellow)
Stats Summary: LouCity vs. Sporting KC II
Shots: 20/8
Shots on goal: 6/3
Saves: 2/4
Corner Kicks: 12/1
Fouls: 11/8
Possession: 61.6%/38.4%
• Discuss this story on the United Soccer League Championship message board...


United Soccer League Championship Stories from October 3, 2020
The opinions expressed in this release are those of the organization issuing it, and do not necessarily reflect the thoughts or opinions of OurSports Central or its staff.