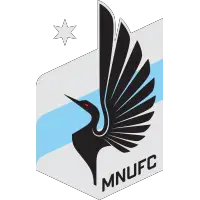 Loons Come Back in 3-2 Win over Union
October 20, 2021 - Major League Soccer (MLS) - Minnesota United FC News Release



SAINT PAUL, Minn. - Following a stalwart 1-0 win against Austin FC on the road, Minnesota United came into Wednesday night's tilt against the visiting Philadelphia Union with renewed hopes of cementing their place in the postseason. The Loons had not faced Philadelphia since 2019 but despite the lack of familiarity, things got chippy quickly and hardly let up. While MNUFC got on the board first in the 41st minute, the Union struck back twice unanswered. But the Loons were up for the fight and came back on the strength of goals from Franco Fragapane and Robin Lod to climb once again to fifth in the West - for now.
Right from jump, the game got physical and stayed that way. In the fifth minute, midfielder Emanuel Reynoso appeared to foul Philadelphia defender Olivier Mbaizo and Mbaizo appeared to take personal offense as he confronted Reynoso and shoved him to the ground. The defender got a yellow card for his trouble, and the tone for the night was set.
Minnesota's attack leaned heavily on the left side of the pitch to start the game, with the ball working between midfielders Franco Fragapane and Reynoso as they looked for a seam to work. The Loons had decent success early on in transition, with the Union failing to get pressure between the midfield line and the final third, giving the Loons the opportunity to work with space in front of them once they crossed midfield. Despite that and several chances to push for more, Minnesota found themselves with just two shots to their name and neither on target late heading into the final minutes of the first half.
But then in the 41st minute, the interplay between the attacking players that they'd been working on came to fruition. An attempt by Philadelphia to get the ball out of the final third was cut off by Gasper and then sent back into the box with a sideways tap by Reynoso. Fragapane picked the ball up and threaded it past Jakob Glesnes for forward Adrien Hunou, who struck it with his left foot onto the near post and snuck it past goalkeeper Andre Blake to put the Loons up 1-0.
They held the lead for only a few minutes though, as the Union quickly reorganized and pulled one back in the 45th minute. Midfielder Jamiro Monteiro tapped the ball back to midfielder Daniel Gazdag, who smashed it into the top right corner past an outstretched Tyler Miller to level it up at 1-1 just before the half.
Reynoso came out of the break with a fire in the belly though, and seemed prepared to take on the whole Union team to get his squad back on top. In the 49th minute, he danced around several defenders - dropping at least two to the ground - before unloading a left-footed shot that beat Blake but went just wide of the right post.
A momentary lapse in the 54th minute saw Philly nudging ahead as a corner kick forced Miller to tap the ball up, but not far enough away to keep Gazdag from getting his second goal of the night on a header on the far post.
Now down a goal and headed into the final 30 minutes, Head Coach Adrian Heath went to his bench and brought in midfielder Robin Lod for Midfielder Ethan Finlay in a like-for-like swap on the right wing. Only moments later, the substitution looked like a stroke of genius as Reynoso peeled the ball off a defender and hit a cheeky backheel to Lod in the box for an easy finish.
With the game level at 2-2, the Loons went for the jugular and added another just four minutes later. The Union defense misplayed a ball in the box, leaving it for Hunou to smash a hard shot from close range at Blake, who deflected it directly at a waiting Fragapane on the far post. Fragapane nodded it in to make it 3-2 in the 67th minute.
It looked like some clutch defending by Michael Boxall and particularly Bakaye Dibassy would see this one out, but in the 77th minute, the tenor of the game changed markedly. Trying to corral a high ball in Philadelphia's end, Romain Metanire was fouled hard by Kai Wagner. Metanire took particular exception and fired the ball at Wagner's head from close range, earning himself a red card and an ejection, while Wagner received a yellow card.
Reduced to 10 men, the Loons had to button up shop and hang on - a pity, since Reynoso was clearly feeling his oats and might have had another goal or assist in him. But MNUFC held the line and, thanks to some timely and aggressive goalkeeping from Miller at the death, the home side were able to come from behind and pick up a much-needed three points headed into a weekend matchup with LAFC.
MAN OF THE MATCH: Midfielder Emanuel Reynoso
LINEUPS:
Minnesota United: GK Tyler Miller; D Chase Gasper, Bakaye Dibassy, Michael Boxall (c), Romain Metanire; M Hassani Dotson, Wil Trapp, Franco Fragapane, Emanuel Reynoso, Ethan Finlay; F Adrien Hunou
Philadephia Union: GK Andre Blake; D Jack Elliott, Jakob Glesnes, Olivier Mbaizo, Kai Wagner; M Daniel Gazdag, Jose Martinez, Jamiro Monteiro, Alejandro Bedoya (c), Leon Flach; F Kacper Przybylko
UP NEXT
MINNESOTA UNITED FC vs. LOS ANGELES FOOTBALL CLUB
Allianz Field | Saint Paul, Minnesota
10.23.21 | MLS Week No. 32 | MLS Game No. 31
7:00 p.m. CT (Bally Sports North+/CW Twin Cities, MNUFC Radio on SKOR North)
MINNESOTA UNITED QUOTE SHEET
MINNESOTA UNITED HEAD COACH ADRIAN HEATH
On being down a goal, down a man and how the game went and what the win speaks to and the resiliency of his team ...
"Maybe people will realize it's not so easy when go down to ten men. I'm so pleased for the players because the doom and gloom that was about here after we got beat by Colorado. You would have thought that the season was over. And, that's not just externally, that was internally as well. It's just a reminder that it's never over. As soon as you've got games, you can change the narrative. And that's what the players have done in the last two games."
On if a victory like tonight's feels even better after a game that was so competitive and ...
"What are they? Third in the East? They're a really good team. They've got good players and they've got size. They've got incredible delivery off set pieces. So, for the guys to see it out the way they did, speaks volumes for their attitude and their determination to see it through this evening. I thought there was some outstanding performances. I thought [Emanuel] Reynoso was incredible at times. I thought Franco [Fragapane] had probably his best game for us. I thought Adrien Hunou looked like the player that we know is in there. So, there was a lot of really good stuff. And, obviously Robin [Lod] comes in and gives us a touch of quality and a little good finishing as well."
On if he's seeing Emanuel Reynoso, Franco Fragapane, Robin Lod and Adrien Hunou grow by the game together ...
"Well, we know that the longer they play together and the more time that they have together to get this all understanding going... and, I've said it a lot of times: Good players like to play with good players. All four of them are all very smart. They know how to play off people, and, I've got to say, you know, I wish I was playing up front. Playing in front of Rey [Emanuel Reynoso] at times, because, his vision and his quality is exceptional. I think he might be the best player in the league at this moment in time. I really do."
On the MLSPA releasing salary numbers today, and if it was perfect timing for Adrien Hunou to get a goal ...
"Well, our salaries are a little bit misleading. There's a lot of... I only briefly looked at it. There's five or six that I saw were completely not the right number. But, they are what they are. I don't want to dwell on what people earn."
On if he needs to see more composure from Romain Metanire in that moment with his red card ...
"Disappointing. Disappointed for Romain [Metanire] because he's been playing really, really well for us as well. But, hey, we have to get on with it. That's football. You can't lose your discipline, and, if you do, generally that's what happens. So, it's a disappointment for the player as much as anybody, because I feel as though he's been in really good form as well."
On if Emanuel Reynoso's heel is okay since it saw a lot of action tonight ...
"He kicks it as many times with the back of his heel as he does the front. But, he's just got incredible vision and awareness of what's going on around him. We always say, the people who fetch the most money are the people that can make a goal and score a goal. I want him to score more. But, if we do, as I said, we've got one hell of a player for sure."
On what he saw on the first goal conceited ...
"We turned it over and Ethan [Finlay] came in and held his hand up and we turned it over cheaply. But, then, a little bit, I don't think we were as aggressive in defending as we could have been. And, it was a good finish from the kid [Daniel Gazdag], to be fair. But, you know, that's maybe a couple of negatives on the evening. There wasn't many. Because even in the first half, I thought we played some really good football."
On looking at scores around the league, and the grind just continuing for the squad ...
"Yeah. Yeah, it does. I said last week, it's going to go to the last game. Saturday is a huge game for us, but it's a huge game for LAFC. Us winning the game here this weekend could make a big swing. But, hey, we know it's going to be tough. It's probably one of the most expensively assembled teams in the league, well-coached and really good individuals. So, it's a big test for us again for sure."
MINNESOTA UNITED MIDFIELDER HASSANI DOTSON
On coming back from being down a goal...
"Yeah I think that's been a big focus for us over the last couple of weeks, especially after the Colorado match. I think we've all talked about it like this is crunch time, and I'm just proud of the boys and the effort they put on the pitch today."
On a victory after a competitive game...
"This year there's teams came back and beaten us and it feels a lot better. Giving us more confidence going forward knowing that kind of max, of what we think in our ability and it just gives us more confidence going forward."
On getting three points tonight...
"Oh it's huge. I mean you look at the West, it's tight from I believe fourth all the way down to ninth. So, any three points we can get, we're happy when they come."
On the first goal Philadelphia scored...
"I think there's just a breakdown in play. We won the ball, moved the ball quickly, little lack of communication. And then, they got four midfielders in there and they played into [Jamiro] Monteiro and he set the ball and the other midfielder [Daniel Gazdag] came in and finished it. So I think that's just something that we got to look over the film, and we know that's one of the dangerous areas and we know that they cross the ball the most in MLS. We weren't happy to give up that goal especially during that time but these are things that we learn from and we gotta move forward from."
On Adrien Hunou's goal...
"I think it's tough, coming into a new environment, a new league, especially coming off of a full season in France. And I think that's just going to give him more confidence and give the guys confidence in him, going forward. So I'm happy for him that he can get that goal and hopefully we keep getting wins."
On being down to ten men at the end of the game...
"They're a really good team, and so towards the end of the game they started to overload the sides of the ball, and even more so when we had ten men. I think for us is to make sure that we're covering the back shoulder or communicating even earlier for their intricate play and try to get them on the counter."
On playing with Emanuel Reynoso's back heel passes...
"Yeah, definitely not 11 the side I think that's something that we save for kick arounds or street soccer. He's got great vision and just even knowing when a defender is going to press him and he's great checks over his shoulder. Yeah, He's a great player as you can see."
MINNESOTA UNITED FORWARD ADRIEN HUNOU
On how important the win was...
"It's good result for us. You have to keep going because we know that there are four games [left], four finals to reach the playoffs. It's important to stay focused. It's four games and we have to keep going. It was a good game against a good team that is third in the other conference. We have to keep going and take every game after tonight's."
On the chemistry with you Franco Fragapane and Emanuel Reynoso growing...
"It's a pleasure for me to play with Rey [Emanuel Reynoso], with Robin [Lod], with Ethan [Finlay], with Franco [Fragapane]. We all are dangerous and its good. It's getting better, with this season we have had a lot of injuries and I just arrived [to MNUFC] a few months ago. So, it's not easy to find a good atmosphere, but its better when you play. It's getting better day after day, game after game. And you can see that with all players and their confidence. It was very good for the team."
On Reynoso and his vision and backheels in the game...
"He's a good player, and it's very great to play with him. When he receives the ball, he can always find a good pass to score. So for me - and I speak a lot with him - its' getting better, day after day."
On his goal...
"Franco [Fragapane] received the ball and I am between the two players and go behind the defender and I saw the goalkeeper go to the other side [of the goal] and I shot to the [near] post. It felt good, it was good for me and most important, it was a victory."
On your comfort level with more games played...
"I feel very comfortable, because when you play every game that is better for me. When I finished a season in Europe and I begin another season, it's not easy for me. Discover a new country and learn a new language, but I don't find any excuses, for me it's another experience. I have to do my best to help my teammates and it's getting better and I feel confident for the games to come."
On Franco Fragapane's goal...
"I'm not surprised that Franco [Fragapane] scored. We are in a good position always, it's getting better."
On the win feeling better because the physicality of the game...
"It was a very difficult game against a very physical team. We know because we [watched] some video [on the Philadelphia Union]. It's a very strong team, but most important is how we play. So, it's most important to play from the back and we can play slow or fast. We know we have to play football to have good result."
On the team's play being a man down...
"We know about this team. We had to remember about the [Colorado game] so we don't make the same mistakes. It's another game, it's good and important because we have four more games and the next one is Saturday against LAFC."
On the team keeping the belief after the loss to Colorado...
"We believe in our team. We knew we had five [more games] - before tonight's game. We know we have a good team and good players. We have to keep going with confidence and do the best we can and we will see positive results."
• Discuss this story on the Major League Soccer message board...


Major League Soccer Stories from October 20, 2021
The opinions expressed in this release are those of the organization issuing it, and do not necessarily reflect the thoughts or opinions of OurSports Central or its staff.