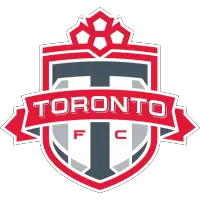 Inter Miami Cf (3) - Toronto FC (0) Post Game Summary
October 20, 2021 - Major League Soccer (MLS) - Toronto FC News Release



SCORING SUMMARY
MIA - Federico Higuaín 10'
MIA - Christian Makoun 45' (Gonzalo Higuaín)
MIA - Eriq Zavaleta 61' (own goal)
MISCONDUCT SUMMARY
MIA - Federico Higuaín 11' (caution)
MIA - Leandro González Pírez 75' (caution)
RECORDS (W-L-D)
Toronto FC 6-17-7 25 points
Inter Miami CF 10-15-5 35 points
LINEUPS
TORONTO FC - Alex Bono; Eriq Zavaleta, Kemar Lawrence, Justin Morrow; Jahkeele Marshall-Rutty (Jordan Perruzza 80'), Noble Okello, Michael Bradley (C) (Jonathan Osorio 59'), Jacob Shaffelburg (Jayden Nelson 59'); Alejandro Pozuelo, Yeferson Soteldo (Richie Laryea 39'), Patrick Mullins (Jozy Altidore 46')
Substitutes Not Used: Quentin Westberg, Julian Dunn, Chris Mavinga, Luke Singh
INTER MIAMI CF - Nick Marsman; Kelvin Leerdam, Leandro González Pírez, Christian Makoun, Brek Shea (Sami Guediri 80'); Jay Chapman (Blaise Matuidi 46'), Gregore (C), Indiana Vassilev, Federico Higuaín (Rodolfo Pizarro 63'), Lewis Morgan (Julián Carranza 73'); Gonzalo Higuaín (Robbie Robinson 63')
Substitutes Not Used: John McCarthy
MEDIA NOTES
Justin Morrow made his 250th appearance for Toronto FC in all competitions.
Jahkeele Marshall-Rutty made his first start for Toronto FC.
JAVIER PÉREZ - HEAD COACH, TORONTO FC
Q. Javier, despite the early goal, your team seemed to have some positive moments in the first half and then that late goal kind of killed things off and you didn't seem to recover. What was your take on the performance tonight? I know you were missing quite a few players.
Yeah. I think it wasn't a 3-0 game tonight. I don't think the scoreboard reflects what happened on the field tonight. I think it's a game with two mistakes and two corners. Two mistakes by Alex in this case. One, thankfully, was called offside. The second one we were not so fortunate. And that was 1-0. And then two corners. So I think that's the read at the end that we have to make in the game I think. For good sequences of the game, we were the best team on the field. But at the end, it doesn't matter. Right? At the end, we end up losing. It doesn't matter you lose 1-0 or 3-0. It would matter if you lose 5-0. But I think at this point, you lose 1-0, you lose 3-0, it's a loss. A loss is a loss.
But I think, as I mentioned before, the summary is a pretty even game with a mistake or two mistakes and two corners. That's it.
Q. A first career MLS start for Jahkeele Marshall-Rutty tonight. He played 80 minutes. My perspective, he looked pretty good. He seemed pretty lively in the attack. I'm curious to know what your evaluation was?
Jahkeele was terrific. I think it's no surprise for me at least. As I mentioned before, I think, it was just the right time for him. He's so young, and he's so talented. I saw his talent. But at the same time, I think I mentioned this in the last press conference, this is helping to mature a lot as for many other younger players. And you can see an example today that some of them, they came on the field and they contribute.
But Jahkeele tonight he was really good. Obviously, towards the end, he was tired. We have to give him a little bit of rest. But I think the other day, he played for a long time. Today he started and he left details of his quality. So I'm really happy with that experience that he has right now. And he got to contribute to the team.
Q. You guys did have some -- obviously had some scoring chances tonight. What do you credit the lack of finish -- like just perhaps your lineup being different all the time? Or what would you say was the story there?
That's a good question. Right? I mean, the lineup is different every time because the needs. And the needs are sometimes players are injured, sometimes players they need some rest because they are with the national team and they come back. And obviously you cannot play consecutively the players.
You know that you have a game against Montreal that everybody wants to play that game because it's -- and everybody wants to be at that game. So you have to split the minutes as well to make sure that in the next few games, everybody can be sharp and can play, you know.
But I think it's part of the game. I'm not complaining. It's part of the game. Everybody has to deal with this kind of situations. I think from the coaching point of view, it's more evident for us. But why the ball doesn't go in? We have, very, very, clear chances. We have the ball with Pat right at the beginning of the game. I think it's like you compare with the last game, similar to the one we had last week that hits the crossbar. We have the one with the Jahkeele that he hits with his left foot and it goes very close to the post.
I mean, we have chances. Right? We have a lot of chances. We just don't capitalize on -- the answer is difficult. It's difficult to give an answer why the ball doesn't go in. Sometimes -- sometimes in a way that it doesn't go your way, it doesn't go your way.
And I think tonight it was an even game. And I repeat again, I think it was just a mistake at the back and two corners. That was the summary of the game tonight.
Q. With all the attention now sort of on the cup semifinal you guys have coming up, I'm wondering what kind of utility do you hope to take out of 90 minutes like tonight? What do you get? Is it just a matter of getting Pozuelo a start and getting Josie a good run out and getting people minutes? Or what are you looking to take from a match like this?
As I mentioned in the past press conference, it's not -- because they were asking me if we are going to play just younger players or now what is the objective from now to the end of the season? And we don't know -- for one game for the semifinal or the final or whatever game you have to win. And I think we all have to be sharp.
As you point out very well, it's as well to bring Alejandro and to bring Josie at the best shape, the best performers possible that they can be. But not only them, I think as well to bring someone like Jahkeele that I think he can make a difference. And someone like Noble that needed today 90 minutes and did a good job. So all these different factors that you have to take into account in order to have enough players to put together a good team and a stronger performance.
Q. Is there any early word on what prompted Soteldo to leave the game?
Yeah. I exchanged just like a couple words with him when he was coming out. And I think it's the hamstring, if I'm correct. But we don't know the extent of the injury. It looks like he's -- I'm not going to make an evaluation because we don't have information but he couldn't continue. So it cannot be light or good news for us.
Q. You kind of mentioned him there previously about Noble Okello. But I was just hoping to get more insight from you as to what you saw from him tonight? How would you rate his performance against Miami tonight?
Yeah. I think he's along the lines of Jahkeele. I think Noble has matured a lot. I think he -- he was really good. I think he played next to Michael. He was working really well. They worked well together. And I think he covered a lot of ground, anticipating balls, winning balls. And then covering defensively when the team needed to have the strong player in the back.
So I'm really happy with his performance. He went all the way 90 minutes. He started -- he's a young player with a lot of energy. But in the end, he -- he doesn't play very often 90 minutes. And I think tonight he made a great effort. And I think he did a really good job.
JUSTIN MORROW - DEFENDER, TORONTO FC
Q. You stole my thunder. I was going to wish him congrats. Congrats. That's a great big accomplishment. Just from your perspective, how did things play out tonight? How would you rate the team's performance against a Miami side that was struggling, it has to be said, coming into this game?
Yeah. I mean, obviously, there were some unfortunate errors. And when you give that up early in the game and you're facing a team that is fighting for the playoffs, it's going to be tough.
But like all of these games at this time of the year, you try and take the positives out of it. Getting the young guys some minutes was a positive tonight. Jahkeele did really well. Nice to see him do what he's been doing in practice and put that on the field tonight. I thought it was a big step forward for him. So that was a good positive for them.
Q. Congrats on the milestone, Justin. What does that mean to you? There's only like four regular season games left and whatever happens in the championship. But a tough game for the team tonight, but what does reaching that milestone mean to you given that you're going to be retiring at the end of the year?
Thank you. I mean, it means everything. It's, I think, a big story of my career being here, spending so many years trying to be a guy that's always available for the team each and every game no matter what the situation is or what the position is and just trying to be a good role model for the younger guys.
Still throughout my career, I was trying to be a leader, you know, trying to find my voice. And that was difficult at times because I'm not naturally that type of guy. So I'd always just try and lead by example. And if I can be a guy that's consistently out there every day doing the right things, giving the game the proper respect, then I think that's a good lesson for these young guys.
Q. Injuries are obviously part of the game. But do you ever wonder about whether this team has bad mojo when Soteldo comes off just after you get Josie and Pozuelo back?
Yeah. I think injuries are difficult to deal with each and every season. I feel that after COVID and the way that the schedule has been adjusted and now with World Cup qualifiers, it's just really, really congested. So it seems at times we've had different lineups, guys in, guys out. And that's just what it is right now.
I think we've shown that when we've been able to put a consistent 11 out on the field, that's when we've had our best moments recently. So hopefully we can get a good strong lineup out for Saturday and get ready for a big game against Montreal in front of our home fans.
Q. Justin, you know, there's not a whole lot of games left this season. But, you know, the team has put that semifinal against Pacific as sort of the next goal you guys have ahead of yourselves. What steps do you want to see the group take through these matches? And what did you see tonight that tells you it's going in the right direction?
I think that there's something to take away from every one of these games. And I just want to see -- like everyone else, want to see the team compete. Like you said, this championship match coming up is big. But we have another one on Saturday. And I think that's the good thing right now that the games are coming quick and fast. So there's always a chance to rebound, to have a better performance pretty quickly.
And we need to show for our fans on Saturday, like, there's so much on the line even though we're out of the playoffs. So I'm looking forward to that, the team is looking forward to that. And then we have the championship to think about as well.
Q. You mentioned, like, trying to be a good role model for the young guys on the team and that kind of thing. Even though you guys played tonight, like, what did you think of the way 17-year-old Marshall-Rutty played, Shaffelburg played, Noble played tonight in a kind of tough situation?
Yeah. I thought Jahkeele did really well. I thought that he was moving with the ball well. I thought he made good decisions on the ball. And I thought that he made some good attack plays. So I thought it was a big night for him.
And then each and every time that these guys get on the field, it's big lessons for them. It's important because we've had a team, by and large, that has been so consistent over the years. And so many guys like myself with a number of games that these chances have been few and far between for them. So it's so important every time that they get on the field that they really cherish it, that they step up, and that they take personal lessons from it.
I'm a big believer in personal growth each and every time that you're on the field. And these guys have to have the same mentality. They really have to be chomping at the bit. So these minutes are so important for them.
• Discuss this story on the Major League Soccer message board...


Major League Soccer Stories from October 20, 2021
The opinions expressed in this release are those of the organization issuing it, and do not necessarily reflect the thoughts or opinions of OurSports Central or its staff.