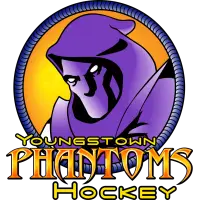 Lincoln Outlasts Phantoms, 7-6 In OT
October 16, 2009 - United States Hockey League (USHL) - Youngstown Phantoms News Release



LINCOLN, Neb. (October 16, 2009) - In a game that had it all, the home side ended up having a little bit more.
Ben Lynch's second power-play goal of the game at 2:42 of overtime sent the Lincoln Stars to a 7-6 win over the visiting Youngstown Phantoms Friday night at the Ice Box. The loss broke a two-game winning streak for the Phantoms (2-1-1), who will motor into Des Moines Saturday night to conclude a four-game road stretch.
Reigning Reebok Offensive Player of the Week Taylor Holstrom kept up his torrid pace for the Phantoms, netting a pair of goals to accompany a first-period assist, pushing his point total to eight through four contests. Holstrom's second tally gave Youngstown a 6-4 lead four minutes into the third period, but Lincoln rallied on even-strength markers from Garrett Peterson (5:25) and Andrew Ammon (10:46) to force sudden-death OT.
Stuart Higgins had put the Phantoms in position to win entering a third, drilling a 10-foot shot into the upper-right corner of the goal with 1:53 remaining in the second to make it 5-4 Youngstown. Higgins' go-ahead red light countered Brockett's tying goal for Lincoln 7:08 into the middle frame.
It was a good night for both power plays, as Lincoln finished 3-for-8 and the Phantoms poked in two in eight chances. Youngstown also generated several good scoring chances in an early OT power play, but couldn't beat Stars goalie Jared Coreau for a seventh time.
Holstrom kicked off a first period for the ages by whipping a shot past Coreau from the right wing at 4:56 to give the Phantoms the opening goal for the fourth straight game. But that fact would be obscured by the manic events that followed.
When Brodie Reid and Brockett each beat Phantoms netminder Matt Mahalak 23 seconds apart just moments later, it appeared the Stars would ride the momentum to at least a lead after 20 minutes. That notion grew stronger when Ben Lynch launched a bullet into the Youngstown net with Lincoln on the power play at 15:07 to make it a 3-1 lead.
However, the flow of the game began to turn when Dowd followed his own shot and deposited a fat rebound behind Coreau at 17:14 to draw Youngstown within one. Dowd, who missed last weekend's action with the flu, continued to make up for lost time just 30 seconds later by jamming in Holstrom's rebound to tie the score and silence the Ice Box.
Just when the crowd thought it could take a breather and head to the intermission at three goals apiece, Jasinsky crashed the Stars crease during a power play, stuffing a second-chance wrister through Coreau with only 3.4 seconds showing on the scoreboard clock. Improbably, the Phantoms had the lead back.
Go to http://www.pointstreak.com/prostats/boxscore.html?gameid=1048710 for full box score.
• Discuss this story on the United States Hockey League message board...


United States Hockey League Stories from October 16, 2009
The opinions expressed in this release are those of the organization issuing it, and do not necessarily reflect the thoughts or opinions of OurSports Central or its staff.