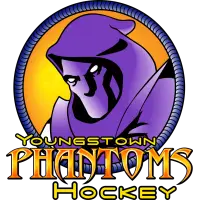 Countdown To Puck Drop: Phantoms At Lincoln
October 16, 2009 - United States Hockey League (USHL) - Youngstown Phantoms News Release



The Youngstown Phantoms take to our nation's highways for the second straight weekend in the wake of their perfect 2-0 trip five days ago, attempting to extend their winning streak to three in what is the USHL's toughest road assignment - a date with the Lincoln Stars in the famed Ice Box on the Nebraska State Fairgrounds.
Youngstown (2-1-0, 4th in East) more than made amends for their home-opening loss to defending champ Indiana by pouring in 10 goals in back-to-back road victories over the Des Moines Buccaneers and Chicago Steel. Taylor Holstrom, named USHL Reebok Offensive Player of the Week on Monday, paced the Phantoms with one goal and four assists over the weekend, while goalies Matt Mahalak and Jordan Tibbett split duties and earned a win apiece.
After a 1-1 weekend to begin their 2009-10 campaign, the Stars (2-2-0, T-2nd in West) upended Des Moines 3-2 in their home opener one week ago today, getting the game winner from Andrew Ammon. Lincoln then traveled east on Interstate 80 and fell 3-1 at Cornhusker State rival Omaha Saturday night to forge an all-Nebraska three-way tie for second place in the West Division with Omaha and Tri-City.
PHANTOM PHACTS
- Five different Phantoms drilled their first-ever USHL goals last weekend, including Andrew Lamont, who netted a pair. The others who took those memorable pucks back home to Youngstown? Stuart Higgins, Jean-Laurence Beauchemin, Scott Mayfield and Nick Czinder.
- Whatever Youngstown Head Coach/GM Bob Mainhardt is saying in his pregame speeches must be working. His Phantoms have registered the opening goal in each of the first three games and have outscored the opposition 6-2 overall in the first period.
- Holstrom wasn't the only second-year USHL player to excel last weekend. Eau Claire, Wisconsin's Jefferson Dahl, acquired in the Expansion Draft from the Green Bay Gamblers, earned his first two goals of the season just 1:39 apart in the second period last Saturday in Des Moines, the second of which was shorthanded. Dahl, who has committed to the University of Wisconsin, then added an assist in Sunday's game at Chicago.
- Returning to the Phantoms this evening after nasty bouts with the flu are forwards Mike Henderson (former Lincoln Star), Cody Strang, Ryan Jasinsky and Brian Dowd.
STAR GAZINGS
- Native Virginian Andrew Ammon has shone the brightest for Lincoln thus far. His two goals and two assists place him one point ahead of the aptly-named Dominik Shine (1 G, 2 A) for the Stars' scoring lead through four games.
- Featured in NHL.com this week - along with Youngstown's Czinder and other top USHL prospects - was Stars' netminder Jared Coreau. The 6-foot-4 18-year-old from Ontario, Canada, has started and finished all four Lincoln games, posting a 2.29 goals-against average and a 25-save shutout of Sioux City Oct. 3.
- Lincoln led the USHL in attendance last year at the Ice Box, averaging 4,314 blue, black and white-clad Stars fanatics at one of the more unique places to watch a hockey game. Located on the Nebraska State Fairgrounds, the Ice Box doubles as a horse barn during the summer months, lending to its intimate atmosphere.
- Head coach/GM Jimmy McGroarty leads the Stars for the third-consecutive year. Last season, he helped Lincoln to its fourth West Division crown in the franchise's 13-plus year history. The Stars remarkably claimed the Clark Cup in their inaugural 1996-97 season, then again in 2002-03 with the help of current NHLers David Backes (St. Louis) and Ryan Potulny (Edmonton).
CATCH PHANTOMS PHEVER!
Phantoms Phever, presented by House of Speed, is an hour-long weekly talk show that brings you an inside look at your Youngstown Phantoms. Join Voice of the Phantoms Matt Gajtka as he chats with coaches, players and front office staff about northeast Ohio's most exciting team and the great sport of hockey. Catch Phantoms Phever Tuesdays from 6-7 p.m. on Youngstown's ESPN 1240, WBBW-AM!
ESPN 1240 is also the exclusive radio home for the Youngstown Phantoms! Matt Gajtka has the call from all 60 Phantoms regular season games as they roll through their first-ever campaign in the Tier I United States Hockey League. Listeners outside the immediate area may log onto www.wbbw.com and click the "Listen Live" feature to access WBBW-AM's streaming audio player.
To watch and listen to Phantoms action via the B2 Networks' multimedia webcasts, purchase the Phantoms season pass or individual game passes at www.b2tv.com.
Also, make "Youngstown Phantoms" your friend on Facebook and follow "ytownphantoms" on Twitter to stay plugged into the Phantoms 24 hours a day, seven days a week!
• Discuss this story on the United States Hockey League message board...


United States Hockey League Stories from October 16, 2009
The opinions expressed in this release are those of the organization issuing it, and do not necessarily reflect the thoughts or opinions of OurSports Central or its staff.