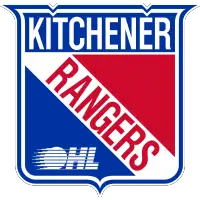 Kitchener and London Face-Off Friday at the Aud
November 25, 2022 - Ontario Hockey League (OHL) - Kitchener Rangers News Release



Kitchener, Ont. - The Kitchener Rangers are back on home-ice Friday night for the first match-up against the London Knights this season. Puck drop is set for 7:30 p.m. at The Aud.
Notable Links:
Tickets: Buy Online | (519) 578-1570
TV: Rogers TV cable 20 (Kitchener)
TV: Rogers TV cable 13 (London)
TV: Super Sports Pack cable 470 (Ontario)
Video Stream: OHL Live on CHL TV
Radio: 570 AM CKGL
Live Stats
Live Tweets
Digital East Avenue Blue Magazine (Coming Soon)
Game Day Video Preview
Media Notes Packet (Coming Soon)
Lines (Coming Soon)
Ticket Information:
Tickets to Rangers' home games are $21 for children and $25 for adults and can be purchased online now. Additionally, fans can purchase tickets via the phone by calling the Centre In The Square Box Office at (519) 578-1570. Tickets can also be purchased in person at the Activa Box Office at the Kitchener Memorial Auditorium at 400 East Ave. Kitchener, ON N2H 1Z6 or at the Centre In The Square Box Office at 101 Queen St N, Kitchener, ON N2H 6P7.
Head-to-Head:
In the last three seasons, Kitchener's holds a 6-16-0-0 overall record against the Knights and a 3-8-0-0 record on home-ice at The Aud. Most recently, Kitchener defeated London in the best-of-seven first round series of the 2022 OHL Playoffs. As the seven-seed, Kitchener overcame a 3-2 series deficit winning 5-3 at The Aud in game six and 4-3 in overtime in London (Highlights) in game seven to knock-off the Knights and move on to the second round.
This is the first of six matchups between these two bitter rivals. Last season was Kitchener's best showing against London, going 4-6-0-0 overall and 2-3-0-0 at The Aud. Kitchener lost the first three matchups at home but finished the year strong winning the last two.
London is riding a two-game winning streak and is 7-3-0-0 in their last 10 games. Kitchener is 4-6-0-0 in their last 10 games. Most recently, London surrendered a one-goal third period lead Sunday in Sault Ste. Marie but were able to come away with a shootout win. Ryan Del Monte scored in the fourth round to extend the shootout. Brett Brochu then made a stop allowing Oliver Bonk to scoring the winning shootout goal. Kitchener dropped their meeting with the Western Conference Champions from a season ago, the Windsor Spitfires on Sunday 8-4.
Scouting the Rangers:
The Rangers will be without their point-leader and captain, Francesco Pinelli (Los Angeles Kings), who is serving the first game of a three-game suspension for a cross-check Sunday evening vs. the Spitfires. Joseph Serpa is tied for second on the team with 15 points (9G, 6A) in 19 games. Filip Mešár is third and (Montreal Canadiens) owns the second-highest points per game tally since joining the Rangers with 1.17 points per game record. In 12 games, Mešár has 14 points (6G, 8A).
2023 NHL Draft eligible skater Hunter Brzustewicz leads the Rangers on the blueline with 14 points in 19 games this campaign.
The Rangers announced Tuesday that Kitchener Rangers goaltender Jackson Parsons and Forward Mitchell Martin will undergo surgeries to repair injuries. Parsons will miss the remainder of the 2022-23 OHL season. Martin will return to the Rangers' lineup later this season in 2023.
Tomas Hamara (Ottawa Senators), Filip Mešár (Montréal Canadiens), Francesco Pinelli (Los Angeles Kings) and Roman Schmidt (Tampa Bay Lightning) are four Kitchener skaters that are both drafted, and signed, by their NHL clubs respectively.
Scouting the Knights:
Sean McGurn is 11th in the OHL in points with 27 points (8G, 19A) in 19 games played and is riding a 12-game point streak, the longest active streak in the OHL currently. Along with McGurn, former Hamilton Bulldog George Diaco is second with 26 points (11G, 15A) in 18 games and is eighth in the OHL in points-per-game (1.44). London is led on defence by rookie Oliver Bonk who has 15 points (4G, 11A) in 19 games, the fourth highest of any rookie scorer this season.
Jackson Edward (Boston Bruins), Isaiah George (New York Islanders), Logan Mailloux (Montréal Canadiens), Max McCue (San Jose Sharks) and Landon Sim (St. Louis Blues) are the five Knight skaters drafted by their NHL teams respectively.
Broadcast Coverage:
Friday's contest will be televised live throughout Kitchener and the Waterloo Region on Rogers TV, cable channel 20, and can be watched across the province of Ontario on the Super Sports Pack on channel 470 for cable subscribers. Jason Hagholm (play-by-play), Dan Polischuk (colour commentary) and Sean Furfaro (host) will call the game on television. The game will be streamed live online on OHL Live on CHL TV. Additionally, fans can listen to the game on the radio on CityNews 570 AM CKGL. Mike Farwell (play-by-play) and Chris Pope (colour commentary) will call the game on the radio. For more information on Kitchener Rangers broadcast coverage, click here.
Rangers Reach: Win BIG Tonight!
The Kitchener Rangers Community Fund, Ranchers Reach, is continuing the tradition of awarding big CA$H prizes. Don't miss out on your chance at tonight's huge prize plus two consolation prizes. PLAY NOW and you could be the next big winner! Click here to purchase your 50/50 Raffle tickets for tonight's game. Next up for the Rangers Reach Authentics Game Worn Francesco Pinelli white number 71 jersey. Click here to get in on the action for the jersey.
Rangers partner with Four Fathers Brewing Co.
The Rangers are excited to announce its partnership with Four Fathers Brewing Co. to launch their first officially licensed team-branded beer, Rangers Light Lager. The beer will be available for purchase at The Aud beginning tonight. The Rangers Light Lager is also available now to pre-order at the Four Fathers Brewing Company Store website here. (Read More)
Next Up:
The Blueshirts are back on home-ice this Sunday, Nov. 27 at 2 p.m. against the Erie Otters for the Rangers' '80's Retro Night.' t's totally 80's! Wear your best 80's look as we honour our history from the decade. The game will include activations, music, and more from the decade. Two Rangers alumni, Mike Torchia (1988-92) and Jeff Noble (1985-88), will be in attendance and will participate in a ceremonial puck drop. Great seats are still available and can be purchased here.
• Discuss this story on the Ontario Hockey League message board...


Ontario Hockey League Stories from November 25, 2022
The opinions expressed in this release are those of the organization issuing it, and do not necessarily reflect the thoughts or opinions of OurSports Central or its staff.
Other Recent Kitchener Rangers Stories