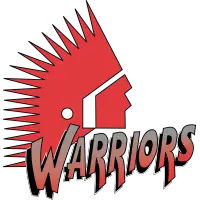 Hunt Hoping to Hear His Name During the 2020 NHL Entry Draft
October 6, 2020 - Western Hockey League (WHL) - Moose Jaw Warriors News Release



Moose Jaw Warrior Daemon Hunt will be one of many players worldwide anxiously awaiting a call he has dreamed about his entire life.
The 2020 NHL Entry Draft will be held over the next two days, and Hunt could be the latest Warrior to be selected.
From Brandon, Manitoba, Hunt had a stellar 2016 - 2017 season with his hometown Bantam Club, posting 22 goals and 60 points in 36 games.  At the 2017 WHL Bantam Draft, the Warriors were able to select him 15th overall in the 1st round.
The next season, he put up impressive numbers with the Brandon AAA Wheat Kings, finishing with 36 assists and 40 points in 40 games.
From there, it was off to Moose Jaw for his first season in the WHL in 2018 - 2019, and again, the young defenceman continued to impress.  As a 16-year-old, Hunt was a big part of the Warriors blueline, he played in all situations and was able to pick up 20 points in 57 games.
Moving to last season, which was his draft year, he had high expectations, but unfortunately, he hit a bump in the road in early December.  In a game against the Edmonton Oil Kings, he sustained an upper-body injury which limited him to just 28 games.
"Last season was definitely a challenge for me. Of course, it being my draft year, I had a lot of expectations of myself and for the team.  My injury was my first major injury for myself so far in my hockey career.  I learned a lot from it, it wasn't easy," he said.
"Of course, I was affected physically.  I had to stay in shape, lots of therapy and arm strengthening exercises, but also mentally it was hard.  Sitting in the stands every night and watching my teammates battle just gave me that motivation to get back and play the game I love," he added.  "I worked very hard and am proud to say that.  Now that last season is over, all the disappointments with my injury, COVID-19, etc., I am ready for a fresh start in Moose Jaw and with the possibility of joining an NHL club."
Not only did Daemon have to deal with the long-term injury, just like everyone else, had to deal with the challenges of the current COVID-19 pandemic.  The pandemic led to the conclusion of the WHL season, which meant that Hunt and the Warriors could not play their final six games of the season.
The pandemic led to players returning home earlier than what they had hoped for and it presented several challenges on how they approached their off-season training.
"I have had a lot of time during the pandemic. I have never experienced that much time away from the rink in my whole career. For me, I always look at the positives and it was taking that time away from the rink and focusing on my body.  I have had a lot of time to gain strength, speed, and quickness," said Hunt.  "Some things you just can't control, which is the pandemic. I have put in the work and I am stronger than I have ever been right now.  As well I have tried to stretch a lot.  Some people see stretching as not a priority, but for me especially being a hockey player, stretching is critical for preventing injuries and just the well-being of being flexible."
How he has approached the challenges of his injury and training during the pandemic, could also show NHL teams what kind of person he is.  "To impress NHL clubs, it is displaying your hockey skill, work ethic, etc., for me, it's just elevating my game and rising to the occasion.  You need to be a good hockey player to get drafted, but I think it is just as important to be a great human. Respecting everyone and taking the time just be a great person goes a very long way and can carry your hockey career forever."
Warriors Head Coach Mark O'Leary feels that Hunt has plenty of tools to impress NHL teams heading into the draft.
"Daemon is a smart two-way player that competes as hard to defend as he does to generate offence.  What makes Daemon special is his ability to anticipate events with his hockey sense and then his pace that he plays at," O'Leary described.  "Whether it is his gap in the neutral zone where he can be physical and transition from defending to rush, or his ability to go back and get pucks and break it out.  Daemon uses his strong skating ability to transition from a position of defence to being a threat the other way at an elite pace."
The qualities that his coach talks about are elements of his game that could be easily spotted by NHL scouts.  O'Leary says he feels that Hunt has plenty of intangibles that make him a great NHL prospect.
"He recognizes and takes pride in details.  Whether it is in practice, watching video, or just speaking about the game.  He thinks the game at a very high level.  He doesn't just play the game, he's a "hockey player"", commented O'Leary.
A player's draft year brings plenty of pressure, especially for someone like Hunt who has had lots of attention from NHL teams.
He was ranked 25th by NHL Central Scouting among North American skaters, Eliteprospects.com had him ranked 65th, and TSN's Craig Button had him ranked 98th.
Handling that attention could be hard, but Hunt has had a great resource to rely on.  His cousin, Matt Calvert, had a great career with the Brandon Wheat Kings from 2007 - 2010, he was drafted by Columbus in the 5th round in 2008, and has gone on to play over 500 games in the NHL with the Blue Jackets and now the Colorado Avalanche.
Hunt says Calvert has had a huge impact on his career and has been a great resource during this process.
"Matt (Calvert) is my cousin and I have looked up to him for as long as I can remember. One thing I can remember him saying to me is, not to worry about how high you go.  Of course, everyone wants to go as high as possible, but it is more about getting to the right place and getting the right opportunity.  Worry about yourself and what you can control.  I cannot thank Matt enough for being there for me."
Warriors Head Coach Mark O'Leary has been working with Daemon since the organization drafted him and will be watching the draft closely to see his name.
"It is a matter of where and not if Daemon gets drafted.  He has the tools that equate to a long career in hockey, but what is better is the kind of person he is.  He has a great family and has been brought up the right way.  He is respected by his teammates and certainly the coaching staff, and I think I can speak for all of us when I say it will be a very exciting day for his family and our organization when Daemon is selected."
As for Daemon, he is hoping that his NHL dreams will finally become a reality.
"Getting drafted to the National Hockey League is extremely surreal.  Being a small-town Canadian kid, I have been playing hockey since I was 2 years old.  It is just something that you cannot really put into words.  Growing up watching NHL games every day, hockey is in my blood and I'm not sure where I would be today without it."
"For me to achieve this goal, I can't thank every single person that has come into my hockey path and made the person and player I am today.  What motivates me to get better every day and wanting to play in the NHL is always remembering where I came from.  I am originally from Moosomin, Saskatchewan and then moved to Brandon, Manitoba later in life.  Just looking back on the memories I have and the people who support me just makes me want to reach that next level."
• Discuss this story on the Western Hockey League message board...


Western Hockey League Stories from October 6, 2020
The opinions expressed in this release are those of the organization issuing it, and do not necessarily reflect the thoughts or opinions of OurSports Central or its staff.