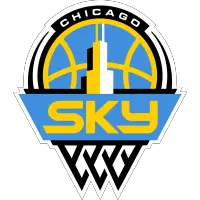 Hollywood Stars Take On Chicago Sky In A First Ever Basketball Battle Of The Sexes
March 12, 2009 - Women's National Basketball Association (WNBA) - Chicago Sky News Release



CHICAGO, March 12, 2009 -The Chicago Sky will host the first-ever Basketball Battle of the Sexes game when the WNBA Sky will suit up to take on an all-male team from the Entertainment League (E League) on June 2 at 7:00 p.m. at the UIC Pavilion. The game will be played with WNBA official rules, including WNBA referees, three-point line, shot clock, and official WNBA basketball.
The E League is composed of elite names in film, television and music who are talented in their respective industries and on the court. The E League plays every Sunday from November through April and is currently in its 12th season. The league consists of 16 teams playing a 15-game schedule, plus playoffs. The E League was originally formed in 1999 under the National Basketball Association umbrella in an effort to develop relationships within the entertainment industry, as well as give those within the industry who love basketball an authentic and private environment in which to compete. The E League is currently owned and operated by Entertainment League Productions (ELP). Along with participating within the E League, these celebrity athletes travel across the globe to participate in various community activities including charity games for local and national organizations.
For the Chicago Sky match up the E League roster includes actors and Chicago natives Michael Clark Duncan (The Green Mile) and Larenz Tate (Crash). They will team up with Grammy nominated artists Brian McKnight and Nelly, James Lafferty (One Tree Hill) and 2008 E League MVP Donald Faison (Scrubs). Rounding out the roster are actors Frankie Muniz (Malcolm in the Middle), Columbus Short (Cadillac Records), Jay Harrington (Better off Ted) and comedian Bill Bellamy.
"I am looking forward to The Basketball Battle of the Sexes," states Academy Award nominated actor Michael Clarke Duncan who plays Center in the E League. "It is great to come back to my hometown as a part of the E League and have the opportunity to play (and win) against the talented women of the Chicago Sky."
"I'm looking forward to the game! Playing against guys is nothing new for me and most of my teammates, we grew up playing against the guys in the neighborhood parks and in college," said Sky center and USA gold medal winner Sylvia Fowles. "They might be surprised as to how strong, physical, and talented we are. It will be a fun and competitive game."
"This is a pre-season game for us, and just like any other opponent we are taking this challenge very seriously," said General Manager and Head Coach Steven Key. "The timing of the game is great for us, it's our last pre-season game before tipping off the season on the road, and playing a team of talented and experienced male players will challenge our team mentally and physically, further preparing them for the upcoming season."
"We are bringing a great cross-section of celebrity and basketball talent from the Entertainment League for this "battle against the Sky," says Shane Duffy, Commissioner of the E League and Co-Founder of Entertainment League Productions. "We are excited to showcase the E League's ability to play competitive ball with some of the WNBA's best players. The Sky will be surprised at the high level these celebrities are capable of and we expect a great contest. Without question the E league will be looking for the win."
The Sky is scheduled to play four pre-season games, with the fourth and final game against an all male roster with players skilled and dedicated to the fundamental game of basketball. The Sky tip-off their 2009 season on June 6 at Minnesota, and will host their season home opener on Friday, June 12 against Atlanta at 7:30pm at the UIC Pavilion.
Fans are encouraged to secure their celebrity game tickets now, as availability may be limited when 2009 Sky single game tickets become available for purchase in April. Fans can purchase their Battle of the Sexes tickets through a variety of packages that are available now, starting at $52, by calling 866-SKY-WNBA or by visiting www.chicagosky.net.
"If you follow the Sky you know that our players are young, fun, and entertaining both on and off the court, so it's no wonder the Sky created a unique opportunity to prepare for the 2009 season in an equally fun approach," said Sky President and CEO Margaret Stender. "This is an exciting opportunity for new and returning fans to watch their favorite stars take on their favorite Sky players."
Founded in 2008, Entertainment League Productions (ELP) is the premier sports entertainment marketing and production company. Combining the experience and expertise of partners Felisa Israel and Shane Duffy, both former long-time NBA executives, ELP is the definitive service for the production and execution of celebrity focused sporting events and talent bookings. The Entertainment League, a division of ELP, is a private celebrity basketball league comprised of movie stars, recording artists, directors, producers and Hollywood elite. For more information about ELP, visit www.eleagueproductions.com or www.eleague.ning.com.
The Sky is one of six independently-owned teams in the WNBA, the world's longest-running women's professional sports league. Chicago finished fifth in the Eastern Division with a 12-22 record in their third season. Sylvia Fowles, Chicago's rookie center, ranked third in blocks per game and fifth in double-doubles with six. Forward Candice Dupree ranked third in defensive rebounds, fourth in rebounds per game and third in double-doubles with nine. Guard Jia Perkins ranked fourth in the league in steals, fifth in the league in free-throw percentage and seventh in points. The Sky plays at the Chicago's UIC Pavilion. For more information or to purchase 2009 season tickets, visit www.chicagosky.net.
• Discuss this story on the Women's National Basketball Association message board...


Women's National Basketball Association Stories from March 12, 2009
The opinions expressed in this release are those of the organization issuing it, and do not necessarily reflect the thoughts or opinions of OurSports Central or its staff.