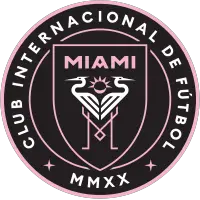 Herons from Home: Wil Trapp's #MLSIdle Worthy Voice
May 13, 2020 - Major League Soccer (MLS) - Inter Miami CF News Release



Known throughout his career for using his voice to lead his teammates on the pitch, Inter Miami midfielder Wil Trapp also possesses another talent which relies on his vocal cords: singing. With this skill, instead of deafening rival players as he communicates with a teammate on the opposite end of the field, he hits the right notes to produce harmonies and melodies.
If you don't believe us, Trapp himself can prove it to you, as he will be showcasing his singing talent on a new episode of MLS Idle on Thursday, May 14, at 7:30 p.m ET. Not only is it a good opportunity for fans to discover hidden talents of players from around the league, but also a worthy cause as MLS WORKS makes a $1,000 donation to the winning Club's charity of choice after each episode. Trapp will be performing his impressive singing talents on behalf of Baptist Health South Florida Foundation's COVID-19 Relief Fund.
Winners are decided by fan votes, as judges' picks don't affect the results. You can vote for the Inter Miami footballer by posting #MLSIdle Trapp (or TRAPP for #MLSIdle) on Twitter or Facebook. Voting opens Thursday evening - the moment the fourth contestant performs - and closes at 11:59 p.m. ET on Sunday. Fans can tune in to watch the episode live at 7:30 p.m. via @MLS on Twitter and Facebook.
The 27-year-old midfielder has put his time at home during the current COVID-19 pandemic to good use, practicing his singing abilities soothing his six-month-old baby while also showcasing his talent to the world. On March 31, Trapp treated MLS's "The Call Up" hosts to a bite-sized sample of his secret talent by singing a short segment of Leon Bridges' "Coming Home".
It wasn't the first time the Columbus native demonstrated his talent in South Florida, as Trapp left Inter Miami players and coaching staff in awe with the performance he put on for the team initiation ritual during preseason, which required him to sing in front of his new teammates and coaches.
Stay tuned as there is still plenty more to come from Trapp at Inter Miami, with his voice as a leader on the pitch, as well as his singing performances away from it.
• Discuss this story on the Major League Soccer message board...


Major League Soccer Stories from May 13, 2020
The opinions expressed in this release are those of the organization issuing it, and do not necessarily reflect the thoughts or opinions of OurSports Central or its staff.