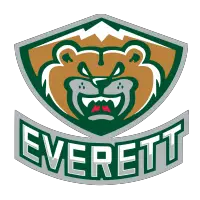 H1S7ORY: Jackson Berezowski Sets Silvertips Goal-Scoring Record
February 7, 2023 - Western Hockey League (WHL) - Everett Silvertips News Release



EVERETT, Wash. - Everett Silvertips captain Jackson Berezowski's 113th career Western Hockey League goal came the same way so many goals in his career have been scored: a rebound in front of the net.
"We kind of laughed at it," Berezowski said of his record-setting goal. "That's kind of the way I like to score and how it's been done the last 113 I guess."
Berezowski claimed sole possession of first place on Everett's all-time goals list at 13:16 of the second period at accesso ShoWare Center against the Seattle Thunderbirds on Friday, Feb. 3. He passed Patrick Bajkov for the record, who scored 112 in 342 games- 90 more appearances than Berezowski when he reached 113 (and 114 later that night).
Entering the 2022-23 season at 82 career goals, Berezowski knew it would be a race against time for 31 goals in the season to earn the crown.
"It's something I can [hang] my hat on and I can finally stop thinking about it I guess," he laughed after the game. "It's always been in the back of the brain there. It feels good to get it done."
Berezowski, an '02-born Yorkton, SK native in his final junior hockey season, tied the record in similar fashion against the Tri-City Americans on Jan. 29, banging in a loose puck in front of the net while on the powerplay. His 100th career goal came in similar fashion, redirecting a shot from the blueline while setting a screen on Dec. 17 in a home game against Seattle. The netfront is an office that Berezowski has called home since breaking into the league in 2018-19.
"To play inside the dots," Silvertips general manager/head coach Dennis Williams explained, "you've gotta be willing to take cross-checks, punches in the face, shots from the point from your own guys hitting you. Jackson is a fearless hockey player. He's a true testament of a throwback player. Sure he's undersized, but I wouldn't put a guy bigger than him in this league one-on-one netfront against him. He's going to win those battles. There's no one that can contain him. He always seems to get a stick on it, he always turns at the right time, he always knows when to flash a screen in front or slide back-door."
"He's old school," associate coach David Struch said of Berezowski. "He's one of the most old school players I've seen in my seventeen years as a coach. Those kind of guys are hard to come by. Jackson is a go-to-the-net type of guy. He's paint-to-paint, he goes as hard as he can. He looks to get on the walls and win battles, and when he wins those battles, he gets back to the paint. With and without the puck, it's a pleasure to be around him because he does keep things simple and he's getting rewarded for it."
Even with his crash-and-bang style, Berezowski ranks among the most disciplined players in the Western Hockey League, even being awarded the U.S. Division's Most Sportsmanlike Player award at the 2021-22 WHL Awards. His tenacity and propensity to get to the dirty areas makes him a unique addition to the Tips' 100-Goal Club- which now has six members.
Williams remembers overlapping with Bajkov in 2017-18, when Bajkov recorded the first (and only) 100-point season in franchise history en route to leading the Silvertips to the WHL Finals against the Swift Current Broncos.
"Patrick Bajkov was a great player here in Everett," Williams noted. "He was an all-around great offensive player. He was definitely a difference-maker, his instincts, his creativity, he found open sticks a lot. He was a player offensively that at any time could make a difference... We got to where we did in 2017-18 [the WHL Finals against Swift Current], a lot of that had to do with Patrick.
"I'm sure for a guy like Jackson to look at it and see where his name is [on the list], it goes to show his commitment to the game, how he's approached each and every year he's been here. The one thing about Jackson is, he's gotten better each year. It's not just the goal-scoring, it's his leadership, his compete, his willingness to go to the tough areas to score."
Berezowski netted 11 goals in 65 games his rookie season, with 18 more coming in 61 appearances in the COVID-interrupted 2019-20 season. With only 23 games to play in 2021, he recorded seven goals to bring his career total to 36.
His goal-scoring output exploded in 2021-22 with 46, falling just one goal shy of Josh Winquist's franchise single-season record before a shoulder injury prematurely ended his season in the penultimate game. His 79-point campaign earned him East Division First-Team All-Star honors, while also taking home the Team Co-MVP and F.I.E.R.C.E. Predator awards at the Silvertips' team ceremony.
In his climb up the goal-scoring rankings, Berezowski has passed Silvertip legends like NHLers Zach Hamill (87 career goals) and Shane Harper (100), as well as former teammates and role models like 2018-19 captain Connor Dewar (99) and 2019-20 captain Bryce Kindopp (110). Prior to the start of the season, Dewar sent Berezowski a video message appointing him the team's captain, becoming just the third two-year captain in franchise history joining Zack Dailey (2008-10) and Stanley Cup Champion Ryan Murray (2011-13). Kindopp was among the final dominoes to fall in the goals race, pulling in just behind Bajkov on the all-time list.
"Bryce was a guy I looked up to playing," Berezowski noted in a post-game interview after passing Kindopp. "He was a captain for a reason. He led by example day in and day out. I try to bring that stuff into my game. I hope I can teach some younger guys what it means to be a Silvertip and how you've gotta bring that energy each day."
With still two months of the season to play, Berezowski still has opportunities to put his name in even more rarified air. He currently is only four assists away from 100 (only 10 other Silvertips have reached 100) and only six points away from passing Winquist for third place in the all-time points list. Bajkov holds the franchise points record with 288, followed by Hamill at 262.
If he appears in all 19 games remaining on the Silvertips' schedule, he will pull even with Kohl Bauml for 11th on the franchise's all-time games list.
"He's the best," Williams praised. "I've had him since day one. There's been no better leader, captain we've had here in this organization. He goes to the right areas- the hard areas. If you could mold a team of players around someone, it's Jackson. He comes to play every night, he battles, he cares for his teammates."
"I'm fortunate in this organization to play with some good players," Berezowski acknowledged. "This year I've been playing the most with Austin Roest and Jesse Heslop [and Ben Hemmerling]- they've been nothing but great. They make the plays, I just got to get to the right areas. I'm thankful for the guys that I've played with, that's for sure."
Berezowski was honored in a pre-game ceremony prior to puck drop Sunday, Feb. 5 with a video message from notable alums including Bryce Kindopp, Berezowski's former co-captain Ronan Seeley, former goaltender and teammate Dustin Wolf, Zack Dailey, Shane Harper and Ryan Murray.
Former teammates. Captains. Stanley Cup champs.
• Discuss this story on the Western Hockey League message board...


Western Hockey League Stories from February 7, 2023
The opinions expressed in this release are those of the organization issuing it, and do not necessarily reflect the thoughts or opinions of OurSports Central or its staff.
Other Recent Everett Silvertips Stories