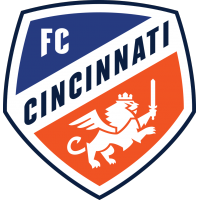 FC Cincinnati Remain Last Eastern Conference Unbeaten Following 1-0 Win Over Nashville SC
March 25, 2023 - Major League Soccer (MLS) - FC Cincinnati News Release



FC Cincinnati defeated Nashville SC for the first time in club history Saturday night with a 1-0 win at GEODIS Park. The Orange and Blue extended Major League Soccer's longest active regular season road unbeaten streak to nine games.
FC Cincinnati (3-0-2, 11 points) moved into second place in the Eastern Conference and remain the last undefeated squad in the conference, and are one of just two teams to have played five times without suffering a defeat (St. Louis CITY SC). Nashville SC (2-2-1, 7 points) fell to sixth place with their first home loss of the season.
Brandon Vazquez scored his first goal of the season in the 48th minute which proved to be the game-winner for the Orange and Blue, his fifth-career winning goal for FC Cincinnati.
GOAL: Brandon Vazquez, FC Cincinnati - 48th minute
The buildup to the goal began from the back with Matt Miazga finding Luciano Acosta at the midfield line who flicked on a pass to Álvaro Barreal in space running free down the left side. Barreal drove down the field and fired a shot towards the far post after cutting in onto his right foot at the top of the box. Nashville keeper Joe Willis did well to make the initial save but the rebound found its way into the path of Vazquez, who shot a first-time finish into the back of the net.
Vazquez became the first player in FC Cincinnati history to reach 25 career non-penalty kick goals for the club.
Roman Celentano recorded his eighth career clean sheet, his third of the season. FC Cincinnati's three shutouts are tied for the most in MLS through five games.
FC Cincinnati return home next Saturday, April 1 to TQL Stadium to take on Inter Miami CF. Kickoff is set for 7:30 p.m. ET, and tickets are available now at FCCincinnati.com/Tickets or by calling (513) 977-5425 (KICK). The game can be streamed live for free on the Apple TV App, and fans can also listen to the match locally on ESPN 1530.
FC CINCINNATI GAME REPORT
FC Cincinnati at Nashville SC
Date: March 25, 2023
Competition: MLS Regular Season
Venue: GEODIS Park
Attendance: 28,453
Kickoff: 8:39 p.m. ET/7:39 p.m. CT
Weather: 61 degrees, clear
SCORING SUMMARY: 1-2-F
NSH: 0-0-0
CIN: 0-1-1
NSH - None
CIN - Brandon Vazquez 48'
GAME NOTES
FC Cincinnati defeated Nashville SC for the first time in the fifth all-time meeting ... FCC have now beaten every Eastern Conference foe except for New York City FC.
FC Cincinnati are the lone unbeaten side in the Eastern Conference and one of just two clubs (St. Louis CITY SC) without a loss with having played five games.
Brandon Vazquez became the first player in club history to score 25 non-penalty kick goals in MLS play.
Vazquez's three career goals against Nashville SC are tied for second-most by any player against NSC (Daryl Dike - 5; Jonathan Osorio - 3).
Malik Pinto made his first start with FC Cincinnati, making his MLS debut in the Starting XI ... he became the first FC Cincinnati Academy product to start a match for the first team.
Brenner placed three shots on goal for the first time ... it marked his sixth-career MLS game of at least three shots on goal, the most in club history, and the 20th all-time performance of 3+ SOG in FC Cincinnati history in MLS play.
Ray Gaddis (249 MLS appearances) and Nick Hagglund (99 appearances across all competitions with FC Cincinnati) each approach milestones which will be made the next time each player appears.
FC Cincinnati's three clean sheets this season are tied for the most in MLS (NE, SEA, NSH) ... Saturday marked the 27th shutout in club history.
FC Cincinnati had never scored a goal in the 48th minute entering this season, and now have scored twice in the minute this season (Obinna Nwobodo vs HOU; Brandon Vazquez at NSH) ... both proved to be game-winners.
LINEUPS
CIN: Roman Celentano, Álvaro Barreal (Alvas Powell 90'), Yerson Mosquera, Matt Miazga, Nick Hagglund, Ray Gaddis, Malik Pinto (Santiago Arias 64'), Obinna Nwobodo, Luciano Acosta (C) (Dominique Badji 90'), Brenner (Sergio Santos 76'), Brandon Vazquez
Substitutes not used: Alec Kann, Joey Akpunonu, Arquimides Ordoñez, Ian Murphy, Bret Halsey
Head Coach: Pat Noonan
NSH: Joe Willis, Daniel Lovitz, Jack Maher, Walker Zimmerman (C), Shaq Moore, Dax McCarty (Anibal Godoy 61'), Hany Mukhtar, Jacob Shaffelburg (Luke Haakenson 76'), Sean Davis (Jan Gregus 76'), Fafà Picault (Teal Bunbury 70'), CJ Sapong
Substitutes not used: Elliot Panicco, Alex Muyl, Josh Bauer, Taylor Washington, Brian Anunga
Head Coach: Gary Smith
STATS SUMMARY: NSH/CIN
Shots: 17 / 15
Shots on Goal: 3 / 7
Saves: 6 / 3
Corner Kicks: 3 / 2
Fouls: 11 / 18
Offside: 0 / 1
Possession: 61.3 / 38.7
MISCONDUCT SUMMARY
CIN - Obinna Nwobodo (Yellow Card) 21'
CIN - Malik Pinto (Yellow Card) 45'
NSH - Shaq Moore (Yellow Card) 56'
NSH - Teal Bunbury (Yellow Card) 72'
CIN - Matt Miazga (Yellow Card) 72'
CIN - Álvaro Barreal (Yellow Card) 80'
OFFICIALS 
Referee: Ismir Pekmic
Ast. Referees: Ian McKay, Kevin Lock
Fourth Official: Sergei Boiko
VAR: Daniel Radford
Ast. VAR: TJ Zablocki
POSTGAME QUOTES
FC Cincinnati Head Coach Pat Noonan
On what stood out
"The win. I think the improvement after the break, I mean, I think in the first half, there were certainly some good moments to get a goal, we didn't find it. Too many fouls, probably, unnecessary fouls that allowed them to put us under some pressure in terms of just set piece play. And then the second phase of that, our clearances weren't great. So we had to take on some pressure, and the guys to their credit defended the box really well, I know Roman [Celentano] came up with a huge double save there, I didn't have a great angle but it looked good.
"But after the break, I think the guys came out in a really disciplined way with some of the adjustments in terms of how we were going to arrange ourselves to press. I thought their outside backs were getting too much time and space. So wanted to be a little bit more clear with our front three, and where we could take away some of those angles, just to not allow them to take that space, because they were pinning Alvaro [Barreal] and Ray [Gaddis] at times back with their wingers. The adjustments I thought were good, the midfield too, I thought their spacing was good behind the front three, and then we created some really good opportunities. You know, probably could have had a couple more goals. But when we did get the goal, I thought the way that we saw out the game under difficult circumstances, on top of the quality of the opponent being on the road, having to put Santi [Arias] in for Malik [Pinto], who was cramping. You could see just the IQ for a player that's usually not in that position to come in and help us connect the right passes. Good positioning, both sides of the ball, that allowed us to get forward. I thought our wing backs for outstanding. Ray [Gaddis] was excellent tonight in his 1v1 defending and then the ability to advance with the ball and have more composure ... We didn't have good composure in the first half when we recovered balls deeper. And I thought in the second half that drastically improved. I could go through a lot of players that had really good games, but those are the things that I thought improved after the break."
On Malik Pinto, Santiago Arias and the midfield
"Malik, other than just the fatigue and cramping, I thought he had a solid game. After the first maybe five minutes, he looked like he got way more comfortable connecting simple passes. Defensively, I think him and Obi [Nwobodo] had a pretty good partnership on the night just to try to help take away passes to [Hany] Muhktar, who you can see how difficult he is to deal with. I was really pleased with Malik's performance. And then we kind of had an idea if he couldn't make it through the game, that Santi, he was probably our best option to come in and just allow us to keep our shape. And so again, he came in and did an excellent job. So really pleased with how the middle of the field performed with some new personnel."
On the importance of Brandon Vazquez's goal
"Yeah, it was, you can feel it. I think if you were watching or saw just the reaction after the goal, that was important for him, and certainly it came at an important time for us in the game. Hopefully that is just the start of what I think Brandon himself and a lot of us expect in terms of finishing plays off. But really pleased with his performance and I think the hard work in all areas of his play, it's good to see him rewarded with the goal tonight because it's been coming but he's been doing a lot of things well."
Visit HERE for FC Cincinnati's 2023 home platform match schedule. The full 2023 regular season schedule can be viewed HERE. All matches will air live on MLS Season Pass on Apple TV. The unprecedented subscription service featuring every MLS regular season, playoff and Leagues Cup match is available now.
All tickets, including Single Match Tickets, Full Season Tickets and Half Season "Orange" and "Blue" Ticket packages, can be purchased at fccincinnati.com/tickets or by calling (513) 977-5425 (KICK). For more information about Group Tickets and Premium hospitality options, including suites and all-inclusive experiences, call (513) 763-1025.
FC Cincinnati is now also offering a Flex Plan. Fans can select one Leagues Cup match, in addition to two to five regular season matches. The Flex Plan provides ultimate flexibility, with benefits including cost savings, no fees and presale access for additional events at TQL Stadium, including potential home playoff matches.
For up-to-the-minute information about FC Cincinnati, visit the team's official website at fccincinnati.com, or follow the team on Twitter, Instagram and Facebook at @FCCincinnati. Additionally, fans are encouraged to download the team's new official mobile app on iOS or Android for instant access to mobile tickets, team content and match notifications.
• Discuss this story on the Major League Soccer message board...


Major League Soccer Stories from March 25, 2023
The opinions expressed in this release are those of the organization issuing it, and do not necessarily reflect the thoughts or opinions of OurSports Central or its staff.