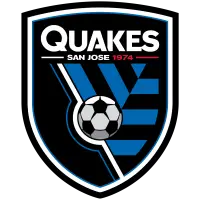 Chris Wondolowski Says Farewell
November 9, 2021 - Major League Soccer (MLS) - San Jose Earthquakes News Release



SAN JOSE, Calif. - The San Jose Earthquakes hosted a farewell press conference for Chris Wondolowski on Tuesday, Nov. 9, following his retirement announcement on Sunday. He announced his decision to retire following Sunday's season finale vs. FC Dallas, in which he scored the 171st goal of his Major League Soccer career. The Danville, Calif. native departs after 17 seasons in MLS, including 14 seasons with San Jose, and owns nearly every scoring record in league history.
Wondolowski, 38, finishes his illustrious career with 171 regular season goals, 26 more than any other player in MLS history (Landon Donovan - 145). He also holds the MLS records for combined regular season and playoff goals (173), goals for one club (167), game-winning goals (46), and goals in 1-0 victories (14), while ranking second in multi-goal games (25) and tied for second in hat-tricks (5).
SAN JOSE EARTHQUAKES GENERAL MANAGER CHRIS LEITCH
Opening remarks:
"We're here to celebrate Chris Wondolowski's amazing 17-year career in Major League Soccer, fourteen of those years as a member of the San Jose Earthquakes. I've been lucky, well unlucky, to play against Chris. Lucky to play alongside Chris, and also to be able watch him from afar as he grew into a promising young player with a nose for the goal, into the greatest goal scorer in MLS history. It was a pleasure to see his career unfold and to see the dedication that he had, and improving not only his game, but his teammates around him. He's legendary for being the last guy off the training field. He never missed a training session. He rarely missed a game. That was exemplified by Saturday's training session as well, his last training session. He's literally the last one on the field after the training session, heading into his last game of his career. If that doesn't tell you about Chris Wondolowski, I don't know what will. Not only was he a great goal scorer, but he also never stopped working. He would score goals at one end, and then routinely be there defending; whether it's a set piece or putting his defensive efforts in on the other side of the field. He always won fitness tests, even this year, in his 17th season, which is a testament to his continued dedication. Chris, thank you for everything that you have given this club on the field. You had an incredible run. We're very lucky to be along for that ride. Although his playing career with the Quakes is over, we're proud to say that Chris will still be part of the club going forward. He's accepted a role as the special assistant to the general manager."
CHRIS WONDOLOWSKI
On his decision to retire:
"I'm still, emotionally, getting wrapped around it. I think it's really going to hit me when preseason starts, and guys go back. Right now, it's the end of the season. It's always sad when the season ends and you have melancholy, and you always feel that and I feel that right now but when guys go back to preseason, I think that's when it's really going to sink in. It was a bit fast. I always knew retirement was there. There was always that elephant in the room, it was something that was on my mind, even throughout last year. I always wondered and tried to make sure I could fit in and help the team in any way possible. I think it was just coming to that realization that this is a great time. It's clean cut. I think I gave everything I could. I think that was it, and it's time to take this opportunity to move. I was very lucky. I talked to Chris before the Real Salt Lake game and even then, I wasn't necessarily leaning there and he was trying to push me back the other way which I still appreciate and love him for that. Probably three or four days before [Sunday] and the day of the game, I was a mess. I walked into the locker room two hours before. I was a complete mess in warm ups. The whistle blew, it was awesome; back to normal. The goal was the cherry on top. That definitely relaxed me, then I just enjoyed the game. Definitely wish we got a win, but I couldn't have written it better. I'm very grateful to have my family there. It was pretty cool."
On his future involvement with the team:
"First of all, congrats to Chris for getting the general manager job, well deserved and I think that's one of the many reasons why we're headed in the right direction with this organization, and I'm proud to be a part of it. Proud to have it in my blood. Thank you, Jared Shawlee and Jed Metee and Chris, and everyone who gave me this opportunity to still be involved and still be a part of this club and organization. It's a huge part of me and I'm looking forward to help ing in any way possible and learning from Chris, who I think is one of the most up-and-coming people in his job. We're lucky to get him. In our search, we had some great candidates, but this is something that we need. I'm looking forward to what the future holds, especially with this club. I love the decisions and the idea of where the future is going."
On how he plans to improve the team in his new role:
"That's something that I really want to help with. I want to be that bridge, that middleman between the locker room and the front office and be able to understand where they're coming from and where the locker room's heart or mind is at a given time. I think that's something I really have found interest in, and I think that I can be valuable in identifying and helping, especially with the young individuals on the first team or even academy. I think Cade Cowell is on an amazing path and I can't wait to continue to work with him but we have a lot of great and young individuals that haven't quite gotten the same minutes as Cade, even Benji Kikanovic and Gilbert Fuentes, Jacob Akanyirige, or Casey Walls who just got called into the United State U-20s. Sometimes you forget that these young guys are still on the right path. There's many others that I hope to help continue to work with. There are so many great tools to utilize."
On his earliest memory of attending an Earthquakes match:
"One of my earliest was a San Jose Clash game, and they played the Colorado Rapids . And after, I remember waiting at Spartan Stadium and Troy Dayak came and he signed my hat. It was my baseball all-star hat but I still wore it every day. Troy signed it for me and that always sticks out. Him coming over taking the time to do that was something that was always so impressionable to me. I always wanted to try to give back as well."
• Discuss this story on the Major League Soccer message board...


Major League Soccer Stories from November 9, 2021
The opinions expressed in this release are those of the organization issuing it, and do not necessarily reflect the thoughts or opinions of OurSports Central or its staff.
Other Recent San Jose Earthquakes Stories