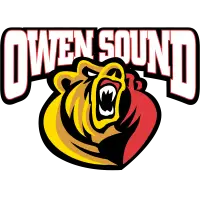 Attack's Burroughs and Avis Helping out with First Nations Hockey Equipment Drive
November 19, 2020 - Ontario Hockey League (OHL) - Owen Sound Attack News Release



Owen Sound Attack winger Ethan Burroughs and scout Mitchell Avis will be doing their part to give back this Saturday at the First Nations Hockey Equipment Drive in Kitchener.
In partnership with Their Opportunity, a charity that supports underserviced families with the goal to enroll their children into local sports and recreation programs, residents are encouraged to donate new or used hockey equipment including sticks, helmets, bags, shoulder pads and shin pads for donation to 35 different First Nations groups around Ontario.
With a desire to give back to the community in some way, Burroughs decided to get involved when he saw Avis' tweets about the upcoming event.
"I thought this was a perfect opportunity to start helping out as I want to give back to the hockey world, and helping out with First Nations is also something that I've always wanted to do," Burroughs said.
Avis, who also works as a consultant for Indigenous communities across Canada, became involved with the drive when he was researching charities that aligned with his interests and goals.
"I found the First Nations Hockey Equipment Drive which really sort of mixes with my work life. I started by reaching out to Graham McWaters, a gentleman who started the First Nations Hockey Equipment Drive and so he has since partnered with Their Opportunity," said Avis. I'm teaming up with @Their_Opp to collect hockey equipment for First Nations Communities. If you can't make it and have equipment, send me a DM. @mitchyav @AttackOHL pic.twitter.com/2WNiL7ZQHb
- Ethan Burroughs (@eburroughs29) November 16, 2020
During Thanksgiving weekend, when he would normally be taking in some early regular season OHL action at the Bayshore, Avis decided to raise money with a bike ride up to Owen Sound instead. He rode over 150 kilometres and raised upwards of $3300 for the First Nations Hockey Equipment Drive that will be used to purchase hockey helmets to provide as part of the drive.
When Burroughs reached out a couple weeks later interested in helping out, Avis put him in touch with McWaters.
"This is something he identified with from following my bike ride on Twitter, so I connected him up with Graham and, between us, we came up with a plan," Avis explained. "It shows a lot of maturity from Ethan's standpoint, he's a great hockey player on the ice but I think this shows a lot of great leadership and how good of a guy he is off the ice as well, because it's not something every 17-year-old kid is willing to do."
Stick taps to @eburroughs29 for his leadership with this Drive.
For Owen Sound residents, cash donations can be made at https://t.co/lHWSzWE3Wa (w tax receipt)
Look forward to seeing what we can organize in OS in the future! Helps make big difference for First Nations youth. https://t.co/6SOlZt63bd
- Mitchell Avis (@mitchyav) November 17, 2020
McWaters, Avis and Burroughs have been working with the City of Kitchener at the Aud to ensure the drive will meet COVID-19 protocols. There will be a total of 10 volunteers present, including members from Their Opportunity and local hockey teams, and everyone will be provided masks, gloves and proper PPE while keeping a two-metre distance between each other. The event will be executed "drive through" style with people driving to the parking lot and popping their trunks open for volunteers to claim the gear. From there, the gear will be sorted on site, loaded onto trucks and brought to storage where it will be delivered next summer.
Using the available platforms and resources that come with playing in the OHL to give back has always been important to Avis, who's happy to have Burroughs join him this weekend.
"As a hockey family, we can acknowledge in today's world a lot of us come from privileged backgrounds and not everyone has the same opportunities," Avis continued. "The generous world that is hockey, I think everyone comes in it with a generous heart and a good mind, I think we can do some good in the world. This is part of my way of trying to make a little difference during my time."
The First Nation Hockey Equipment Drive takes place Saturday, November 21 at the Aud in Kitchener from 10-2. For more information, visit fnhed.theiropportunity.com.
• Discuss this story on the Ontario Hockey League message board...


Ontario Hockey League Stories from November 19, 2020
The opinions expressed in this release are those of the organization issuing it, and do not necessarily reflect the thoughts or opinions of OurSports Central or its staff.
Other Recent Owen Sound Attack Stories