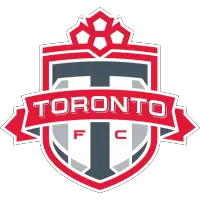 Atlanta United FC (4) - Toronto FC (2) Postgame Summary
September 10, 2022 - Major League Soccer (MLS) - Toronto FC News Release



September 10, 2022
ATLANTA UNITED FC (4) - TORONTO FC (2) POSTGAME SUMMARY
SCORING SUMMARY
ATL - Juan Sánchez Purata 47' (Brooks Lennon)
TOR - Ayo Akinola 52'
ATL - Juan Sánchez Purata 62' (Amar Sejdić, Andrew Gutman)
TOR - Federico Bernardeschi 67' (PK)
ATL - Thiago Almada 74' (Edwin Mosquera)
ATL - Juan Sánchez Purata 88' (Alan Franco, Thiago Almada)
MISCONDUCT SUMMARY
ATL - Ronald Hernández 39' (caution)
ATL - Thiago Almada 45+1' (caution)
TOR - Domenico Criscito 45+4' (caution)
TOR - Jayden Nelson 53' (caution)
ATL - Edwin Mosquera 76' (caution)
TOR - Richie Laryea 77' (caution)
ATL - Ronaldo Cisneros 90+3 (caution)
RECORDS (W-L-D)
Toronto FC 9-15-7 34 points
Atlanta United 9-12-9 36 points
LINEUPS
TORONTO FC - Quentin Westberg; Richie Laryea, Lukas MacNaughton (Doneil Henry 68'), Shane O'Neill, Domenico Criscito (Jahkeele Marshall-Rutty HT); Michael Bradley (C), Noble Okello (Jesús Jiménez HT); Mark-Anthony Kaye; Federico Bernardeschi, Jayden Nelson (Deandre Kerr 86'), Ayo Akinola (Ifunanyachi Achara 83')
Substitutes Not Used: Alex Bono, Luca Petrasso, Kosi Thompson
ATLANTA UNITED FC - Raúl Gudiño; Ronald Hernández (Edwin Mosquera 68'), Juan Sánchez Purata, Alan Franco (C), Andrew Gutman; Santiago Sosa, Amar Sejdić (Franco Ibarra 86'), Brooks Lennon, Thiago Almada (George Campbell 90+2'), Luiz Araújo; Dom Dwyer (Ronaldo Cisneros 70')
Substitutes Not Used: Rocco Ríos Novo, Caleb Wiley, Matheus Rossetto, Marcelino Moreno, Machop Chol
MEDIA NOTES
Doneil Henry made his 100th appearance for Toronto FC in all competitions, becoming the 15th player in club history to reach the milestone (Jonathan Osorio, Michael Bradley, Justin Morrow, Mark Delgado, Jozy Altidore, Ashtone Morgan, Alex Bono, Eriq Zavaleta, Chris Mavinga, Sebastian Giovinco, Nick Hagglund, Auro Jr., Drew Moor and Alejandro Pozuelo).
The Italian trio of Federico Bernardeschi (eight goals and three assists), Lorenzo Insigne (six goals and two assists) and Domenico Criscito (one goal) have now been involved in 18 of Toronto FC's last 22 goals in MLS action, including 12 of the last 14 goals.
BOB BRADLEY - HEAD COACH, TORONTO FC
Q. Disappointing evening, set pieces cost your team, what do you think of the performance and the set piece defending?
I thought the first half we just didn't find ways to close down and get around the ball. We were on the defensive. We got through - Q makes the save on the penalty, the penalty comes after the bad turnover. At halftime we had an idea how we can rearrange things tactically and before we see how that can help us, Mark gives a bad ball away that turns into a corner.
When we talk about the set pieces tonight, yeah, the first one, you know, Purata has been I think their No. 1 threat and now he slips a little behind us. You know, I'm not sure if Q is great on that one.
The next one is the flick that gets to the back post. We lose control at the back post and lose control on the ball that comes back. Against, Purata is coming in. We have got three guys that are still in position to deal with the next ball that comes back. We do a poor job.
The last one, Shane got picked a little bit, and again, the flick, and in this case how Doneil was tracking -- three goals by the guy that we had not really talked about as being their main threat. That's really disappointing. There have been some times in second phases of set pieces and whatnot that we haven't done great this year. But most games when we know who is their main threat our ideas on how we can deal with that have been okay. So really, three balls in the second half that come that way.
Then the other goal, it's a bad decision by Fede on the ball from Doneil to try to dummy it and then it turns over quickly and Almada is off and Michael tracks back hard, Doneil slips, Shane isn't able to step up and beats us with a good shot.
I thought we created some moments in the second half, and you know, every time we get back into it, we hurt ourselves with a giveaway that leads to a corner that we don't defend. Disappointing in all those ways.
Q. You fight back twice in the second half after going down, so I mean, is that maybe something at least you can sort of hang your head on or does that not matter just based on the result?
A little of both. Yes, when we went behind, we pushed back both at 1-0 and at 2-1 to push back into the game but that also makes it even more disappointing in a moment where you can't then take advantage of that momentum and push the game and take the lead, and then quickly with a mistake and a set piece get behind again.
Q. Can you walk us through what you hoped to see from that halftime change? I thought it was a marked difference between the two halves tonight.
That I thought that we weren't doing a good enough job in the way they wanted to build in the first half with the way their center backs spread out, and Sosa, finding ways to get at their center backs. We hoped that our wide attackers could be a little narrower and that Ayo could help us underneath a little bit with Sosa, and that would still leave a midfield three to be fluid in the way that they dealt with thing. But I didn't think we found good enough ways in the first half.
We did occasionally have moments where we stepped up and got close enough to the ball and turned them over. There was one right away in the game. But with some of those advantages, our touches and ideas weren't good.
When we changed at halftime, we turned our midfield into more of a diamond or 4-3-1-2 with Fede underneath and Ayo and Jesús. It also makes the job a little bit more difficult just straight up for their center backs which we thought we could take advantage of. That's something to do with both goals. I thought then the midfield three was able to find better solutions sliding out left and right with Mark and Jayden.
Q. Your assessment on Mark Anthony's first full 90 since he returned from injury?
Yeah, Mark is not sharp at the moment and probably 90 was a big stretch tonight.
But with some of the things that took place, Mimmo needed to come off, his hamstring tightened up the first half. We had some other guys struggling a little bit, feeling a little bit under weather. It was not always the plan that Mark would play 90. It's a credit to him that on night where others went off, he hangs to the end.
And yeah, not as sharp because he's been out for a long time and little by little we need to get him pushed along again to be at his best.
But really, give him credit for -- on a night where it's not his best one, still pushing through and trying to keep us going.
Q. You made the change in goal and Quentin faced a lot of shots, saved the penalty. What did you think of his performance and did you get what you wanted in goal?
Yeah, he made some great saves. I don't think he did great on the first corner, the goal on the first corner. But you've got to give credit for the saves that he made in important moments. So on that end, he came through in a good way on a bunch of plays.
Q. I was just wondering, it looked like Mimmo took a really nasty knock there at the end of the first half. I assume that's why he came out. Is there any sort of update on his condition?
Yeah, that I have to check on more but also in the first half he was feeling his hamstring was tight; so a combination of the two. The knock I don't have a read on it at the moment.
Q. Ayo is a guy we've talked about needed to show you more over this course of the season. What did you see from him tonight and what did you make of the goal?
Yeah, I thought in the first half, Ayo was not able to find good enough ways to move and find the right spaces. But the second half he worked very hard. Happy to see him get a goal. There's still a lot of work to do to sharpen him up and get his ideas both in terms of movement with the ball, in terms of some of his defending ideas, when to step up; how sometimes you close a center back down but do it in a way they can't play directly to the six on the other team. There's just little things that we've got to keep working through with him. But I thought the second half, it was very good to see how much he put into it in the second half and to get a goal.
QUENTIN WESTBERG - GOALKEEPER, TORONTO FC
Q. Quentin, you came in, had not started a match since July, stopped the penalty kick right off the top, made some saves but ultimately Atlanta was too much for you guys and now you're on the outside looking in in terms of a playoff spot. Can you just give us your emotions right now?
I think you summed it up. Some frustration. Some gratefulness to be back on the field. There's a little bit of everything. You know, I think we can't hope for too much tonight, although I would have loved to come back within a point or some sort of miraculous outcome but it didn't happen. Frustrating in many accounts, and just, you know, soccer wasn't good enough. Atlanta brought it to us.
Yeah, they wanted it more than we did tonight, there was no question about it. I'm not going to lie to say to you and say, oh, we gave them a fight. It wasn't enough tonight for sure.
Q. Three goals by Purata from headers off of corner kicks. What went wrong defending off your set pieces tonight?
I think throughout the evening, we were late on many occasions. But we weren't punished for it all that much, and that's the odd thing tonight is when you're not doing too well in a game, set pieces offensively and defensively are the moments where you reset and you actually have more control. You know where it's going and it's more set, right.
That's the part that is hard to understand, but also if you're trying to -- trying to assess, we were just not ready to give a good enough fight tonight, and we got punished in the mentality part of the game. They did better with the ball but we survive. But when it came down to mentality and small details, they scored three goals on us.
Q. You seem to have a knack for saving penalties down there in Atlanta. Can you walk us through that play a little bit, and did your familiarity with Araujo play into it at all?
I wish I could tell you yes but no, not really. It was all instinctive tonight. It was all instincts, and as you said, let's focus more on the nice part. I love playing in Atlanta. There's no place I feel -- Atlanta is more special for me and quite a few of us because it brings back great, great memory and setting a PK in Atlanta brings all the best memories and reasons why till the last second I will always fight for this jersey, for this club.
Yeah, it's a little emotional the result tonight, and there's a very bittersweet taste in my mouth. But you know, I'm really -- even with everything that's gone through in playing, not playing, playing well, not playing well, team performing, team not performing, so many good memory, especially here, we shared a special, special moment in 2019 here in Atlanta, and this I will never forget. Obviously it's not a great evening for us, but it's still, you know, brings back these great feelings and how well we were able to play and how good of a club we can be and how -- how things go quickly in soccer.
So yeah, definitely a bittersweet feeling, but saving a PK in Atlanta brings back also the best memories and ones that I will never forget.
Q. Obviously you guys are going to fight until the end and you have no intention of giving up, but with a seven-point gap with only three games remaining, is there a sense that this is -- that this was really sort of the end of line here; that there's really no way back or is this still somewhat salvageable somehow?
As long as the points are manageable, then there's hope, right. But then it's in the content, and what really brings us on the field and how we want to get into games and our introduction and everything, I believe soccer gives you what you give it, you know. And a night like tonight, I can tell you, we hope, of course, because it's still manageable but we need to do a lot better and we need to take ownership of, yes, the level of play and what we do and how much we want it. On the one side there's mentality, and on the other side, there's skills and abilities everything that should do with the ball, how much you want it, just how much you want it. It's not being a magician, it's not hiding from certain plays. It's always being open. It's really wanting the ball even when, yes, it's a difficult yes.
Yes, right now we are not want to be and the standards of this club are way higher. So there's a lot of things that go into consideration but as long as there's hope -- it's a French saying, as long as there's hope, there's life.
Q. Curious was to what was said in the dressing room following the final result.
Quiet. Quiet. Cemetery. Nothing else to say. It was super quiet, super down. There wasn't a lot -- as I said, apart from the miracle tonight, we couldn't expect more. So I think we are not going to fool ourselves that tonight -- tonight, it's disappointment, and some shame, I guess. You know, just, yeah, not a good feeling. Not a good feeling. Everyone is -- and that's how I feel, in any case.
Q. One gets the feeling that you guys didn't lose this game for lack of effort. Do you feel that with some of your guys missing and that sort of thing, you were just beaten by a better team tonight?
Now that the outcome is negative and we played the way we played, yeah, we could send a lot of ifs and speculate. Of course, when Lorenzo is on the field, there's a big difference even just before kickoff. I mean, the other team, whether it's him or Fede, it's really obvious that their presence gives us an edge.
So there's many factors, many factors but I think we need to reduce it with what happened tonight and take ownership and take responsibility and do better, as we said, it's city still manageable and at some point it's the club respecting our game, respecting soccer, respecting soccer and giving better -- showing and proving that we are better soccer players and do something more special than what we did tonight, or just being happy to be out there and be grateful and wanting -- sorry, it all comes down to really wanting the ball and not hiding from it; and trying, trying, trying, being creative. You know, in a good way with a sense, collective sense of bringing something extra.
Q. Hardly the most important element tonight but I'm a sucker for these little moments. It looked like Fede's penalty kick, the Atlanta goalkeeper was almost daring him to go to the right side. Is that a risky tactic for a keeper to take?
Everyone has his ways. Some like to trash talk. Some like to be quiet. Some are in the mental game. I think that if you had been able to stop that PK, he would have maybe gotten some good press. Everyone has his style, and you have to respect it. Maybe one day I will be doing the same thing.
Really happy it didn't work because I'm not a huge fan. But when it does work I think Australia qualified for the World Cup when a goalkeeper, doing a little bit of fantasies like that, a little bit of extra acting. I don't necessarily relate, but who knows, who knows. If you want to kick it one way, he hits it that way, I kind of like from afar how Fede reacted because that's exactly what I think I would have done also.
• Discuss this story on the Major League Soccer message board...


Major League Soccer Stories from September 10, 2022
The opinions expressed in this release are those of the organization issuing it, and do not necessarily reflect the thoughts or opinions of OurSports Central or its staff.