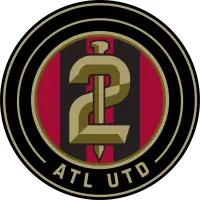 Atlanta United 2 Defeats New York Red Bulls II 5-3 in Home Finale
September 23, 2020 - United Soccer League Championship (USL) - Atlanta United 2 News Release



KENNESAW, Ga. - Atlanta United 2 won an eight-goal thriller at Fifth Third Bank Stadium on Wednesday night defeating New York Red Bulls II by the score of 5-3. Jackson Conway, Amir Bashti, Phillip Goodrum and David Mejia all were on the scoresheet in the home finale of the 2020 USL Championship season.
Atlanta got on the board early in the 17th minute. Conway played Goodrum down the right side. Goodrum took a touch and delivered a cross towards the penalty spot where Conway connected with a powerful header into the right corner for the 1-0 lead.
ATL UTD 2 doubled its lead just two minutes later. Goodrum flicked a nice backheel pass into the path of Jack Gurr down the right side. The right back then slid a pass to Bashti, who turned and fired into the right corner from 12 yards out for the 2-0 advantage. New York responded just a minute later through Dantouma Toure who finished a nice cross from Kenan Hot in the box. In the 28th minute, the Red Bulls tied the match through a strike from Jake LaCava.
Atlanta closed the half with a flurry though to take a two-goal lead into the break. In the 29th minute, Goodrum was johnny-on-the-spot as a Gurr cross was deflected off a New York defender in the air. Goodrum acrobatically volleyed the ball from eight yards out into the net for the 3-2 lead. In stoppage time, Bashti flicked on a header near the top of the box that caught three defenders out. Conway reacted quickly and smashed the ball past the keeper for his second of the night.
The lead grew to a three-goal advantage courtesy of Mejia's goal in the 71st minute. Bashti again was involved down the flank. He sent in a dangerous cross to the box. The ball ricochet off the goalie into the path of Mejia who scored with a diving header from seven yards out. New York got a late consolation goal through Samad Bounthong.
ATL UTD 2 (3-9-3, 12 points) will play its final match of the 2020 season on Oct. 4 at The Miami FC at Riccardo Silva Stadium (7:30 p.m., ESPN+).
MATCH INFO
Atlanta 5, New York 3
Fifth Third Bank Stadium
Kennesaw, Georgia
STATS
Shots: 21-14 New York
Shots on Target: 8-8
Corner kicks: 2-2
Fouls committed: 15-13 Atlanta
Offside: 5-2 Atlanta
Possession: 52-48 New York
Passing Accuracy: 71-64 New York
SCORING SUMMARY
ATL - Jackson Conway 17' (Phillip Goodrum)
ATL - Amir Bashti 20' (Jack Gurr)
NYRB - Dantouma Toure 21' (Kenan Hot)
NYRB - Jake LaCava 28'
ATL - Phillip Goodrum 29'
ATL - Jackson Conway 45+2' (Amir Bashti)
ATL - David Mejia 71'
NYRB - Samad Bounthong 83'
DISCIPLINARY SUMMARY
ATL - Will Reilly 40' (yellow)
ATL - Efrain Morales 43' (yellow)
ATL - Coleman Gannon 69' (yellow)
NYRB - Caden Clark 85' (yellow)
NYRB - Preston Kilwien 89' (yellow)
ATL - David Mejia 90' (yellow)
ATL UTD 2 STARTING LINEUP
Vicente Reyes; Matthew Edwards (David Mejia - HT), Modou Jadama ©, Efrain Morales (Patrick Nielsen - HT), Jack Gurr; Coleman Gannon, Will Reilly, Ajani Fortune; Phillip Goodrum, Jackson Conway (Lamin Jawneh - 78'), Amir Bashti (Daniel Steedman - 86').
Substitutes not used: Ben Lundgaard, Brendan Lambe, Baboucarr Njie.
NEW YORK RED BULLS II STARTING LINEUP
Alex Bobocea; John Tolkin, Preston Kilwien, Joseph Fala, Joseph Zalinsky (Edgardo Rito - 74'); Jake LaCava (Samad Bounthong - 69'), Kenan Hot, Caden Clark, Chris Lema © (Boima Cummins - 74'); Dantouma Toure (Cherif Dieye - 58'), Omar Sowe (Serge Ngoma - 69').
Substitutes not used: Barry Sharifi, Ciaran Dalton.
OFFICIALS
Joshua Belk (referee), Austin Holt (assistant), Christopher Kloc (assistant), Amin Hadzic (fourth).
TEAM NOTES
Amir Bashti scored his first goal of the season tonight. He added his second assist later in the match
Jackson Conway tallied his fourth and fifth goals of the year. It's his first brace of the 2020 season
David Mejia picked up his third goal of the year
Phillip Goodrum scored his second goal and added his team-high fourth assist
ATL UTD 2's starting XI tonight averaged 19.5 years of age, the youngest this year.
• Discuss this story on the United Soccer League Championship message board...


United Soccer League Championship Stories from September 23, 2020
The opinions expressed in this release are those of the organization issuing it, and do not necessarily reflect the thoughts or opinions of OurSports Central or its staff.