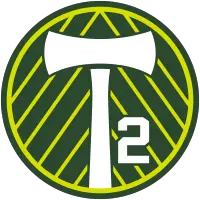 T2 Fall 4-3 to San Antonio FC in Regular-Season Home Finale at Providence Park
October 12, 2019 - United Soccer League Championship (USL) - Portland Timbers 2 News Release



PORTLAND, Ore. - In Week 32 of the USL Championship season, T2 scored a pair of late second-half goals, but were unable to overcome an early deficit, falling 4-3 to San Antonio FC in their final home match of 2019 at Providence Park on Friday night. Cristian Ojeda scored his fourth goal of the season, while Gio Calixtro and Ryan Sierakowski tallied their sixth and eighth goals of the campaign, respectively.
Playoff picture
With two matches remaining on their regular-season schedule, Portland (10-14-8, 38pts, -2GD) sits in 13th place in the Western Conference standings. T2 sit six points behind LA Galaxy II (10th, 44pts, -5GD) for the final spot in the USL Championship playoffs.
Key plays
San Antonio scored the opening goal of the match in the sixth minute after Ever Guzmán's sliding finish from inside the penalty area beat T2 goalkeeper Aljaz Ivacic at the far post. Guzmán gave San Antonio a 2-0 advantage six minutes later after he chipped the ball over Ivacic from just outside the 18-yard box.
In the 20th minute, Carlos Anguiano's corner-kick service was partially cleared inside the penalty area, before Foster Langsdorf's header was saved by San Antonio FC goalkeeper Matt Cardone at the near post.
T2 cut into San Antonio's lead after Ojeda curled a free kick from the edge of the 18-yard box into the far corner of the net to make it 2-1 in the 25th minute.
Portland came close to leveling the match in the 34th minute. Ojeda received the ball in space on the right wing from Eryk Williamson, dribbled into the box and fired a left-footed shot from close range just over the crossbar.
San Antonio took a 3-1 lead in the 39th minute when Brian Gómez' converted from the left side of the 18-yard box at the near post.
In first-half stoppage time, Gio Calixtro flicked the ball into the path of Langsdorf, who took a touch off his chest before volleying his shot from close range, forcing a save by Cardone.
Guzmán scored his third goal of the match in the 67th minute after he collected Walter Restrepo's long pass and finished from close range at the near post to increase San Antonio's lead to 4-1.
In the 70th minute, Brayan Hurtado turned away from his marker before firing a low shot that forced Cardone into a save. Continuing on the attack, second-half substitute Zach Kobayashi dribbled down the left flank past two defenders, before sending a low shot toward goal at the near post that was stopped by Cardone in the 83rd minute. Two minutes later, Ojeda's curling shot from the top of the box was parried over the crossbar by Cardone.
Calixtro tallied his sixth goal of the USL Championship campaign to cut into the deficit at 4-2 in the 86th minute. Williamson played a perfectly-timed pass into the penalty area for Calixtro, who curled his shot into the lower right corner of the net. The assist marked Williamson's team-leading ninth in league play this season.
T2 nearly scored in the 90th minute after Hurtado's shot from point-blank-range missed inches wide of the post.
Sierakowski made it 4-3 in second-stoppage time, converting a cross from Todd Wharton with a half-volleyed shot from the center of the penalty area. The goal marked Sierakowski's eighth in league play, while the assist was Wharton's first of 2019.
Portland came close to leveling the match deep in second-half stoppage time, but Calixtro's header from the middle of the 18-yard box was saved by Cardone.
Next game
Next up, in a rescheduled match from Aug. 3, T2 will travel to face El Paso Locomotive FC at Southwest University Park on Tuesday, Oct. 15. Beginning at 6 p.m. (Pacific), the match against El Paso will be streamed live on ESPN+.
T2 (10-14-8, 38pts) vs. San Antonio FC (12-13-8, 44pts)
Oct. 11, 2019 - Providence Park (Portland, Ore.)
Goals by Half 1 2 F
T2 1 2 3
San Antonio FC 3 1 4
Scoring Summary:
SA: Guzmán (Parano), 6
SA: Guzmán (Barmby), 12
POR: Ojeda, 25
SA: Gómez (Restrepo), 39
SA: Guzmán (Restrepo), 67
POR: Calixtro (Williamson), 86
POR: Sierakowski (Wharton), 90+2
Misconduct Summary:
POR: Williamson (caution), 22
POR: Ornstil (caution), 73
POR: Wharton (caution), 77
SA: Hernández (caution), 88
Lineups:
POR: GK Ivacic, D Hanson (Kobayashi, 80), D Ornstil, D Wharton ©, D Farfan , M Ojeda, M Anguiano (Smith, 45+3), M Williamson, M Hurtado, F Langsdorf (Sierakowski, 64), F Calixtro
Substitutes Not Used: GK Leeker, D Lopez, M Sánchez
TOTAL SHOTS: 16 (Hurtado, 4); SHOTS ON GOAL: 9 (Three players tied, 2); FOULS: 14 (Williamson, 4); OFFSIDES: 0; CORNER KICKS: 9; SAVES: 2
SA: GK Cardone, D Greene, D Ackon, D Hernández, M Lahoud, M Pecka © (Castillo, 88), M Gómez, M Parano (Gallegos, 45+2), M Barmby, M Restrepo, F Guzmán
Substitutes Not Used: GK Viscosi, D Eboussi, D Fenwick, M Roushandel
TOTAL SHOTS: 11 (Guzmán, 4); SHOTS ON GOAL: 6 (Guzmán, 4); FOULS: 14 (Three players tied, 3); OFFSIDES: 4; CORNER KICKS: 2; SAVES: 6
Referee: Matt Franz
Assistant Referees: Baboucarr Jallow, Ryan Jung
4th Official: Justin St. Pierre
Attendance: 1,305
Weather: Partly cloudy, 58 degrees
All statistics contained in this box score are unofficial
• Discuss this story on the United Soccer League Championship message board...


United Soccer League Championship Stories from October 12, 2019
The opinions expressed in this release are those of the organization issuing it, and do not necessarily reflect the thoughts or opinions of OurSports Central or its staff.