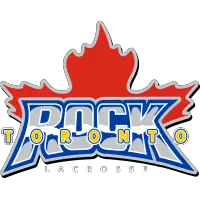 Stephan Leblanc Named NLL Rookie of the Year
May 13, 2010 - National Lacrosse League (NLL) - Toronto Rock News Release



TORONTO - Toronto Rock forward Stephan Leblanc has been named the National Lacrosse League's 2010 Rookie of the Year.
"I'm honoured and excited," said Leblanc after being informed of the news. "Being able to produce in your first year is something every rookie wants to do and hopefully it is the start of a great career."
The first-year did more than just produce, he was one of the most consistent players league-wide this season, scoring at least one goal in each outing, a streak he continued into the post-season.
"He's such a deserving recipient," said Rock GM-assistant coach Terry Sanderson. "He has surpassed everyone's expectations, and for a rookie is a very key part of our organization."
A bang and crash type player that uses his size and athleticism to his advantage, Leblanc finished the regular season with 82 points from 36 goals and 46 assists and collected 76 loose balls.
"He does everything on our offence," said Toronto head coach Troy Cordingley. "He scoops loose balls, creates space, sees the floor well and can finish with the best of them."
Leblanc, 24, was named NLL Rookie of the Week a season high four times, and received the Rookie of the Month nod in February and April.
He also leads Toronto in points and goals through the 2010 post-season. After two games the rookie has recorded 12 points from seven goals and five assists, while scooping 12 loose balls.
"Steph's just grown so much since the start of the year," said Sanderson. "John (Lovell) and Troy use him in all key situations."
Fellow rookie Garrett Billings also lit up the regular season on the opposite side of the floor, with 83 points, leading all rookies in points.
"How do you pick? Stephan and Garrett deserved to win this award," said Cordingley of his two outstanding offensive rookies. "It could have gone to either of them, and should have gone to both of them."
Toronto Rock Owner & President, Jamie Dawick echoes Cordingley's opinion.
"I'm very proud of Stephan for his award," said Dawick. "You'd expect this performance from the first pick in the draft but most wouldn't from the last pick in the first round. He came in from day one and worked hard.
"We had hoped that people weren't forced to chose between the two of them," he said. "We feel both are worthy of the award, and if they played in separate seasons each would win the title hands down.
"Both Stephan and Garrett made a huge impact on this team, and in the league this season."
Billings, known for his explosive outside shot, was just as good of a feeder as he was a finisher this year.
"We fed off each other all year, there is a click between the two of us," said Leblanc of Billings. "Without Garrett I don't think I'd have the same success."
Games that had Leblanc scoring goals, found Billings with assists and vice versa. The pair, also teammates on the Langley Thunder, had last summer to build chemistry and set up scoring.
"He's my favourite left-hander to pass the ball to," said Billings of Leblanc. "He's so big he can get open whenever he wants. When the clock is dying down, three or four seconds on the shot clock, he's the guy I'm looking to.
"We play really well together, I like to carry the ball on the right side, and he likes to set picks and get open. He does a great job of slipping to the middle and is always looking for the ball."
Billings thinks that Leblanc also has amazing chemistry with captain Colin Doyle. He calls the pair an "amazing combination" of a ball carrying lefty and someone that can set picks.
Not a bad partner in crime according to the winning rookie, and an easy pick for a player and NLL career he'd like to emulate.
"Colin is the ultimate leader and will do everything to help his team win," said Leblanc.
Leblanc, Billings and Doyle are just a fraction of Toronto's powerhouse offence that finished the regular season with 197 goals.
"They are unselfish guys," said the rookie when asked what makes the team so successful. "It doesn't matter to any of us who is scoring the goals, as long as we're getting on the board."
After an amazing first season that led the Rock back to the NLL Championship Game after four slumping seasons, Leblanc can only hope that his professional career will continue in similar fashion.
"I'm just going to keep on being a sponge and learn from the veteran guys," said Leblanc. "I'm just going to continue working as hard as possible."
The league awards are determined by a vote of the league executives, general managers and head coaches.
• Discuss this story on the National Lacrosse League message board...


National Lacrosse League Stories from May 13, 2010
The opinions expressed in this release are those of the organization issuing it, and do not necessarily reflect the thoughts or opinions of OurSports Central or its staff.