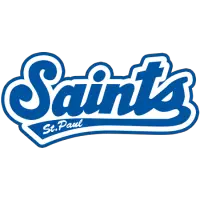 St. Paul Saints Embrace Social Media With Twitter-My-Face Night
July 14, 2009 - American Association (AA) - St. Paul Saints News Release



ST. PAUL, MN (July 14, 2009) - I woke up today at 6:30 a.m. (so tired), worked out (off to the gym!), took a shower while listening to the radio (don't you love that new Jonas Brothers song?), ate breakfast (LOL @snapcracklepop), and am now writing this press release (#work). Is that more than you wanted to know about my life? Not even close, especially if you're a fan of social networking sites MySpace, facebook and twitter. The St. Paul Saints will combine these social media sites into one night of fun July 23 for twitter-my-face presented by State Farm Insurance.
The Saints (facebook.com/stpaulsaints, twitter.com/stpaulsaints and myspace.com/stpaulsaints) have always strived to be at the forefront of emerging technologies. This night is expected to take social media at the ballpark to a whole new level. While Charlie Villanueva of the Milwaukee Bucks was reprimanded for tweeting during half time of an NBA game, the NFL told Ochocinco he won't be allowed to tweet during games this season, and Kevin Love copes with the repercussions of announcing on social media that Kevin McHale wouldn't be back as coach, the Saints are encouraging EVERYONE to take part in this momentous occasion.
On July 23, players, coaches, fans and employees will be asked to update their facebook status, post photos and send tweets so that baseball fans around the world will know exactly what is going on at Midway Stadium. Saints pitching coach Jason Verdugo is expected to tweet during a trip to the mound to speak with one of his pitchers and other players and coaches are expected to tweet from the dugout.
"We've always prided ourselves on the intimate relationship between our fans and players," said Saints Executive Vice President/General Manager Derek Sharrer. "This takes it to a whole new level."
Fans will get to see the Saints updated facebook, MySpace and twitter pages during the game displayed on the Saints videoboard. Fans will check out the live status of Saints players. For example, when Saints first baseman Jason Cooper comes to bat, his facebook status may appear on the videoboard stating "Jason Cooper is...at the plate" or "Jason Cooper is...upset at that last strike call."
Popular Saints staff members and ushertainers such as Mudonna, famous massaging nun Sister Ros, beer vendor Trixster and Superfan will let provide a unique perspecitive with updates during the evening. Fans in attendance July 23 and monitoring the conversation at home are encouraged to use the hashtag #saintstweetup on twitter in an effort to make the Saints the first minor league baseball team to become a trending topic on the social media site.
Whether you're a social media expert or don't know what a tweet is, this is the game for you. It will be informative, educational and fun. Businesses can learn how facebook can be used as a networking tool. Those that want to get back in touch with old friends can learn how to use MySpace and facebook to track down former classmates and those who find themselves short on spare time will learn the simple benefits of twitter.
Along with State Farm Insurance, the Saints have partnered with MinnPost for the event. The website devoted to covering Minnesota with high-quality journalism will provide live tweeting of the game and fans will be directed to MinnPost's twitter feed (@minnpost) during one half inning to receive public address announcements.
Saints followers on MySpace, facebook and twitter will have access to a special ticket offer for the July 23 game. Saints fans can purchase tickets for this special evening in person at the Saints ticket office, by calling 651-644-6659 or visiting saintsbaseball.com. Oh, by the way, this entire press release was written from my basement while I was in boxers and bathrobe.
• Discuss this story on the American Association message board...


American Association Stories from July 14, 2009
The opinions expressed in this release are those of the organization issuing it, and do not necessarily reflect the thoughts or opinions of OurSports Central or its staff.