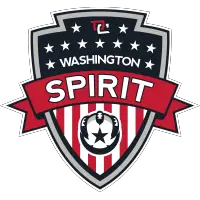 Spirit Rallies to Draw Portland, Earn Point
May 19, 2022 - National Women's Soccer League (NWSL) - Washington Spirit News Release



Portland, OR - The Washington Spirit earned another point in the table Wednesday night by way of a 1-1 draw with Portland Thorns FC. Emily Sonnett set the tone in the defensive third early with a sliding block in the box in the fourth minute of action and another clearance to end a Portland threat a minute later.
The 26th minute saw a great centering pass to Ashley Hatch in close-range that was tipped out of play by a Thorns defender. The next minute, Hatch found Trinity Rodman at the top of the box who fired off a direct shot too high. The next Spirit attempt came in the 31st minute when Ashley Sanchez fed a through ball to a driving Hatch for a shot from the right side of the box that went high. Sanchez then got a shot off herself from the top of the box but was just wide left.
In minute 37, Portland had its best first-half chance when the side forced a Spirit defensive turnover and Christine Sinclair fired off a shot just over the reach of Aubrey Kingsbury and directly off the crossbar. The Thorns' Sophia Smith found herself on a breakaway four minutes later but slipped in the box before she could get a shot off. Washington made a push late in the first half with two offensive chances from Bayley Feist. Feist had a crossing ball tipped wide in the 42nd minute and was able to put the ball at the goal-line in the 43rd before Portland cleared and sent us into the break shortly after.
Aubrey Kingsbury started the second half playing spoiler to a Thorns breakaway chance, intercepting a crossing ball to the center of the box and regaining possession for Washington. Portland continued an offensive clinic through the first 15 minutes of the second 45. Sophia Smith sent a crossing shot just wide right in the 52nd minute and broke through in the 57th with a right-footed shot from a tough angle into the bottom left corner of the net for the 1-0 lead. Just three minutes later, Portland looked ready to double its lead but Kingsbury made a key stop on another Sophia Smith strike and an Emily Menges attempt just missed off to the left.
Washington climbed even in the 63rd minute when Anna Heilferty sent a perfect cross into the center of the box that drew Thorns' goalkeeper Bella Bixby off the line. Ashley Hatch skied for the header and buried the feed from Heilferty into the bottom left corner of the goal, colliding with Bixby in doing so. Both Hatch and Bixby were shaken up on the play and received attention from athletic trainers but were able to remain in the game.
The Spirit appeared to flip the switch with another two great scoring chances in the following ten minutes. In the 67th, Ashley Sanchez chased down a rebound and chipped a shot toward the upper right corner of the net but Bella Bixby made an impressive diving save to reset the defense. Washington looked to have taken the lead in the 72nd minute when Emily Sonnett buried a loose ball off a corner kick from Sam Staab but the offside flag was raised late and we remained even at one goal apiece.
Aubrey Kingsbury kept the Spirit in position to earn at least a point in the 77th minute when she made a save on a close-range shot from Meghan Klingenberg after a missed shot and a blocked shot from Morgan Weaver and Samantha Coffey, respectively. The goalkeeper battle continued in the 81st minute when Bixby made back-to-back stops on Rodman and Sanchez.
Anna Heilferty had her second shot on goal of the match early in stoppage time but was stopped again by Bixby. Portland's Meaghan Nally missed wide on a last-chance free kick two minutes later and full time was called shortly after, sending Portland and Washington on their way with a point each.
The Spirit will now head north to Seattle to take on OL Reign for the third time in as many weeks on Sunday, May 22. After the week-long trip to the Pacific Northwest, Washington will head down to Orlando for its third consecutive road match on Friday, May 27.
-NWSL Match Report-
Match: Portland Thorns FC vs. Washington Spirit
Date: May 18, 2022
Venue: Providence Park
Kickoff: 7:00 p.m. PT
Weather: partly cloudy, high-50s
Scoring Summary:
Goals 1 2 F
Portland 0 1 1
Washington 0 1 1
POR - Sophia Smith - 57'
WAS - Ashley Hatch - 63'
Lineups:
POR: 1- Bella Bixby; 4- Becky Sauerbrunn (39- Meaghan Nally 46'); 5- Emily Menges; 20- Kelli Hubly; 25- Meghan Klingenberg; 8- Hina Sugita; 17- Samantha Coffey; 11- Rocky Rodriguez (22- Morgan Weaver 46'); 14- Natalia Kuikka (16- Janine Beckie 58'); 9- Sophia Smith; 12- Christine Sinclair (13- Olivia Moultrie 87')
Unused Substitutes: 15- Madison Pogarch; 46- Taylor Porter; 44- Gabby Provenzano; 23- Yazmeen Ryan; 35- Abby Smith
WAS: 1- Aubrey Kingsbury; 30- Camryn Biegalski; 3- Sam Staab; 6- Emily Sonnett; 21- Anna Heilferty; 16- Julia Roddar; 22- Amber Brooks (7- Taylor Aylmer 62'); 2- Trinity Rodman; 13- Bayley Feist (29- Maddie Elwell 73'); 33- Ashley Hatch; 10- Ashley Sanchez
Unused Substitutes: 17- Tinaya Alexander; 28- Nicole Barnhart; 14- Morgan Goff; 27- Audrey Harding; 18- Devon Kerr; 4- Karina Rodriguez
Stats Summary: POR / WAS
Shots: 13 / 18
Shots On Goal: 3 / 7
Saves: 6 / 2
Shots Blocked: 2 / 1
Fouls: 6 / 8
Offside: 2 / 2
Misconduct Summary:
POR - Kelli Hubly - 82' - Yellow Card
WAS - Maddie Elwell - 90' + 1' - Yellow Card
• Discuss this story on the National Women's Soccer League message board...


National Women's Soccer League Stories from May 19, 2022
The opinions expressed in this release are those of the organization issuing it, and do not necessarily reflect the thoughts or opinions of OurSports Central or its staff.