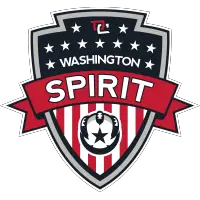 Spirit Drops First Match in DC Since 2018
May 15, 2022 - National Women's Soccer League (NWSL) - Washington Spirit News Release



Washington, D.C. - The Washington Spirit lost its first match at Audi Field since 2018 on Sunday evening, finding itself on the wrong side of 1-0 margin to expansion side Angel City FC.
Washington's first-ever match against Angel City FC was a defensive one. The high-powered Spirit attack was held to just nine shots, one on goal. Despite the loss, the Spirit also limited Angel City to only 11 shots, three on goal. The first real scoring threat didn't come until the 18th minute when Angel City's Danielle Weatherholt fired a shot wide right from outside the box and Jun Endo followed suit with a close-range shot wide left.
The home side saw one of its few scoring chances in the 20th minute when Anna Heilferty crossed a ball to Trinity Rodman, whose header went left of the net. Ashley Hatch and Dorian Bailey each had a shot blocked in the first half as well. Angel City would block four Spirit attempts in total.
Angel City broke through in the 42nd minute when Christen Press sped inside from the sideline and beat her defender to the box, firing a right-footed shot behind another defender and into the bottom left corner of the net. Five minutes later, a driving Anna Heilferty nearly brought the Spirit level when she fired a shot to the lower left corner that was saved by a diving DiDi Haračić.
Coming out of the locker room for the second half, the visitors quickly applied pressure on the Spirit defending third. A header from Vanessa Gilles and a right-footed shot from Savannah McCaskill forced Aubrey Kingsbury to make saves in the 49th and 55th minutes, respectively.
The 58th minute saw Trinity Rodman on a breakaway thanks to a precise feed from Dorian Bailey. Rodman cut back on her defender twice inside the box before sending her shot just wide right. Nine minutes later, Ashley Sanchez found Ashley Hatch deep on the Angel City end of the field. Hatch attempted a cross from close-range but was cut off by Haračić. In the 78th minute, Sam Staab made contact with a high pass from Anna Heilferty and came close to an equalizer but was just off the mark.
The closest Washington came in a last-ditch effort to come out with a draw was in the first minute of stoppage time when Ashley Hatch had a long-distance shot blocked by an Angel City defender. Despite several promising possessions, the Spirit turned the ball over to the expansion side too frequently in the final minutes of the match to put a scoring threat together. Angel City was able to run the added time off with relative ease and earn its second win of the regular season and third in four matches dating back to the Challenge Cup.
The Spirit will now head west for a week-long road trip to take on Portland Thorns FC on Wednesday night and OL Reign next Sunday before heading south for a matchup with the Orlando Pride on Friday, May 27. Washington's next home match will be on Wednesday, June 1 against the Chicago Red Stars at Segra Field.
-NWSL Match Report-
Match: Washington Spirit vs. Angel City FC
Date: May 15, 2022
Venue: Audi Field
Kickoff: 5:00 p.m. ET
Weather: partly cloudy, high-70s
Scoring Summary:
Goals 1 2 F
Washington 0 0 0
Angel City 1 0 1
LA - Christen Press - 42'
Lineups:
WAS: 1- Aubrey Kingsbury; 30- Camryn Biegalski (17- Tinaya Alexander 74'); 3- Sam Staab; 6- Emily Sonnett; 14- Morgan Goff (10- Ashley Sanchez 58'); 16- Julia Roddar; 7- Taylor Aylmer (13- Bayley Feist 46'); 21- Anna Heilferty; 19- Dorian Bailey; 2- Trinity Rodman; 33- Ashley Hatch
Unused Substitutes: 28- Nicole Barnhart; 22- Amber Brooks; 27- Audrey Harding; 18- Devon Kerr; 4- Karina Rodriguez
LA: 13- DiDi Haračić; 20- Tyler Lussi (35- Miri Taylor 90'+5'); 4- Vanessa Gilles; 2- Megan Reid; 3- Jasmyne Spencer; 8- Cari Roccaro; 17- Danielle Weatherholt; 9- Savannah McCaskill (14- Paige Nielsen 90'+7'); 18- Jun Endo; 7- Simone Charley (29- Clarisse Le Bihan 46'); 23- Christen Press (26- Hope Breslin 89')
Unused Substitutes: 99- Madison Hammond; 1- Brittany Isenhour; 28- Lily Nabet; 25- Allyson Swaby
Stats Summary: WAS / LA
Shots: 9 / 11
Shots On Goal: 1 / 3
Saves: 2 / 1
Shots Blocked: 4 / 1
Fouls: 10 / 12
Offside: 1 / 4
Misconduct Summary:
WAS - Julia Roddar - 45'+1' - Yellow Card
LA - Christen Press - 77' - Yellow Card
LA - Hope Breslin - 90' + 6' - Yellow Card
• Discuss this story on the National Women's Soccer League message board...


National Women's Soccer League Stories from May 15, 2022
The opinions expressed in this release are those of the organization issuing it, and do not necessarily reflect the thoughts or opinions of OurSports Central or its staff.