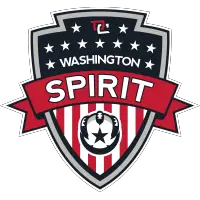 Spirit Best Sky Blue 1-0 After Yokoyama Strikes in Fall Series Finale
October 3, 2020 - National Women's Soccer League (NWSL) - Washington Spirit News Release



Boyds, Md. - The Washington Spirit finished their final match of the 2020 NWSL Fall Series with a 1-0 win over Sky Blue FC at MSU Soccer Park in Montclair, NJ Saturday afternoon.
From the moment the match started, the Spirit dictated play. As is customary in a Richie Burke offense, the Spirit created chances from the back. Defender Sam Staab launched a long ball to forward Ashley Hatch who had found space in behind the defense. Hatch drove to the net and fired a shot, but it was dealt with by Sky Blue goalkeeper Kailen Sheridan.
Much of the early pressure applied by the Spirit came up front and in midfield. The partnership of Hatch and Crystal Thomas, coupled with Ashley Sanchez made life difficult for the Sky Blue backline. The Spirit peppered 11 shots, troubling Sheridan a total of three times. Not only did Sanchez drive at defenders, but she was also the recipient of a lofted Bayley Feist pass off the thigh that sent her in on goal.
As Sky Blue looked to break, the Spirit defense held strong. Staab, along with defensive partner Paige Nielsen, gave Aubrey Bledsoe little to do in the first half, only allowing one shot on net.
Only five minutes into the second half, the ball fell to forward Kumi Yokoyama just outside the 18. Yokoyama then turned away from her defender and sent a screamer of a shot into the bottom left corner. The ball pinged off the post and ricocheted past a fully outstretched Sheridan. Had the shot been anywhere else, Sheridan would have gotten to it.
Washington took the lead, but was forced to remain vigilant as Sky Blue recovered quickly. Seconds after breaking the deadlock, Jennifer Cudjoe blasted a shot from the right side of the 18, forcing Bledsoe to make an acrobatic stop. Despite not being tested much up until that point, Bledsoe flashed the skill set that earned her NWSL Goalkeeper of the Year in 2019.
As the game wore on, Sky Blue built momentum, mainly through Midge Purce, but were unable to put one past Bledsoe. Outside backs Dorian Bailey and Jenna Hellstrom both did marvelously to quiet the electric Purce, who scored in the 92' in the opening match of the Fall Series. Limiting Purce's impact allowed the Spirit to establish and maintain possession.
The Spirit finished the Fall Series on a strong note, taking home all three points in their second away game of the year. Washington wraps the Fall Series 2-1-1 with seven points from four games and a goal difference of +1, with five goals for and four goals against.
Match: Sky Blue FC vs Washington Spirit
Date: October 3, 2020
Venue: MSU Soccer Park
Kickoff: 12:30 p.m. ET
Weather: Sunny, low-60s
Lineups:
NJ (4-3-3): 1-Kailen Sheridan; 15-Sabrina Flores; 24- Estelle Johnson; 22-Mandy Freeman (61' 8-Erica Skroski); 28-Imani Dorsey; 6-Jennifer Cudjoe; 17-Domi Richardson (61' 5-Nicole Baxter); 16-Sarah Woldmoe; 23-Midge Purce; 25-Ifeoma Onumonu; 4-Paige Monaghan
Unused Substitutes: 13-DiDi Haracic; 21-Amanda McGlynn; 35-Megan Hinz; 12-Gina Lewandowski; 18-Mikaela Howell
WAS (4-3-3): 1-Aubrey Bledsoe; 19-Dorian Bailey; 14-Paige Nielsen; 3-Sam Staab; 22-Jenna Hellstrom (86' 5-Brooke Hendrix); 2-Ashley Sanchez; 8-Meggie Dougherty-Howard (c);13-Bayley Feist; 31-Crystal Thomas (59' 6-Katie McClure); 33-Ashley Hatch (59' 18-Jessie Scarpa); 17-Kumi Yokoyama (72' 4-Natalie Jacobs)
Unused Substitutes: 25-Devon Kerr; 26-Meghan McCool; 16-Averie Collins
Stats Summary: NJ / WAS
Shots: 10 / 17
Shots on Target: 2 / 5
Saves: 4 / 2
Blocked Shots: 5 / 3
Fouls: 12 / 12
Offside: 2 / 3
Misconduct Summary:
WAS - Jenna Hellstrom '53 - Yellow Card
NJ - Dominique Richardson '55 - Yellow Card
NJ - Jennifer Cudjoe '81 - Yellow Card
WAS - Meggie Dougherty-Howard '90 - Yellow Card
Officials:
Referee: Joshua Encarnacion
Assistant Referee 1: Tom Felice
Assistant Referee 2: Justen Lopez
Fourth Official: Jacqueline Amaya
• Discuss this story on the National Women's Soccer League message board...


National Women's Soccer League Stories from October 3, 2020
The opinions expressed in this release are those of the organization issuing it, and do not necessarily reflect the thoughts or opinions of OurSports Central or its staff.